In this weekly series we have been discussing the benefits of a vegetarian diet including: better health, animal rights, public health, food safety, frugal living, global food crisis and the immense contribution of meat/livestock production to climate change/resource depletion

Water

Between watering the crops that farmed animals eat, providing drinking water for billions of animals each year, and cleaning away the filth in factory farms, transport trucks, and slaughterhouses, the farmed animal industry places a serious strain on our water supply. Nearly half of all the water used in the United States goes to raising animals for food. In 2008, John Anthony Allan, a professor at King's College London and the winner of the prestigious Stockholm Water Prize, urged people worldwide to go vegetarian because of the tremendous waste of water involved with eating animals.

It takes more than 2,400 gallons of water to produce 1 pound of meat, while growing 1 pound of wheat only requires 25 gallons. You save more water by not eating a pound of meat than you do by not showering for six months! A totally vegan diet requires only 300 gallons of water per day, while a typical meat-eating diet requires more than 4,000 gallons of water per day.
Macca's Meatless Monday/Meatless Advocates is a solution oriented activist group, with solutions for some of the most pressing issues of our time including: climate change, global food/water insecurity and public health. Here we don't just talk about the severity of the crisis. Armed with knowledge about how our actions can contribute we become part of the solution.
I was inspired to create this series by former Beatle and vegetarian advocate Paul McCartney(Macca) who partnered with the Meatless Monday campaign to promote less consumption of meat. We not only discuss the advantages of a less meat diet we also do some cooking, share recipes and listen to great Beatle music!
Kudos to Ann Arbor school district for joining Meatless Monday!
I'm right in the belly of the beast. Yes, I'm in the Tampa Bay area trying not to breath too deeply and just hanging out and trying to catch the raging republicans at their party best. They are everywhere so I'm trying not to go anywhere for the next week.
Even if I wanted many of the places I like to go have been booked for months. The big party area here the historic Latin quarter Ybor City is overrun by preppy looking, pale bots all wearing plaids and stripes. Yikes!
One of the places that has been booked solid months in advance for each night this week is the famed Columbia Restaurant the oldest restaurant in Florida. It's the real deal a restaurant founded by Cuban immigrants in 1905 which has maintained it's popularity and it's excellent food quality. It's a beautiful traditional building in Ybor City with magnificent Spanish tiles throughout the many dining areas. The food is delish and traditional Cuban and tonight I have lightened up some of their traditional dishes to make them healthy and planet friendly. So want to know what the convention going republicans are doing tonight? Well, many of them are having dinner at the Columbia and I'm sure they will hit the Ybor bars afterward...God save us all.


I would have loved to get you some pics of actual repubs partying. But truly I didn't want to try to fit in and didn't want to get arrested for looking normal. There are FBI types and military and police everywhere.


COLUMBIA MOJITO PITCHER
You know they're going to start out with the famous Cuban Mojito. And just one won't be enough..gotta have a pitcher. These are awesome the mint-infused simple syrup is the secret.
7 ounces of Bacardi Superior Rum (or any light rum)
1 3/4 cups sparkling water
1 tablespoon fresh mint, packed tightly
Juice of 2 limes
Mint Simple Syrup (recipe below)
Fill pitcher with ice and add all ingredients. Stir well. Serve in glasses garnished with mint sprigs and lime slices.
Mint Simple Syrup
¾ cup granulated sugar
¾ cup hot water
1 tablespoon fresh mint, packed tightly
Mix sugar with hot water and add mint. Boil water for 10 minutes, stirring to dissolve sugar. Strain to remove mint; chill before using.
I need a few drinks!

RED SANGRIA
They're partying so they have to try the Columbia's famous Sangria too.
1 bottle Spanish red wine
¼ cup Spanish brandy
2 tablespoons lemon juice
2 tablespoons orange juice
1 tablespoon sugar
1 cup club soda
1 sliced lemon
1 sliced orange
2-3 whole cherries
Mix all ingredients in a large pitcher. Stir with a wooden spoon until well mixed. Pour into large wine glasses. Garnish with orange slices and cherries. Add ice to pitcher. Serves 4.


BLACK BEAN CAKES
I love starting my Columbia dinner with these cakes. So good with guacamole and crema. I can make a meal out of these with the addition of a salad. Serves 4
2 tablespoons vegetable oil, plus more for frying
1 small onion, cut into 1/4-inch dice
1 large garlic clove, minced
3/4 teaspoon ground cumin
1/4 teaspoon cayenne
Two 15-ounce cans black beans, drained
1 1/4 cups plain dry bread crumbs
Kosher salt and freshly ground pepper
1/3 cup all-purpose flour
2 large eggs, beaten
Sour cream, avocado/guacamole, scallions and lime wedges, for serving
In a medium skillet, heat the 2 tablespoons of vegetable oil. Add the onion and garlic and cook over moderate heat just until softened, about 3 minutes. Add the cumin and cayenne and cook until fragrant, about 1 minute. Scrape the onion mixture into the bowl of a food processor. Add 1 1/2 cups of the beans and pulse until the mixture is finely chopped but not smooth. Scrape the mixture into a medium bowl. Mix in the remaining whole beans and 1/2 cup of the bread crumbs and season with salt and pepper. Form the mixture into twelve 1/4-cup patties, about 1/2 inch thick.
Put the flour, beaten eggs and the remaining 3/4 cup of bread crumbs into 3 shallow bowls. Dust each black bean cake with the flour, tapping off the excess. Dip the cakes in the egg and then in the bread crumbs, pressing so that the bread crumbs adhere.
In a very large skillet, heat 1/8 inch of oil until shimmering. Add the cakes and fry over moderate heat until golden brown, about 2 minutes per side. Drain on paper towels. Serve the black bean cakes with sour cream, avocado, scallions and lime wedges.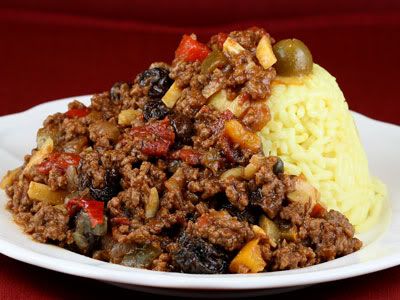 CUBAN PICADILLO
The Cuban Picadillo at The Columbia is a very popular dish. But I prefer my home version which is so good it's an addiction. Very flavorful and healthy, Earth friendly. Serves 4-6
1 cup water
1/4 cup raisins
1 Tbsp olive oil
1 1/2 cup diced onion
1 green or red pepper, diced
1-2 jalapenos, seeded and diced (optional)
2-4 cloves garlic, minced (to taste)
12 ounces frozen (meatless) soy crumbles (I like Boca brand)
15 ounce can diced tomatoes, undrained
2 Tablespoons tomato paste
1/2 cup green olives, quartered
1 Tbsp liquid from olive jar
1 tsp ground cumin
2 tsp brown sugar
1/2 teaspoon cinnamon (optional but I like it)
salt to taste (I used about 1/2 tsp)
Heat water in microwave safe dish until boiling (2-3 minutes). Remove dish from microwave and place raisins in boiled water. Allow to soften in water for 15-20 minutes. Drain, reserving plumped raisins.
Heat oil over medium-high heat. Add onion, green pepper, and jalapenos. Saute until soft and slightly browned (about 5 minutes). Add minced garlic and saute until fragrant, about 30 seconds.
Add frozen soy crumbles, stirring frequently until thawed and well combined (about 2 minutes).
Reduce heat to medium. Add tomatoes, tomato paste, green olives, olive liquid, drained raisins, cumin, brown sugar, cinnamon and salt. Cook for 5 to 10 minutes, until
heated through and the flavors have had a chance to meld, add a few tablespoons of water if needed. Serve over rice or as a filling in stuffed pepper or empanadas.


PLANTANOS -MADUROS
For tradition and taste gotta have a side of maduros
4 ripe, black plantains (very ripe)
1/4 cup vegetable oil
Salt
Lime wedges
Peel the plantains and cut them in 1/2 on a bias, then slice in 1/2 lengthwise so you have 4 pieces.
Heat the oil in a large heavy skillet over medium heat. Fry the plantains until golden on both sides, about 5 minutes per side. Remove to a plate lined with paper towels and sprinkle with salt. Serve with lime wedges.
My Secret:
Plantains are awesome used in a flat omelet. Arrange fried plantains in a non stick frying pan and cover with salted beaten eggs. Let set, flip. done.


VEGETARIAN CUBAN SANDWICH
Tampa is famous for their Cuban Sandwich. Much better than Miami's and it's because of the incredible Cuban bread from the historic La Segunda Bakery. Of course I update mine but using the same bread makes it just as good!
Simple recipe. To began construction:. Use good Swiss cheese and a mixture of mustard and mayo (I use vegannaise), and sliced dill pickles. I place it on a flat pan, put a cast iron skillet on top to smash it and began heating the sandwich. About five minutes a side does the trick. Once done you can open and add lettuce and tomato if you like.


CUBAN BLACK BEANS
These are different from the southwest or Mexican black beans. I could live on these served over rice with a side of maduros. This is a traditional Cuban recipe brought over from Cuba by Shehardic jews in the 1800's
1 lb. black beans
9 cups water
1/2 green pepper, diced
1/4 cup olive oil
1-2 onions, diced
3 cloves garlic minced
1/2 green pepper cut in strips
2 tsp. salt
fresh ground pepper
1/4 to 1/2 tsp. dried oregano
2 bay leaves
1-2 tablespoons white vinegar to taste
2 tablespoons olive oil
1 tablespoon sugar
Soak beans overnight in enough cool water to cover beans. Next day, rinse beans and add water to equal 9 cups. Add 1/2 diced green pepper. Cook until the beans get soft about an hour.
Saute onions, green pepper strips, garlic, oregano and bay leaves in 1/4 cup olive oil until onions are soft but not brown. This is called a sofrito.
When the beans are soft to the touch, add the sofrito and salt and pepper to taste. Let it cook until you see it is getting thick. Then add sugar, vinegar and oil. Cook for another 15-30 minutes.

WHITE CHOCOLATE BREAD PUDDING with CLASSIC RUM SAUCE
Look this is The Columbia's famous dessert. Let the repubs eat it in volume and lets see what happens. Serve warm or cold
6 cups heavy cream
2 cups milk
1 cup sugar
1/4 cup vanilla extract
28 ounces white chocolate (about 3 1/2 cups), cut into small pieces
4 eggs
2 cups egg yolks (about 12 eggs)
18 ounces crusty bread, stale (about 1-2 days old) (use stale Cuban bread)
White Chocolate Rum Sauce (see below recipe)
Dark chocolate shavings – as much as you like
Assorted berries for garnish (optional)
White Chocolate Rum Sauce
1/2 cup heavy cream
8 ounces white chocolate, cut into small pieces
1/4 cup Light Bacardi rum(Columbia uses Don Casimiro
Bring cream to a boil in a small pan. Take off heat and add white chocolate. Stir until smooth and melted. Add rum and stir. Keep warm until ready to serve.
Directions
Heat cream, milk, sugar, and vanilla over medium heat in a large saucepan. When hot, remove from heat and add 2 1/2 cups of the white chocolate. Stir until melted.
Combine eggs and yolks in a large bowl. Slowly add the cream mixture into the eggs, whipping constantly as you pour.
Cut the bread into 1/2 inch slices and place in a large bowl. Pour mixture over bread. Press bread to absorb mix and allow bread to become soggy. Let cool for about 15 minutes.
Add remaining cup of white chocolate, stir (but do not let the chocolate melt).
Pour mixture evenly in a 10″ x 12″ baking pan and cover with foil.
Bake at 350° for 1 hour. Remove foil and continue baking for an additional hour until set and golden brown.
Remove from oven and cool before cutting.
(If serving later…. Slice bread pudding into individual portions and place on a cookie sheet. Bake at 350° until crispy and heated through – about 5-10 minutes.)
Top with White Chocolate Rum Sauce. Garnish with shaved dark chocolate and fresh fruit as desired. Serve immediately.
"Jet" Paul McCartney

"Besame Mucho" The Beatles

What have you all been cooking? I've missed you all. Sorry my life has been slammed working with OFA etc. Please share your recipes and fave Beatle music here!