This morning, I responded to the absolutely glowing article Huffpo wrote about CEO-wife Anne Romney. They took my post down and slammed me. Perhaps this headline got under my skin: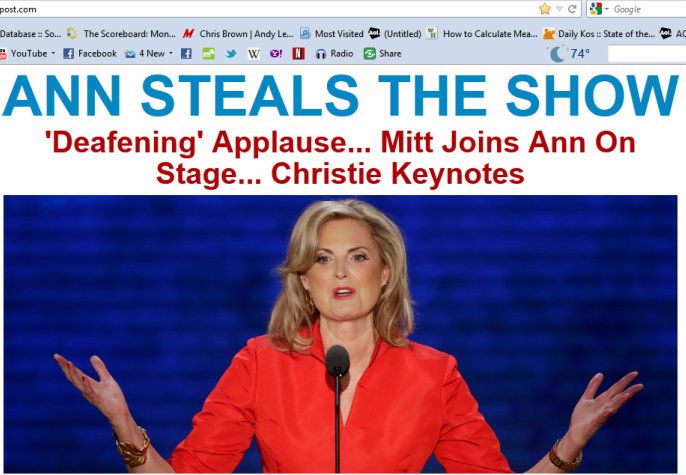 I obviously didn't see the same speech and I wasn't impressed that 4400 republican activists were "moved."
At any rate, this is the post that got me slammed with a personal note and warning from them:

oh, what a hard life she lives.

1. tending to a 78K per year horse is tough stuff.
2. keeping up with millions in secret accounts is so taxing.
3. the maids
4. the cooks
5. all the different homes
6. the car elevator
7. the $900.00 t-shirts

Oh, what a horrible life.

She gets the struggles of women alright...of billionaires.
Honestly, I don't get it.
What is Huffpo these days...a tea party site?
UPDATED: Apparently, Juan Williams said something similar to my statement.
Politico:

Fox News contributor Juan Williams took some ribbing from his colleagues Tuesday night after saying Ann Romney looked "like a corporate wife" who hasn't struggled in her life.

"Mitt Romney's wife, Ann Romney, on the other hand looked to me like a corporate wife," Williams said, speaking on a panel after the Republican National Convention's speeches wrapped for the night. "And you know the stories she told about struggle, eh, it's hard for me to believe. She's a very rich woman and I know that and America knows that."

"Is that the same speech you heard Brit?" Baier asked Fox News commentator Brit Hume.

"Uh no. I think that was the single most effective political speech I've ever heard given by a political wife," Hume said.

Later, the panel reconvened — but without Williams. Wall Street Journal columnist and former presidential speechwriter Peggy Noonan joined to offer commentary in Williams's place.
VIDEO: