The cable news network numbers are in for the 2012 GOP convention in Tampa - and the viewership numbers are simply devastating compared to 2008, especially for CNN. I won't reveal my source (who works for MSNBC), but the simple graphic below tells one hell of a story. From my acquaintance:

3 day total for the cable nets (x100). Last column is a sum of the three. Every cable net is down versus 2008 for convention coverage (Paul Ryan is no Sarah Palin). CNN is in the toilet; this is disastrous for them.
The key time slot to focus on is 10 - 11PM EDT, when the big guns (Ryan on Wednesday; Romney on Thursday) addressed the delegates. For Pete's sake, Honey Boo Boo drew higher overall ratings on Wednesday than did Paul Ryan. (Note that "ratings" and "viewers" are two different things...)
Some more thoughts, and a one day (Wednesday) peek at the numbers, below the flip...
Here's day two (Wednesday only) cable news network numbers from the GOP convention, compared to day two in 2008: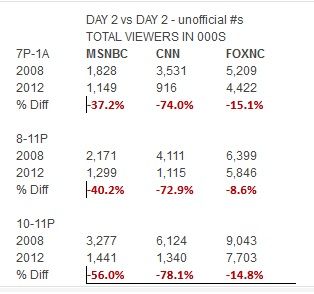 While these viewership numbers are certainly bad news for all three major cable news networks, it's gotta be even worse for the GOP. My own take is that there were two factors that depressed viewership this week:
1) No Sarah Palin. And we know how real 'muricans like their reality TV shows. In 2008, the Wasilla Snowbillies literally took over the convention in Minneapolis, and made it their own reality TV show. 2012 had no "Jersey Shore" factor (and no, Chris Christie doesn't count).
2) Hurricane Isaac. On Tuesday and Wednesday, Isaac was approaching, then making landfall, on the Gulf Coast. Louisiana, southern Mississippi and Alabama, and the Florida panhandle were all impacted. A lot of people were watching Jim Cantore on The Weather Channel.
What does it all mean? I'm not sure yet, but I have an emerging contention - the 2012 general election is going to be a "base election". If the numbers for the 2012 Democratic convention are anywhere near as anemic as the RNC compared to 2008, it tells me that there is a significant enthusiasm gap on both sides of the aisle.
If that's the case, we're going to experience a base election similar to the 2010 mid-terms, and that scares the beejeezus out of me. While the Dem convention may pump up the hard core political junkies among us, if the majority of Americans are tuning out both the RNC and DNC, there are some rough waters on the horizon for progressives. A base election does not favor us.
Stay tuned...I'm still shaking my head over Honey Boo Boo. That's pretty pathetic, GOP.