Math is not like Political Science -- one is debatable; the other is not.
Math problems are either solved -- or they're not. Arithmetic is funny that way ...

Does a Romney-Ryan Ticket Really Ensure Clash of Visions?
by Francis Wilkinson, bloomberg.com -- Aug 12, 2012

Romney's campaign is emerging from two weeks of brutal scrutiny of his budget plan. After analyzing the plan on Romney's own terms, the Tax Policy Center concluded it was "mathematically impossible."
[...]

His selection of Ryan doesn't clarify that intentional muddle. A Romney plan that deliberately doesn't add up is now complemented by a Ryan plan that deliberately doesn't add up. As Ezra Klein explains here, Ryan's plan assumes that the federal government will eventually shrink to the point that it consists of defense, Social Security, Medicare and Medicaid. And Medicare would be drastically revised. [...]


Would a President Romney and a Republican Congress prove willing to inflict high levels of pain on the poor and middle class while further reducing historically low taxes on the wealthy? What of the Republican donors -- the contractors and corporate welfare recipients -- who feed so well at the federal trough? [...]
For the Romney-Ryan Budget Plan to reach its "mathematically goals" -- the austerity pain will have to be spread far and wide --
except for the wealthy few
, of course.
However, their Plan if allowed to happened, does do a Bait-and-Switch few have yet noticed. It would exchange one exponential growth line (social fabric) for another ... to fight a problem we don't really have (the Russians, Iran):

The Numbers Don't Add Up on Mitt
Romney's Defense Budget
by Lawrence Korb -- July 2012 -- Center for American Progress Action Fund

[...]
Gov. Romney's defense plans would be prohibitively expensive. He has pledged to set the Pentagon base budget (not counting war funding) "at a floor of 4 percent of GDP," which would result in at least $2.1 trillion in added spending over the next decade compared to the Department of Defense's current plan. Gov. Romney has not elaborated on what specific threats prompt him to call for this huge increase in defense spending.

Meanwhile, Gov. Romney says he would cut marginal tax rates for individuals by 20 percent and balance the budget. He has embraced Rep. Paul Ryan's (R-WI) budget plan and said he would cap federal spending at 20 percent of GDP but exempt Social Security. To keep these various promises, he would have to cut nondefense programs other than Social Security, such as Medicare and Medicaid, by 59 percent over the next decade.[2] Thirty-two years and eight presidential elections later, voodoo economics has returned to the Pentagon's fiscal course.

And while Gov. Romney would spend trillions countering threats from a bygone era, he hasn't outlined a serious agenda to address the two greatest long-term problems facing the Pentagon: poor management of Pentagon procurement and rapidly growing Department of Defense personnel costs that put the All-Volunteer Force at risk.

In 2009 Secretary of Defense Robert Gates began a program to change how the Department of Defense contracts goods and services with the aim of saving $100 billion over the five-year program. [...]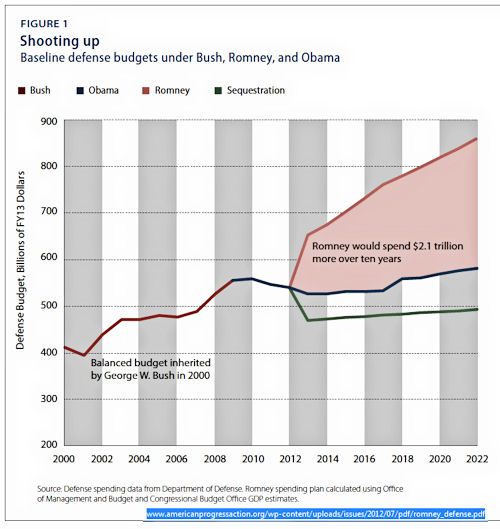 larger image
Surprising growth line projections there, huh? Of course not that surprising, when you consider the Neoconservative Advisers, that Mitt Romney has surrounded himself with. Cost has never been "any objective thing" to them ... now has it? War is Good Business to them.




But it's not just Romney-Ryan who have a problem with Balance Sheets.
It seems many House Republicans would rather push us off a cliff -- than even pretend to be fiscally responsible.
But afterall Math has never been their strong-suit ... Economics either ...

Inside the Worst Congress Ever
A look at some of the lowlights of Robert Draper's new history of the House.
by David Weigel, slate.com -- April 25, 2012
[...]

The Debt Ceiling: Everybody Loses

Republican leaders figured out early that some members of the freshman class simply didn't get macroeconomics. Majority Leader Eric Cantor warned Democrats about it when the debt fight began. The "cardinals" on the appropriations committee have zero regard for Majority Whip Kevin McCarthy. "He didn't seem to know the difference between 'obligations' (funds allocated) and 'outlays' (funds spent)," writes Draper. "[A]s a result, he was in no position to educate the freshmen." [...] When White House veteran Jay Powell gives Republicans a Power Point, explaining the need to raise the limit, Rep. Phil Gingrey of Georgia blows him off. "You did a nice job with your presentation. But we heard from Karl Rove yesterday -- and frankly, I like him better."
House Republicans would rather follow to the prescriptions of Karl Rove (a SuperPac Money-changer) -- than the mathematical calculus of basic Macro Economic.
Balancing a Budget actually does require an Income component in the equations. It's Econ 101.

Of course the current Republican-yahoos in Congress would rather sink the ship, than help row the boat -- than raise one dime in New Taxes. They took a pact afterall. And insider-pacts are more important than national math problems, which are boring in their book:

CBS Hires Frank Luntz, The Man Who Reportedly Shepherded The Plan To Defeat Obama
Ben Dimiero, mediamatters.org -- Sep 5, 2012

[...]
According to Draper, the Republican plan involved showing "united and unyielding opposition to the president's economic policies," with an eventual goal of defeating Obama and taking back the Senate in 2012:


Luntz had organized the dinner -- telling the invitees, "You'll have nothing to do that night, and right now we don't matter anyway, so let's all be irrelevant together." He had selected these men because they were among the Republican Party's most energetic thinkers -- and because they all got along with Luntz, who could be difficult. Three times during the 2008 election cycle, Sean Hannity had thrown him off the set at Fox Studios. The top Republican in the House, Minority Leader John Boehner, had nurtured a dislike of Luntz for more than a decade. No one had to ask why Boehner wasn't at the Caucus Room that evening.
[...]

Show united and unyielding opposition to the president's economic policies. (Eight days later, Minority Whip Cantor would hold the House Republicans to a unanimous No against Obama's economic stimulus plan.)
[...]

[...] Politifact credited Luntz with spreading the phrase:


In the spring of 2009, a Republican strategist settled on a brilliant and powerful attack line for President Barack Obama's ambitious plan to overhaul America's health insurance system. Frank Luntz, a consultant famous for his phraseology, urged GOP leaders to call it a "government takeover."

"Takeovers are like coups," Luntz wrote in a 28-page memo. "They both lead to dictators and a loss of freedom."
CBS' latest Political analyst has a bit more than an "intellectual stake" in this game. Frank Luntz is "all in" -- when it comes taking our Country to the Brink. Machiavelli would be proud of Frank's personal coup d'état,
all without getting a single vote
, too.

Of course having Luntz on the nightly TV, telling us what to think about our Politics and our Future Plans -- really won't do much about solving them -- either equitably or eventually.

Because Math is not like Political Science -- one is debatable; the other is not.
Math problems are either solved -- or they're not. Pacts don't fix them. Luntz's sound-bites won't fix them. Republican Plans won't balance the books -- non-partisan experts say they just don't add up, without new revenues.

And if History is any guide, Republicans have no intention of doing the Math -- and actually Raising the Revenues to take care of our Congressional Obligations -- just like any responsible enterprise would do.

But then afterall Math has never been their strong-suit ... Econ 101 either ...
Just Charge it! has always been their motto. Why would they change their ways now?