Their Math just doesn't Add up. They know it. The President knows it.
Pretty soon, everybody will know it.

'Bad math': Obama slams Romney, Ryan for lack of specifics
firstread.nbcnews.com 2012/09/09
[...]
"Governor Romney and his allies tell us that we can somehow lower our deficit by spending trillions on new tax breaks for the wealthy. Listen, you've got to do the math because when my opponents were asked about it today, they couldn't. It was like two plus one equals five," Obama told a crowd of more than 3,000 in a gymnasium at the Florida Institute of Technology here.

When asked during an interview on NBC's "Meet the Press" what tax loopholes he would eliminate, Romney got no more specific than telling host David Gregory, "high income taxpayers are going to have fewer deductions and exemptions."

On ABC News' "This Week," Ryan said Romney and he would consult with Congress before deciding which loopholes to cut. "We want to do this with the consent of the elected representatives of the people and figure out what loopholes should stay or go," he said.

Of their lack of specifics, Obama said, "That's not bold leadership, that's bad math."
Their Math just doesn't Add up.
No Goldstars for them!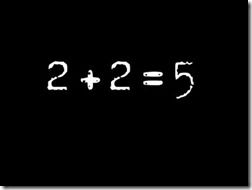 Math is not like Political gamesmanship -- one is debatable; the other is not.
Math problems are either solved -- or they're not. Arithmetic is funny that way ...
Of course "explaining stuff" -- has never been Romney-Ryan's strong suit ...

Does a Romney-Ryan Ticket Really Ensure Clash of Visions?
by Francis Wilkinson, bloomberg.com -- Aug 12, 2012

Romney's campaign is emerging from two weeks of brutal scrutiny of his budget plan. After analyzing the plan on Romney's own terms, the Tax Policy Center concluded it was "mathematically impossible."
[...]

His selection of Ryan doesn't clarify that intentional muddle. A Romney plan that deliberately doesn't add up is now complemented by a Ryan plan that deliberately doesn't add up. As Ezra Klein explains here, Ryan's plan assumes that the federal government will eventually shrink to the point that it consists of defense, Social Security, Medicare and Medicaid. And Medicare would be drastically revised. [...]


Would a President Romney and a Republican Congress prove willing to inflict high levels of pain on the poor and middle class while further reducing historically low taxes on the wealthy? What of the Republican donors -- the contractors and corporate welfare recipients -- who feed so well at the federal trough? [...]
For the Romney-Ryan Budget Plan to reach its "mathematically goals" -- their austerity pain will have to be spread far and wide --
except for the wealthy few
, of course.
However, their Plan if allowed to happen -- again, does do a Bait-and-Switch few have yet to notice. It would exchange one uphill growth line (social fabric) for another ... to fight a problem we don't really have (the Russians, Iran):

The Numbers Don't Add Up on Mitt
Romney's Defense Budget
by Lawrence Korb -- July 2012 -- Center for American Progress Action Fund

[...]
Gov. Romney's defense plans would be prohibitively expensive. He has pledged to set the Pentagon base budget (not counting war funding) "at a floor of 4 percent of GDP," which would result in at least $2.1 trillion in added spending over the next decade compared to the Department of Defense's current plan. Gov. Romney has not elaborated on what specific threats prompt him to call for this huge increase in defense spending.

Meanwhile, Gov. Romney says he would cut marginal tax rates for individuals by 20 percent and balance the budget. He has embraced Rep. Paul Ryan's (R-WI) budget plan and said he would cap federal spending at 20 percent of GDP but exempt Social Security. To keep these various promises, he would have to cut nondefense programs other than Social Security, such as Medicare and Medicaid, by 59 percent over the next decade.[2] Thirty-two years and eight presidential elections later, voodoo economics has returned to the Pentagon's fiscal course.


larger image

And while Gov. Romney would spend trillions countering threats from a bygone era, he hasn't outlined a serious agenda to address the two greatest long-term problems facing the Pentagon: poor management of Pentagon procurement and rapidly growing Department of Defense personnel costs that put the All-Volunteer Force at risk.

In 2009 Secretary of Defense Robert Gates began a program to change how the Department of Defense contracts goods and services with the aim of saving $100 billion over the five-year program. [...]
Surprising growth-line projections there, huh? Of course not that surprising, when you consider the Neoconservative Advisers, that Mitt Romney
has surrounded himself
with.
Cost
has never been "
anything objective
" to them ... now has it?
That's someone else's problem -- Paying the Bills.

Their Math just doesn't Add up. Never has. Never will.
Just Charge it! has always been their motto.
Why would they change their ways now? Because if there's one thing Republicans know how to do -- it's how to leave the country in deep debt. With NO intention of ever paying-for those Republicans bills themselves -- out of their own Revenue-pockets.