Well, okay, not really, I'm not one to make crazy claims like a certain pundit * cough * Dick Morris * cough *. Instead I'm here to talk about a great community effort – the Netroots Nation Fall Auction which begins next Wednesday, September 19th and runs through Tuesday, September 25th.
Want to know how you can donate and get a preview of some of the items? Follow me pass the lovely orange doily….

We've had some great donations in the past including:
• Governor Schweitzer's bolo tie worn at Netroots Nation '10
• Suites at Netroots Nation Convention hotels
• One-on-one meetings with Howard Dean, Charlie Cook and others
• Signed memorabilia from Barbara Boxer, Russ Feingold and more
Do you have something you can donate? You can upload it here or contact the Netroots Nation Development Director Karen Kolber at Karen at netroots nation dot org. Karen and her pack of friendly and industrious King Charles Cavaliers are standing by, ready to take your order!
Okay, here are some of the items that have already been donated for this year's auction:
• A signed copy of The Green Collar Economy" by that hunky Van Jones
• Gooey Butter Bars donated once again by the wonderful Goldni
• A Front Row table at Netroots Nation 2013. Wohoo, feel the power just emanating from the stage -- right to you!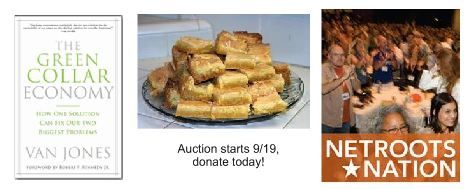 So get your auction items in today! Thanks so much, and as always, all proceeds allow Netroots Nation to bring you top-notch programming at the annual national convention and regional conferences as well as the well-received New Media Mentors program.