Overnight News Digest, aka OND, is a community feature here at Daily Kos. Each editor selects news stories on a wide range of topics.
The OND community was founded by Magnifico.

As Chicago Teachers Strike, Students Are on the Loose and at Loose Ends

By MONICA DAVEY and STEVEN YACCINO

CHICAGO — For hundreds of thousands of families here, ordinary life has turned upside down. As Chicago public schoolteachers on Wednesday spent a third day on picket lines, their students could be found in contingency programs at schools, in churches and in costly day care centers. Some slept late, stayed home alone, then wandered their neighborhoods as if there were one more chapter of summer.

Others found themselves headed to their parents' jobs at laundromats, restaurants, libraries, offices. A Chicago alderman, Roberto Maldonado, arrived at City Hall on Wednesday with his 11-year-old son, Rene, in tow. Elsewhere, relatives — grandparents, especially, it seemed — were suddenly being pressed into baby-sitting duty.

So far, many Chicago families have expressed a degree of patience with their new, topsy-turvy circumstances. Some parents — their children beside them — have even joined the teachers' picket lines.

But as little news of progress emerged from the daily negotiations between the Chicago Public Schools and the Chicago Teachers Union and the city's first school strike in 25 years showed signs of dragging on, tolerance was hanging in the balance.


Push to Add Charter Schools Hangs Over Strike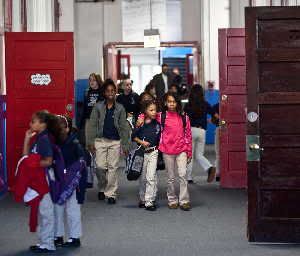 By MOTOKO RICH

CHICAGO — Of the issues that remain to be settled in the contract dispute here between the teachers' union and the city, expanding charter schools is not officially on the table.

But the specter of those plans — an oft-cited goal of Mayor Rahm Emanuel — hangs heavily over the teachers' strike. "Even if it's not explicitly something that we're bargaining over," said Jackson Potter, staff coordinator for the Chicago Teachers Union, "everyone knows it's the elephant in the room."

While 350,000 students here remained out of school for the third day of the citywide teachers' strike, about 50,000 who attend the city's 96 charter schools went to class as usual. The charters, which are publicly financed but privately operated, are not required to hire unionized workers, and a majority of them do not. Experienced teachers at charter schools make about $15,000 to $30,000 less than their counterparts at traditional district schools, where the average salary is $75,000.


A Challenger's Criticism Is Furiously Returned
By PETER BAKER and ASHLEY PARKER

WASHINGTON — The deadly attack on an American diplomatic post in Libya propelled foreign policy into the forefront of an otherwise inward-looking presidential campaign and presented an unexpected test not only to the incumbent, who must manage an international crisis, but also to the challenger, whose response quickly came under fire.

While President Obama dealt with the killings of an ambassador and three other Americans and deflected questions about his handling of the Arab world, Mitt Romney, the Republican seeking his job, wasted little time going on the attack, accusing the president of apologizing for American values and appeasing Islamic extremists.

"They clearly sent mixed messages to the world," Mr. Romney told reporters during a campaign swing through Florida.

[...]

Mr. Obama fired back later in the day, accusing his opponent of politicizing a national tragedy. "Governor Romney seems to have a tendency to shoot first and aim later," he told CBS News for its "60 Minutes" program. "And as president, one of the things I've learned is you can't do that — that, you know, it's important for you to make sure that the statements that you make are backed up by the facts, and that you've thought through the ramifications."


L.A. City Council weighs limits on cellphone transmitters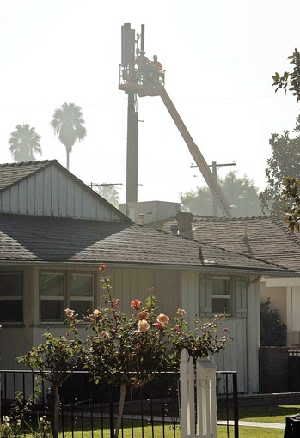 By Catherine Saillant, Los Angeles Times

Cellphone providers would have to apply for a permit to place wireless transmitters atop utility poles on sidewalks, roadways and other locations in the public right of way under language adopted Tuesday by the Los Angeles City Council.

Under federal law, cities have limited authority to regulate where a transmitter is located as long as it's in a public right of way. In the past, Los Angeles officials have interpreted this to mean that wireless providers don't need a permit to place their structures atop utility and light poles.

After a slew of complaints about unsightly structures popping up in neighborhoods, city officials are reconsidering that stance. City attorneys say recent court decisions have come down in favor of municipalities' ability to impose stricter aesthetic requirements on wireless providers.

The city can also drop a no-permit exemption for boxes on utility poles, said Managing Assistant City Atty. Edward Jordan. That means that providers would have to apply for permission and also notify neighbors of their intent, Jordan said.


Obama's Post-Charlotte Bounce May Owe More To TV Ads Than Convention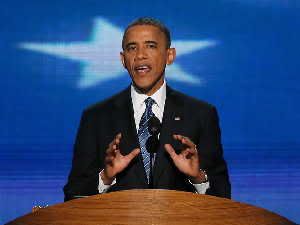 by Peter Overby

It's become conventional wisdom that President Obama's new lead in the polls is a bounce, coming out of the Democratic convention in Charlotte, N.C.

But an analysis from the Wesleyan Media Project suggests that the bounce might be due to TV ads as much as grand speeches. The Obama campaign and its allies laid out $21.1 million for TV during the two weeks of the party conventions. Over that same stretch, Republican Mitt Romney and his backers spent significantly less, $12.9 million.

With that cash advantage, the Obama campaign bought a better-than 2-to-1 advantage in the number of ads airing in battleground states.

The media project — a joint effort by political scientists at Wesleyan College in Connecticut, Bowdoin College in Maine and the University of Washington — bases its estimates on data from Kantar Media/CMAG, which tracks TV ads. The estimates cover broadcast television and national cable.

"We wouldn't want to suggest that the convention, and the national media attention and coverage, may not have been influential," Wesleyan political scientist Erika Franklin Fowler, a co-director of the project, tells NPR. But she adds: "If you have such an advantage on the airwaves, that is also likely to have an effect."


U.S. vows 'justice' for consulate attack in Libya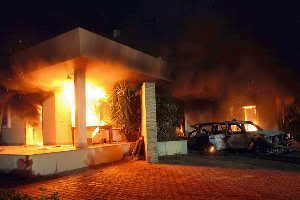 By Ned Parker and Shashank Bengali, Los Angeles Times

CAIRO — The attack on a U.S. diplomatic post in eastern Libya that killed the U.S. ambassador and three other Americans was carried out by a small group of militants who arrived late at night, unleashed a fusillade from AK-47 rifles and rocket-propelled grenades, then torched and ransacked the building, according to witnesses and U.S. officials.

U.S. officials said the two-hour assault on the U.S. Consulate in Benghazi appeared planned and "complex," rather than a spontaneous outbreak of mob violence in reaction to an online video, purportedly produced in the United States, that mocks the Muslim prophet Muhammad. The video had prompted protesters to scale the U.S. Embassy walls in Cairo earlier Tuesday and tear down an American flag.

President Obama vowed to work with Libyan officials "to bring to justice the killers," and ordered security beefed up at U.S. diplomatic missions around the world. The Pentagon sent about 50 Marines from Spain to help guard the embassy in Tripoli, the Libyan capital. The Pentagon is also moving two warships toward the Libyan coast.

The dead included J. Christopher Stevens, 52, the first U.S. ambassador killed in the line of duty since 1979, and Sean Smith, a State Department information officer and Air Force veteran. The identities of the other two slain Americans were being withheld pending notification of their families, officials said.


Russia's Medvedev Says Female Punk Rockers Should Go Free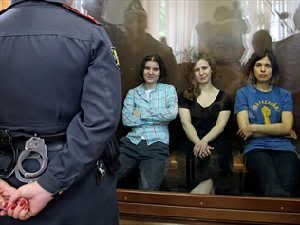 by Scott Neuman

Russian Prime Minister Dmitry Medvedev says the three jailed members of the politically radical punk rock band Pussy Riot should have their sentences commuted to time served.

"In my view, a suspended sentence would be sufficient, taking into account the time they have already spent in custody," The Associated Press quoted Medvedev as saying during a televised meeting with members of his United Russia Party.

The band members were convicted last month for staging a prayer sit-in at Moscow's main cathedral to denounce President Vladimir Putin ahead of his successful re-election bid. The three had spent five months in jail awaiting trial before being found guilty of "hooliganism driven by religious hatred."

Medvedev is subordinate to Putin, so it's unclear how much weight his call for the punk rockers' release might carry. The arrest and trial of the women has drawn the ire of international human rights and free-speech advocates.


Reports: Japan plans for nuclear phaseout by 2030s
By Chico Harlan

TOKYO — Japan is planning a move to shutter all nuclear plants by the 2030s, Japanese media reported Thursday, a major policy shift for a resource-poor nation that once depended on atomic power for a third of its energy.

The nuclear phaseout, reported by both the Kyodo News agency and broadcaster NHK based on a draft of the policy, comes amid fierce political debate about this country's 50 operable reactors, which are both prone to disaster and vital to the economy.

The gradual turn away from nuclear power over the next two decades represents a major concession from Japan's traditionally pro-nuclear leaders to a largely anti-nuclear public, whose fears were stoked by the March 2011 triple meltdown at the Fukushima Daiichi plant.

But it also prompts new worries about how Japan will make up for a gaping energy deficit, and whether it can eventually grow renewable energy into a cheap alternative. In the short term, Japan will have to rely on increased imports of fossil fuels, raising the nation's energy prices as well as its greenhouse-gas emissions.


Euro zone breathes again as German court backs bailout fund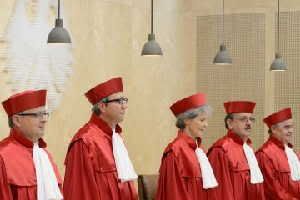 Paul Ames

BRUSSELS, Belgium — Eight middle-aged Germans in silk caps and scarlet robes may have just saved the world from financial meltdown.

The judges of Germany's constitutional court on Wednesday dismissed a legal complaint against Germany's participation in the European Stability Mechanism, the $645 billion bailout fund that's a cornerstone of plans to save the European currency.

Speaking at the same time, the European Commission president, Jose Manuel Barroso, issued an impassioned call for the EU to evolve into a "federation of nation states" as he unveiled plans for giving the European Central Bank sweeping new powers that would be the first step toward creating a fiscal union.

The German decision was crucial because the country would be the fund's largest contributor. It prompted financial markets to rise and politicians to breathe a huge sigh of relief — even though the constitutional court imposed conditions on participation in the ESM, including parliamentary approval for increasing the $240 billion limit on Germany's contribution.


French say "Get lost, you rich jerk!"
Paul Ames

BRUSSELS, Belgium — "Get lost, you rich jerk!" That's the polite translation of a headline in the left-leaning daily Liberation for a story about France's richest man, Bernard Arnault.

The head of the luxury goods group LVMH — which owns Louis Vuitton and Dior — provoked fury among the French by applying for Belgian citizenship just as the new Socialist government unveiled plans to hit the country's wealthiest with a 75 percent tax.

Arnault, who filed a legal complaint over the headline he called "vulgar," denies his application for Belgian nationality is designed to protect his $40 billion fortune from the authorities. But few appear to have bought the denial, and many fear he may be the frontrunner in a rush for the exit before the new rules take effect.

The controversy is unfolding as President François Hollande is struggling to balance the budget and avoid the kind of harsh austerity measures adopted by Spain and Italy. He's asking the French to countenance a two-year public spending freeze in addition to paying more taxes.