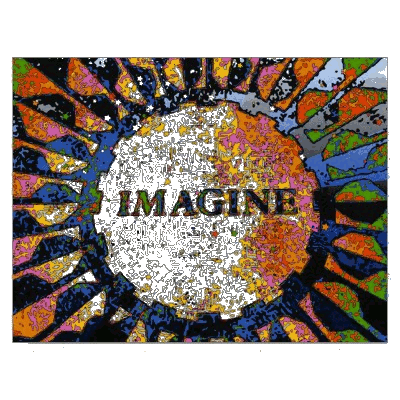 Welcome! "What's Happenin'?" is a casual community diary (a daily series, 8:30 AM Eastern on weekdays, 10 AM on weekends and holidays) where we hang out and talk about the goings on here and everywhere.
We welcome links to your writings here on dkos or elsewhere, posts of pictures, music, news, etc.
Just about anything goes, but attacks and pie fights are not welcome here. This is a community diary and a friendly, peaceful, supportive place for people to interact.
Everyone who wants to join in peaceful interaction is very welcome here.
---
Good Morning!
"Helen" the bronze pig at the Brandywine River Museum. Sculpture by Andre Harvey.
(Photo by joanneleon. August, 2012)
If you tell the truth, you don't have to remember anything.

~ Mark Twain
---
The Byrds - All I Really Want To Do


Drop in
any time
day or night
to say hello.

---
News
Obama's NDAA Law Allowing Indefinite Military Detention of Citizens Ruled Unconstitutional

The Obama administration's efforts to enshrine sweeping 9/11-era rollbacks of civil liberties and constitutional rights as federal law hit a serious roadblock yesterday, as a federal judge struck down clauses of the National Defense Authorization Act as unconstitutional.

[ ... ]

There's good reason to temper the elation, however. The government is almost certain to appeal the ruling. Indeed, the administration already has appealed the temporary injunction granted in May.

"That's all right," Hedges said Wednsday. "If they appeal, we'll fight them, and we'll keep fighting them, and we'll fight them until we win."
Judge Rules Against Law on Indefinite Detention

WASHINGTON — A federal judge on Wednesday blocked the government from enforcing a controversial statute about the indefinite detention without trial of terrorism suspects. Congress enacted the measure last year as part of the National Defense Authorization Act.

[ ... ] It was challenged by Chris Hedges [ ... ] In May, Judge Forrest agreed, issuing a preliminary injunction barring the government from relying on the law to detain anyone without trial, and Wednesday she made that injunction permanent in a 112-page opinion.

The Obama administration fought the move, saying the law did not cover free-speech activities. It also claimed that the statute created no new detention authority that did not already exist in the original authorization to use military force. While Judge Forrest said she thought that it did expand detention authority, the fact that the government took the narrower view was "decisive" because it meant that "enjoining the statute will therefore not endanger the public."

In an interview, Bruce Afran, an adjunct law professor at Rutgers University who helped represent the plaintiffs, called the ruling a "historic" repudiation of government overreach.

"It's an absolute guarantee of freedom of political debate even in a time of war," he said.
House Reauthorizes Warrantless Wiretapping Program

The Senate is expected to take up the law's reauthorization later this year. Sen. Ron Wyden (D-Ore.) has put a hold on the bill citing privacy and transparency concerns. Act now to tell the Senate that you're counting on them to uphold the Constitution, and fix FISA!

In a statement we issued after the House vote today, ACLU legislative counselMichelle Richardson commented:


"Yet again, the House has rubberstamped a law so broad and vague that, despite its passage four years ago, we still have little idea how the government is using it. It is at the very heart of the Fourth Amendment that Americans and their communications are fiercely protected from government intrusion. This law should be amended to include much stronger privacy protections when the Senate takes it up later this year."

Later this fall, on October 29, the Supreme Court will hear the ACLU's challenge to the constitutionality of the law.
U.S. House Votes to Extend Surveillance Under FISA

U.S. Senator Ron Wyden said in June that he will block unanimous consent requests to pass the five-year extension in the Senate. Wyden, an Oregon Democrat, said Congress must have information on the number of Americans who have had their communications intercepted under the authority provided by the Act. Wyden also expressed concern about inadequate protections against warrantless "back door" searches of Americans under the Act.

A Freedom of Information Act lawsuit, filed in August by the Electronic Frontier Foundation in the U.S. District Court for the District of Columbia, alleges that the National Security Agency has circumvented the legal protections for U.S. citizens in the FISA Amendments Act.
UK-based banks accused of massive mis-selling in Italy

Nomura, UBS and Deutsche Bank are among those accused by Italian prosecutors of mis-selling derivatives in deals worth 35bn euros (£28bn).

[ ... ]

BBC Newsnight discovered that London's financial watchdog was made aware of the mis-selling, but failed to act.

Now those Swap derivatives look as if they could further damage the entire Italian economy - the third largest in the eurozone.
Foreclosure Fail: Study Pins Blame on Big Banks

As a result of banks' disorganization and understaffing — particularly at the peak of the crisis in 2009 and 2010 — homeowners were often forced to run a gauntlet of confusion, delays, and errors when seeking a mortgage modification.

But while evidence of these problems was pervasive, it was always hard to quantify the damage. Just how many more people could have qualified under the administration's mortgage modification program if the banks had done a better job? In other words, how many people have been pushed toward foreclosure unnecessarily?

A thorough study released last week provides one number, and it's a big one: about 800,000 homeowners.

The study's authors — from the Federal Reserve Bank of Chicago, the government's Office of the Comptroller of the Currency (OCC), Ohio State University, Columbia Business School, and the University of Chicago — arrived at this conclusion by analyzing a vast data set available to the OCC. They wanted to measure the impact of HAMP, the government's main foreclosure prevention program.
Widespread distrust of US extends beyond Middle East, poll shows

American influence on the world stage is being sapped by widespread distrust of US intentions, not just in the Middle East and south Asia but also among traditional European allies, according to a survey of global opinions.

Suspicion of America outweighed faith in its good intentions by large margins in the Arab world and Pakistan, and even its heavyweight European ally Germany was more sceptical than trusting, a YouGov survey found. British and French opinion was more positive but still deeply divided.

Negative Arab and Pakistani perceptions of America as overweening and untrustworthy clearly pose a daunting foreign policy challenge for the Obama administration. The fact that 78% of Pakistanis questioned by YouGov said they did not trust America to act responsibly underlines Washington's serious lack of soft power in the region as it attempts to extricate itself from Afghanistan.
US Public Satisfied With Less Militarized Global Role

Disillusioned by wars in Iraq and Afghanistan, the U.S. public is becoming increasingly comfortable with a more modest and less militarised global role for the nation, according to the latest in a biennial series of major surveys.

That attitude is particularly pronounced in the so-called Millennial Generation, citizens between the ages of 18 and 29, according to the poll. They are generally much less worried about international terrorism, immigration, and the rise of China and are far less supportive of an activist U.S. approach to foreign affairs than older groups, it found.

Political independents, who will likely play a decisive role in the outcome of November's presidential election, also tend more than either Republicans or Democrats to oppose interventionist policies in world affairs, according to the survey, which was released at the Wilson Center for International Scholars here Monday by the Chicago Council on Global Affairs (CCGA).
Photo journal.
A Long View of Afghanistan's Wars

KABUL, Afghanistan — One of the most troubling things about the national conversation about Afghanistan is that it tends to focus almost solely on the decade since the 2001 American-led invasion. Perhaps this is understandable, since the Afghan conflict marks the longest stretch of time that the United States has actively been at war. And as always, the latest crisis­, any of them, dominates attention: the growing threat posed by Afghan forces who kill their NATO colleagues, the unwillingness of Pakistan to stop sheltering militants who carry out attacks in Kabul, the plague of official corruption that undermines Western trust and the Afghan public's support.
Afghanistan orders YouTube block over anti-Islam film: sources

(Reuters) - Afghan authorities have ordered the YouTube website be shutdown "indefinitely" to stop Afghans watching a U.S.-made film they say insults the Prophet Mohammad, government sources told Reuters on Thursday.
Check out this
post
yesterday at moonofalabama predicting what would happen following the incidents in Libya.
U.S. embassies attacked in Yemen, Egypt after Libya envoy killed

(Reuters) - Demonstrators attacked the U.S. embassies in Yemen and Egypt on Thursday in protest at a film they consider blasphemous to Islam and American warships headed to Libya after the death of the U.S. ambassador there in related violence earlier in the week.
---
Blog Posts of Interest
The Evening Blues - 9-12-12 by joe shikspack
The Protests And Embassy Assaults Will Proliferate by moonofalabama
Libyan Blowback by Craig Murray
Chris Hedges et. al Win Another Round On the NDAA by bmaz at emptywheel
The Persecution of John Kiriakou: Torture and the Myth of 'Never Again' on CommonDreams.org
Occupy the TPP: Civil Disobedience Actions Blockade Entrance to Site of TPP Negotiations in VA



---
The Byrds - My Back Pages



---
We are ready for some serious change. We are ready to take up the tools of a free and analytic press to peacefully undermine the stranglehold of the kleptocrats on our battered democracy. We are ready to expose and publicize their greed, lies and illegal machinations and hold their enablers in government and the media to account. Are you in?
"Never doubt that a small group of thoughtful, committed people can change the world. Indeed, it is the only thing that ever has."
~ Margaret Mead