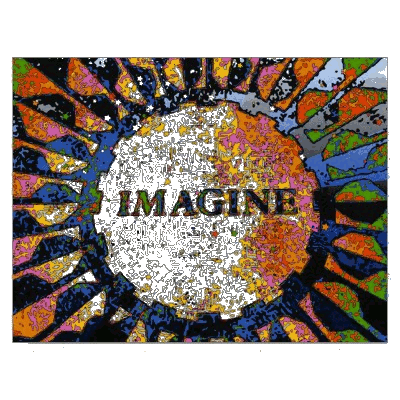 Welcome! "What's Happenin'?" is a casual community diary (a daily series, 8:30 AM Eastern on weekdays, 10 AM on weekends and holidays) where we hang out and talk about the goings on here and everywhere.
We welcome links to your writings here on dkos or elsewhere, posts of pictures, music, news, etc.
Just about anything goes, but attacks and pie fights are not welcome here. This is a community diary and a friendly, peaceful, supportive place for people to interact.
Everyone who wants to join in peaceful interaction is very welcome here.
---
Good Morning!
(Photo by joanneleon. August, 2012)
---

Drop in
any time
day or night
to say hello.

---
News
Four year anniversary of the Lehman implosion. The trillion dollar question:
Prosecuting Wall Street
Why has Wall Street not been held accountable for crimes connected to the deepest recession since the Great Depression?

Four years ago on September 15, the New York investment bank Lehman Brothers declared bankruptcy and the financial collapse of 2008 began.

The economic meltdown wiped out more than $11bn of personal wealth in the US, threw millions out of work, and has already resulted in the foreclosure of more than 10 million homes.

Americans across the political spectrum believe that financial executives should have gone to jail for the practices that led to the collapse, but there have been no significant prosecutions. People & Power investigates why Wall Street has not been held accountable for crimes connected to the deepest recession since the Great Depression.

Two government bodies looked into the causes of the meltdown, the Financial Crisis Inquiry Commission and the US Senate's Permanent Subcommittee on Investigations. Both made criminal referrals to the Department of Justice.
Occupy Wall Street plans to surround NYSE to mark anniversary

(Reuters) - Occupy Wall Street marks its first anniversary on Monday, and, in a bid to rejuvenate a movement that has failed to sustain momentum after sparking a national conversation about economic inequality last fall, activists plan once again to descend on New York's financial district.
The group, which popularized the phrase "We are the 99 percent," will attempt to surround the New York Stock Exchange and disrupt morning rush hour in the financial district, according to a movement spokeswoman.

Monday's protests will cap a weekend of Occupy Wall Street seminars, music and demonstrations in New York, said Linnea Paton, 24, an OWS spokeswoman. Demonstrations are also planned in other U.S. cities, other OWS organizers said.
?? These cuts are a result of the bill that the administration negotiated.
Administration Warns of 'Destructive' Budget Cuts

A White House report issued Friday warns that $109 billion in across-the-board spending cuts at the start of the new year would be "deeply destructive" to the military and core government responsibilities like patrolling U.S. borders and air traffic control.

The report says the automatic cuts, mandated by the failure of last year's congressional deficit "supercommittee" to strike a budget deal, would require an across-the-board cut of 9 percent to most Pentagon programs and 8 percent in many domestic programs. The process of automatic cuts is called sequestration, and the administration has no flexibility in how to distribute the cuts, other than to exempt military personnel and war-fighting accounts.

"Sequestration would be deeply destructive to national security, domestic investments and core government functions," the report says.
This ought to be interesting.
Glenn Beck and Eliot Spitzer to square off in October televised debate

On the eve of the election's first televised presidential debate, viewers can tune into an infinitely more pointless and hilarious sideshow between two of the country's least beloved pundits
Finally, somebody gets it right.
Strike highlights split over poverty's role in learning

(Reuters) - The Chicago teachers strike, which appeared headed toward a resolution Friday, has underscored a fundamental split over the biggest issue confronting America's public schools: how to provide a decent education to children mired in poverty.

Across the U.S., poverty is irrefutably linked to poor academic performance. On last year's national reading exam, nine-year-olds from low-income families scored nearly three full grade levels below their wealthier peers. The gap was nearly as large in math.

[ ... ]

Karen Lewis, president of the Chicago Teachers Union, bluntly attributes poor student performance on standardized tests not to teachers or school administrators but to "factors beyond our control."

Yet a rival philosophy, which first gained traction with the "no child left behind" initiative, holds that such talk amounts to so many excuses. Chicago Mayor Rahm Emanuel and other education reformers argue that if kids are falling behind it's because their schools -- and their teachers -- are failing them. So public education needs a radical makeover.
U.S. drones fly over Benghazi; cause airport to shut

(Reuters) - Libya closed its air space over Benghazi airport temporarily because of heavy anti-aircraft fire by Islamists aiming at U.S. reconnaissance drones flying over the city, days after the U.S. ambassador and three other Americans were killed in an attack.

[ ... ]

"Two American drones flew over Benghazi last night with knowledge of the Libyan authorities," Deputy Interior Minister, Wanis al-Sharif told Reuters.

"They were visible to the eye, and came under attack by anti-aircraft weapons used by armed militias."
Were These Protests Really About That Film?

These protests were not about that film.

The action at the consulate in Benghazi on Tuesday/Wednesday was a deliberate, well planned attack by some AQ affiliated or Salafist group. It seems that the storming of the embassy in Egypt was launched as a coordinated diversion for that attack.

The attacks on the U.S., German and British embassies in Khartoum today were state sponsored for local political reasons. Omar Hassan al-Bashir needed to prove his Islamic credentials and even designated the targets
Diplomats' Bodies Return to U.S., and Libyan Guards Recount Deadly Riot

The arrival, broadcast live on news channels, proved an emotional culmination to an episode that has rocked Washington and American embassies around the world, even as details of those final fateful moments only now began to come clear. When the attack on the diplomatic compound occurred, officials said, Ambassador Stevens was separated from his security detail — and was located only later, at the hospital in Benghazi, where he had been pronounced dead.

[ ... ]

American officials were also still trying to get more clarity on the arrests of four men said to be involved in the attacks. But as they continue sorting through intelligence, they have disputed suggestions floated in Washington and abroad that the attack in Benghazi was premeditated.

"We have no indication that that's the case," an administration official said. The current information available to the White House suggests that the protests in Benghazi were spontaneous and spurred by the Cairo protests but evolved over time as Islamic extremists took advantage of the situation, called in reinforcements and weaponry and mounted an attack.
Afghan policeman kills two NATO soldiers

(Reuters) - - A man believed to be a member of the Afghan Local Police force turned his weapon on soldiers from the NATO-led forces in the country's south on Saturday, killing two, the coalition said in a statement.
Taliban link Afghanistan attack to anti-Islam film

Camp Bastion, in southern Helmand province, came under mortar, rocket-propelled grenade and small arms fire late on Friday in an attack in which several servicemen were wounded.

[ ... ]

"After saying this attack was mounted in reaction to the video on Islam, it is entirely predictable that the Taliban have changed their tune to say it was aimed at Captain Wales," a British defense source said on Saturday, referring to Prince Harry.

[ ... ]

It was not clear whether the explosion was related to a report by Helmand's governor that a roadside bomb had killed 12 civilians, including women and children, when their vehicle drove over an explosive device in the same area.
---
Blog Posts of Interest
The Evening Blues - 9-14-12 by joe shikspack
Lanny Breuer Admits That Economists Have Convinced Him Not to Indict Corporations
---
---
We are ready for some serious change. We are ready to take up the tools of a free and analytic press to peacefully undermine the stranglehold of the kleptocrats on our battered democracy. We are ready to expose and publicize their greed, lies and illegal machinations and hold their enablers in government and the media to account. Are you in?
"Never doubt that a small group of thoughtful, committed people can change the world. Indeed, it is the only thing that ever has."
~ Margaret Mead