I thought that I would try to give my insights into the State House Districts in Indiana, and I will start with the Southern part (mostly the old 8th and 9th Districts, and a lot of the new 6th District). I plan three more installments: Indianapolis Metro, Northwest (The Region to South Bend-Elkhart), and Northeast and the Cornfields.
Remember, this was the epicenter of the demise of the Democratic State House majority in 2010. Democrats lost 12 seats last year, where Democrats lost open seats in HD 46 (Tincher), HD 73 (Oxley), HD 75 (Avery), HD 76 (Van Haaften), and incumbents in HD 44 (Michel), HD 62 (Blanton), HD 68 (Bischoff), HD 70 (Robertson), and HD 74 (Stilwell). 9 of the 12 losses occurred here. For Democrats to be able to have any shot at regaining the House (and that is very, very, very slim), they have to make MAJOR GAINS in this area. I would caution that when someone looks at the presidential numbers in Indiana, that in north and central Indiana, Obama over performed what most legislative Democrats win, but in the Southern third of the state, he performed much like he did in neighboring Kentucky- very badly. Many of the counties in the Louisville media market, Hillary Clinton defeated Obama by 2 to 1 and 3 to 1 (78% in Scott County). Those Hillary voters did not come home to Obama in November. Remember that in 2004, when George W. Bush won some of these districts with well over 60%, only a few Democrats lost their seats. In many of the seats in this area, one needs to analyze them like one would look at state legislative districts in Kentucky. I have been working on this for a while and I am really interested in any comments on what I have to say here.
The idea that Republicans drew a fair map is laughable to me. Their gerrymandering was different that Democratic gerrymandering. They basically found any Democratic leaning county and put all the Democrats in one district and then cut up the rest of the county to other districts. Take a look at the Terre Haute, Evansville, and Bloomington areas in this section for evidence of that.
Democrats recently changed leadership when a band of Democrats met and ousted Rep. Pat Bauer (D-South Bend) as Democratic leader. It seemed like a good idea, but the new leader, Rep. Linda Lawson (D-Hammond) has to get started from scratch with little organization or money. The State Democratic Party, which needs a thorough house cleaning, is in complete chaos, which hurts Democrats here even further. My outlook for many of these seats reflects my pessimism. Most of these Democratic candidates are on their own, while Republicans can through in thousands without blinking an eye.
There are several opportunities for Democrats in this region, but it is likely that Republicans will either have a net gain of a seat or two, or a push between the two parties.
District 42 (Clinton-Rockville)- Incumbent: Dale Grubb (D-Covington), retiring, elected 1988- Obama 49.3, McCain 49.1 &xC5;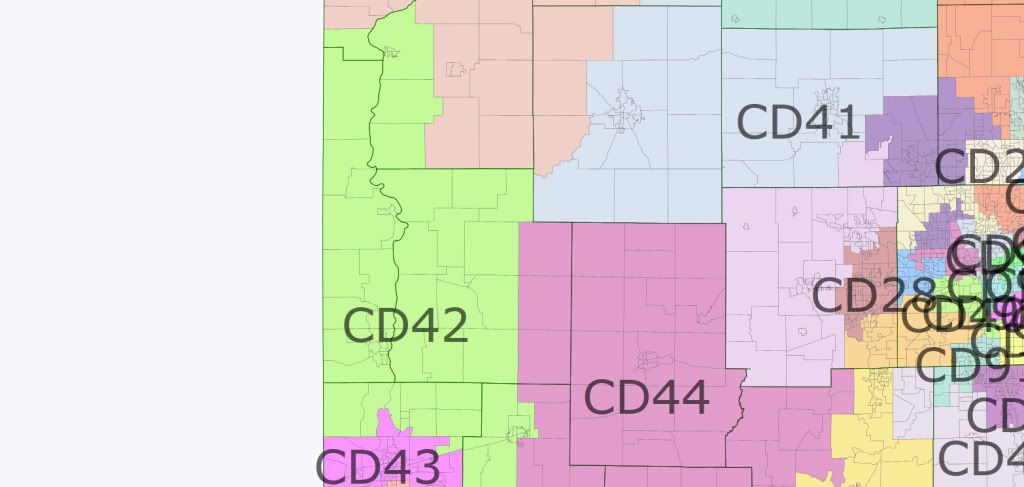 Open Seat: Dem: Parke County Extension Agent Mel Spelbring; GOP: 2010 District 42 nominee Alan Morrison
Dale Grubb's decided to retire after a long time in the legislature. Democrats may have caught a break when the GOP nominated Alan Morrison, who nearly defeated Rep. Kersey in HD-43 in 2010, losing by about 200 votes. Not that he is a bad candidate, but that he is not from either Parke or Vermillion County, but Vigo County. This gives the Democrats an opening to do better than normal in GOP leaning Parke County. However, the Democrats must win Vermillion County by a good margin to offset any losses elsewhere. Currently this district is TOSSUP.
District 43 (Terre Haute)- Incumbent: Clyde Kersey (D-Terre Haute), elected 1996- Obama 62.4, McCain 36.3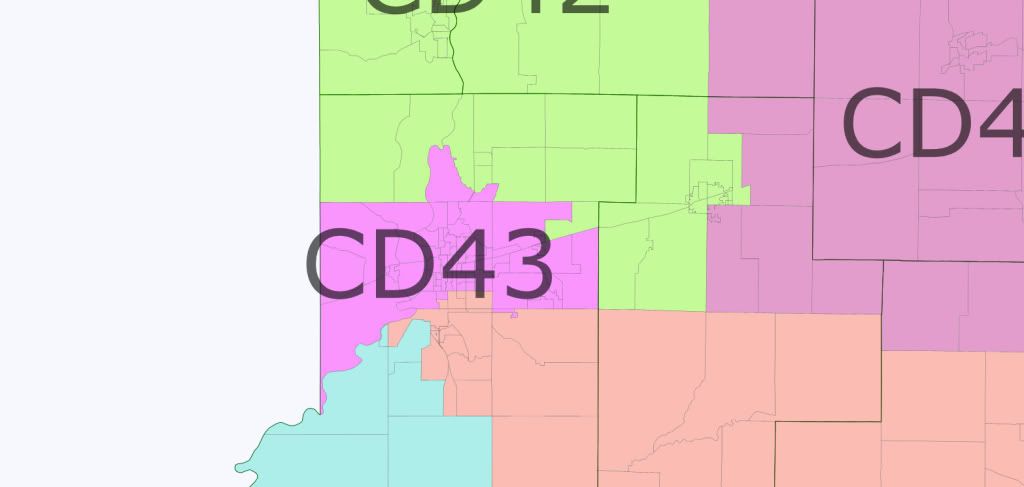 Dem: Rep. Clyde Kersey; GOP: John Cunningham
Kersey survived an unexpectedly close race in 2010, but redistricting packed Democrats into his seat. He faces a weak opponent, who advocates nullification. This seat is SOLID DEMOCRATIC.
District 44 (Greencastle-West Morgan)- Incumbent: James Baird (R), elected 2010, McCain 57.5, Obama 41.0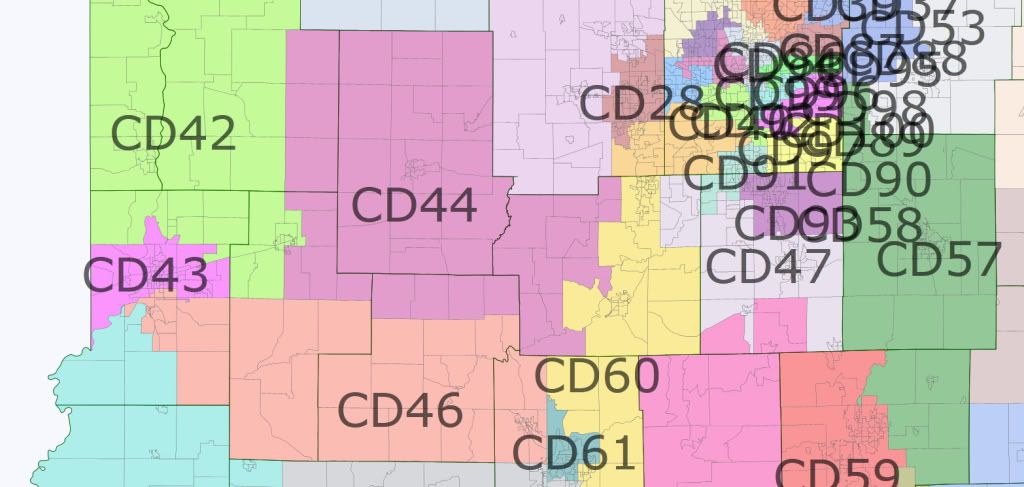 Dem: Richard Thompson; GOP: Rep. James Baird
Redistricting added part of Morgan County to this seat and pushed it further to the GOP. Democrats slated a candidate in June, but it won't make much difference. This district is SOLID REPUBLICAN.
District 45 (Vincennes-Sullivan)- Incumbents: Bruce Borders (R-Janesville), elected 2004 vs. Kreg Battles (D-Vincennes), elected 2006, McCain 51.4, Obama 47.1


Dem: Rep. Kreg Battles; GOP: Rep. Bruce Borders
Neither of these incumbents got the districts they wanted. Borders, who represented the most Democratic district (in 2008 Gov. numbers) held by a Republican, moved further away from a safer seat. In fact, the changes took away parts of heavily Republican Daviess County and most all of his home of Greene County. The added part was the city of Vincennes in Knox County, which is the home of Rep. Kreg Battles. The apparent goal of this was to create on open District 64, which looks similar to the old District 64, but without Kreg Battles and Vincennes in it. Battles has won in HD 64, which is much stronger for the GOP than this district. Were Republicans willing to sacrifice Bruce Borders to have better chance in an open HD 64? Both of these are very good candidates, so it will come down the wire. Currently this district is a TOSSUP.
District 46 (Riley-Spencer-Ellitsville)- Incumbent: Bob Heaton (R-Riley), elected 2010, McCain 51.5, Obama 47.2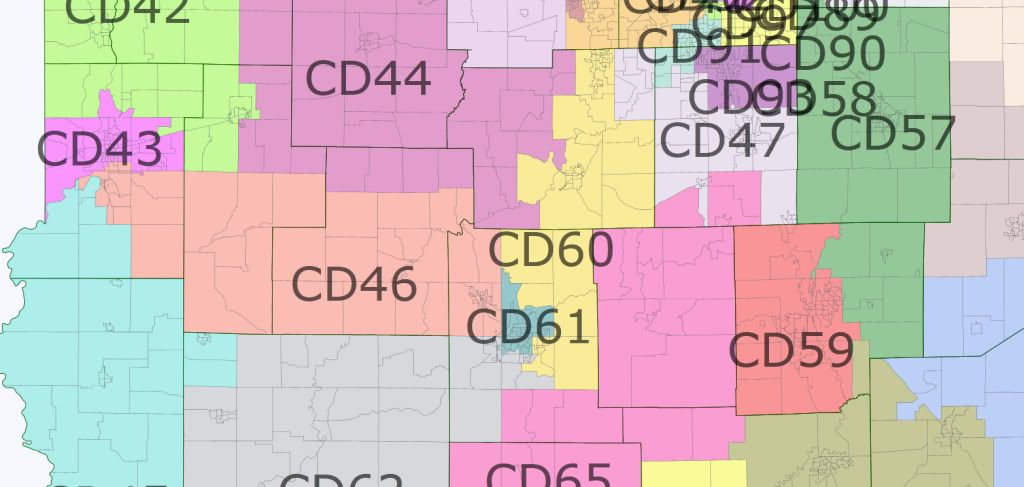 Dem: Terre Haute Teacher James Mann; GOP: Rep. Bob Heaton
Bob Heaton, who nearly won in 2008, easily won an open seat, that looks much like the new district, which stretched from the Monroe County to Vigo County. The biggest change is that Heaton gains Ellitsville, a suburb of Bloomington, which tends to lean Republican (at least for Bloomington). But Ellitsville is not a stronghold of the far right. The new district did subtract Brazil in Clay County. This a winnable district for Democrats, especially since Heaton's right to work vote will not play well in Vigo County, where there is strong union sentiment. At this point, this district LEAN REPUBLICAN.
District 55 (Connersville-Greensburg): Incumbent: NEW SEAT (R), McCain 58.4, Obama 40.2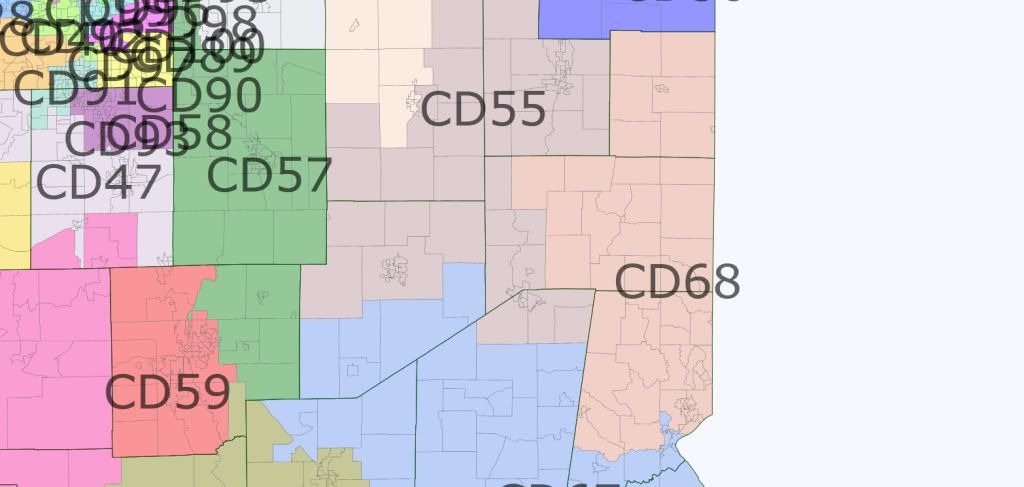 Dem: David Moeller; GOP: Franklin County businesswoman Cindy Ziemke
This district is very similar to Rep. Tom Knollman's old district, but with one important difference, no Tom Knollman, since Union County has been placed in HD 68. This district is anchored in Connersville (the town with no fluoride in their water), with leftovers from other counties. This is another district where Democrats would need to put up a good fight to take back the House, but where it difficult. Democrats have a strong candidate in David Moeller, while the Republicans have a traditional conservative candidate. This is one to keep an eye on, but not likely to go Democratic.This district is LIKELY REPUBLICAN.
District 56 (Richmond): Incumbent: Phil Pflum (D-Milton), McCain 50.7, Obama 47.5
Dem: Rep. Phil Pflum; GOP: Richard Hamm; Libertarian: Mark Brim


The old version of this district basically linked the cities of Richmond and New Castle. The new version is all in Wayne County. It always reminded me of the Lois Capps district in California that was oddly shaped and split counties, but seemed to link more like communities than if counties were kept together. This did make this district much more Republican. The old version voted for Obama by about 6-8 points, so there is about a ten point turnaround in favor of the GOP, by taking away New Castle and replacing it with rural parts of Wayne County. Pflum is from Wayne County and done well there, but is going to gain a lot of rural territory. Democrats did catch a break with the Libertarians running a candidate. The GOP nominated Dick Ham, who has ran here before, and who Republicans have put money behind before as well. Due to the changes in this district, it will be a challenge for Democrats to hold onto. If Pflum hangs on, Democrats would be hard placed to hold this as an open seat. At this point this district TOSSUP.
District 57 (Shelbyville-Hope): Incumbent: Sean Eberhart (R-Shelbyville), McCain 59.3, Obama 39.4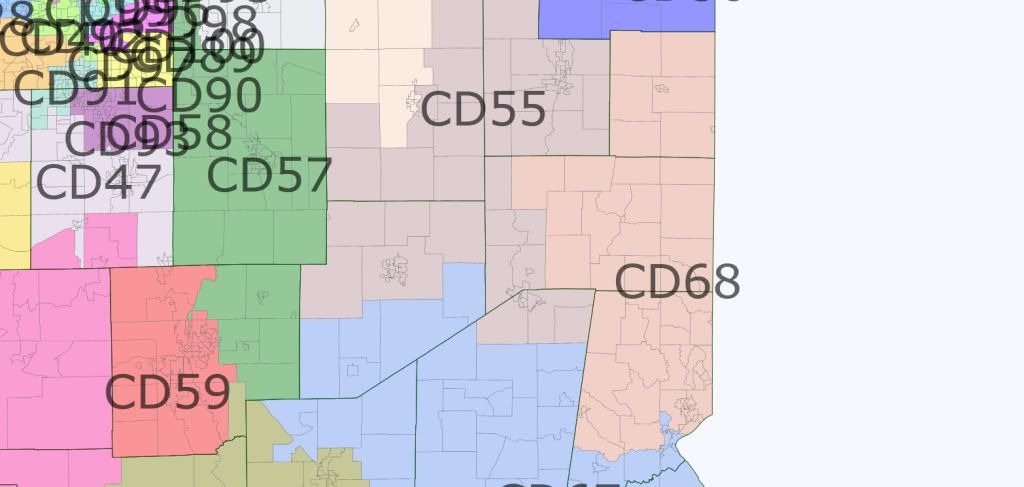 Dem: D. Todd Day; GOP: Rep. Sean Eberhart; Libertarian: Paul Bravard
There is not much to say here. This is still a heavily Republican district centered on Shelby County, with the remainder of Bartholomew County filling out the population. Democrat J.D. Lux tried to win this district several times, but was not successful. This district is SOLID REPUBLICAN.
District 59 (Columbus)- Incumbent: Milo Smith (R-Columbus), McCain 54.4, Obama 44.6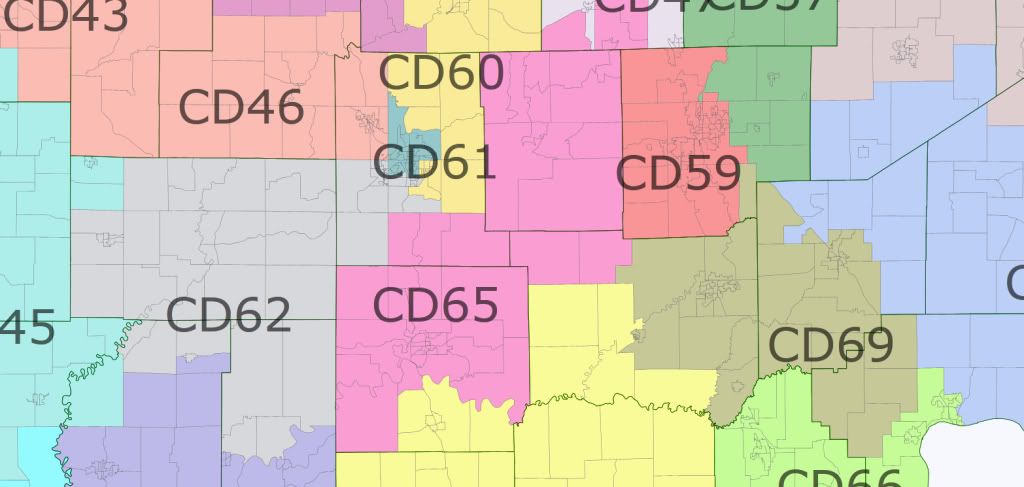 Dem: None; GOP: Rep. Milo Smith
Democrats took a big hit in Columbus in 2011, when they lost the mayor's race. Smith could have faced a strong challenge because of his right to work vote, but Democrats failed to even slate a candidate. This district is SAFE REPUBLICAN.
District 60 (Martinsville-Bloomington)- Incumbents: Peggy Welch (D-Bloomington), elected 1998 vs. Ralph Foley (R-Martinsville), retiring, elected 1992, McCain 52.4, Obama 46.7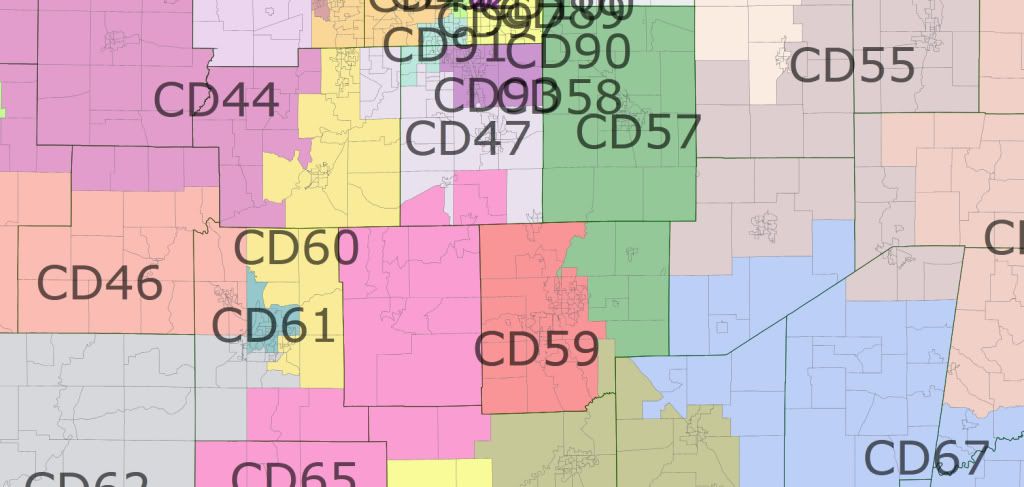 Dem: Rep. Peggy Welch; GOP: Morgan County Clerk Peggy Mayfield
HD 60 shows how not serious the Republicans were about not splitting up counties and communities of interest. Monroe County is split between 5 counties and Morgan is split between 3. The census numbers would easily give Monroe County two districts within its border and Morgan one with great ease. Republicans actually split Perry Township in Monroe County three ways. Anyone who has EVER lived in Bloomington will tell you that Monroe County has nothing in common with its neighbors, especially Morgan County and Martinsville. The old HD 60 was (mostly) the non-city of Bloomington parts of Monroe County, plus Ellitsville (the town that is big enough to be a city, but will not agree to become one), and a couple of stray townships in Brown and Greene Counties. The old district gave Obama only 56%. The new HD 60 is majority in Morgan County, which is heavily Republican and a few years ago was banned from high school home basketball games when racial epithets were yelled at Bloomington South players. This district does not include most of the heavily Democrat precincts near the college. Welch pondered a challenge to Rep. Todd Young, but decided to run here again. The GOP has a strong candidate in Morgan County Clerk Peggy Mayfield. Welch is the only Democrats that could put this seat in play. At this point the district is a TOSSUP.
District 61 (Bloomington-IU Campus)- Incumbent: Matt Pierce (D-Bloomington), appointed 2004, Obama 76.2, McCain 23.0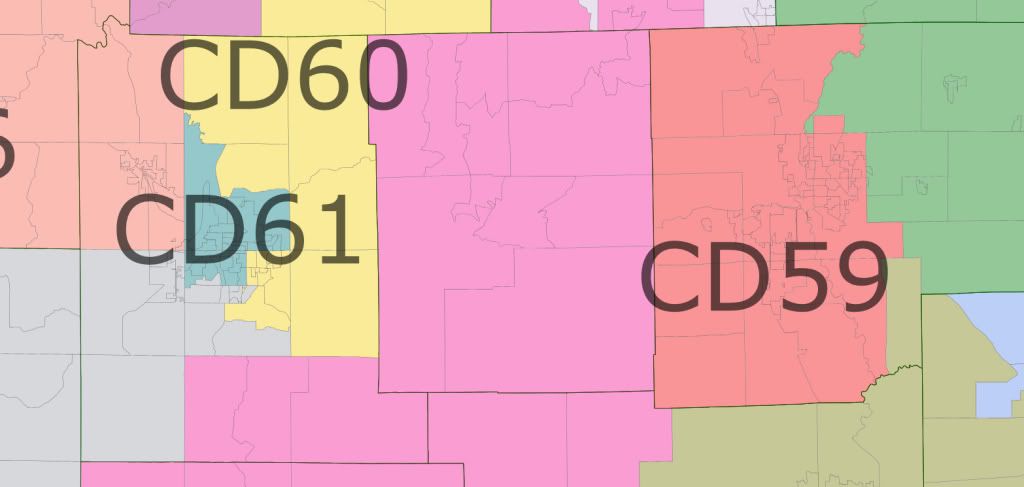 Dem: Rep. Matt Pierce; GOP: None
This district took in the strongest Democratic precincts in Bloomington into one district. This is the strongest white majority seat in Indiana. The GOP did not even bother to run anyone here. This district is SOLID DEMOCRAT.
District 62 (Linton-Loogootee)- Incumbent: Matt Ubelhor (R-Linton), elected 2010, McCain 51.7, Obama 47.0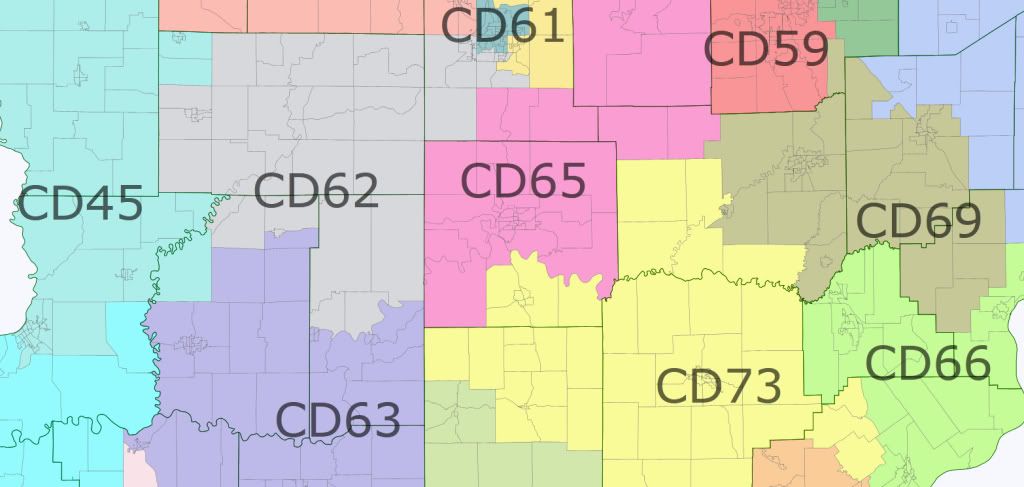 Dem: Linton teacher Jeff Sparks; GOP: Rep. Matt Ubelhor
The new design of HD 62 looks little like its former version. Gone are Orange, Lawrence, and Washington Counties from this new district. Good for the GOP: it picks up more of Greene County and a few precincts in Daviess Counties. Bad news: most of the gain is in Democratic Monroe County. In fact, nearly half of this district is now in Monroe County, where the new Republican has never run before. Dems are running Linton teacher Jeff Sparks. Until I see any anything differently, I rate this seat as LIKELY REPUBLICAN.
District 63 (Japer-Washington)- Incumbent: Mark Messmer (R-Jasper), elected 2008, McCain 58.6, Obama 40.0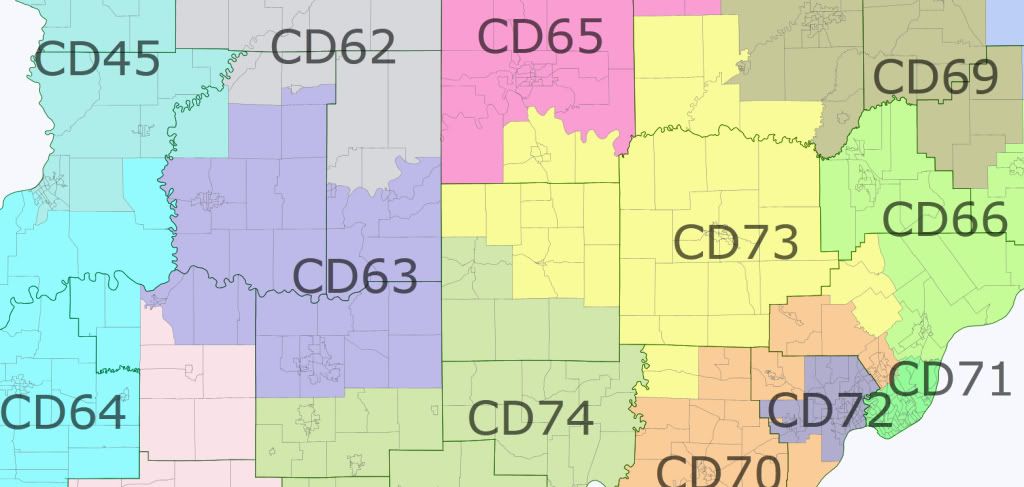 Dem: none; GOP: Rep. Mark Messmer
Messmer picked up this seat in 2008 when Rep. Dave Crooks decided not to run again. Democrats did not even bother to challenge him this year. It is SOLID REPUBLICAN.
District 64 (Princeton-Armstrong)- NEW SEAT, McCain 57.9, Obama 41.0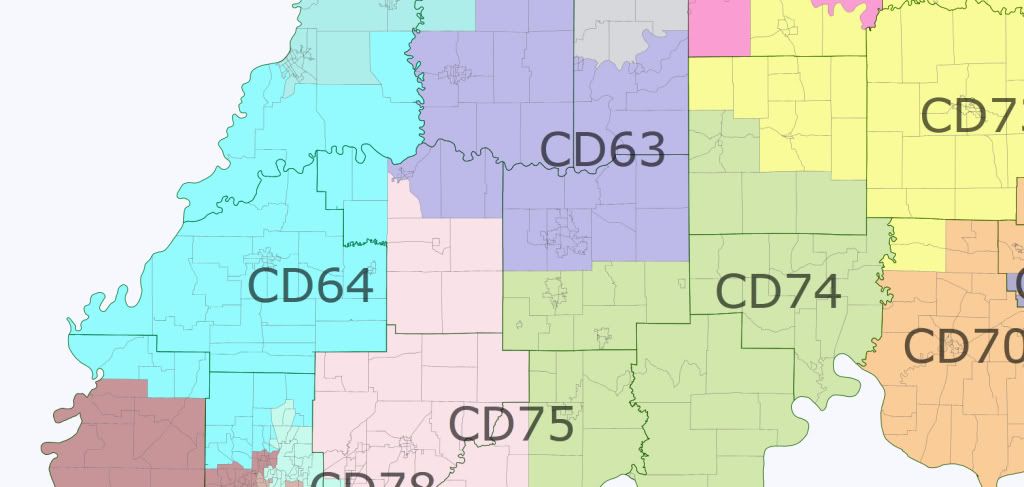 Dem: Mark Norton; GOP: Attorney and former Congressional aideThomas Washburne
It seems a GOP goal was to create a new Gibson County based seat. This county has moved strongly Republican lately. The small parts of Gibson County gave the winning margins for Republican Wendy McNamara in the House and Jim Tomes in the Senate. It is combined with Democratic-leaning parts of Knox County, and a mixed bag in Vanderburgh County. It has Democratic-leaning German Township, and the Republican-leaning Armstrong and part of Scott Townships. I am probably more pessimistic about this seat than most people are. Given the shift of Gibson County to the GOP, it is LIKELY REPUBLICAN.
District 65 (Bedford-Nashville)- Incumbent: Eric Koch (R-Bedford), elected 2004, McCain 57.1, Obama 41.5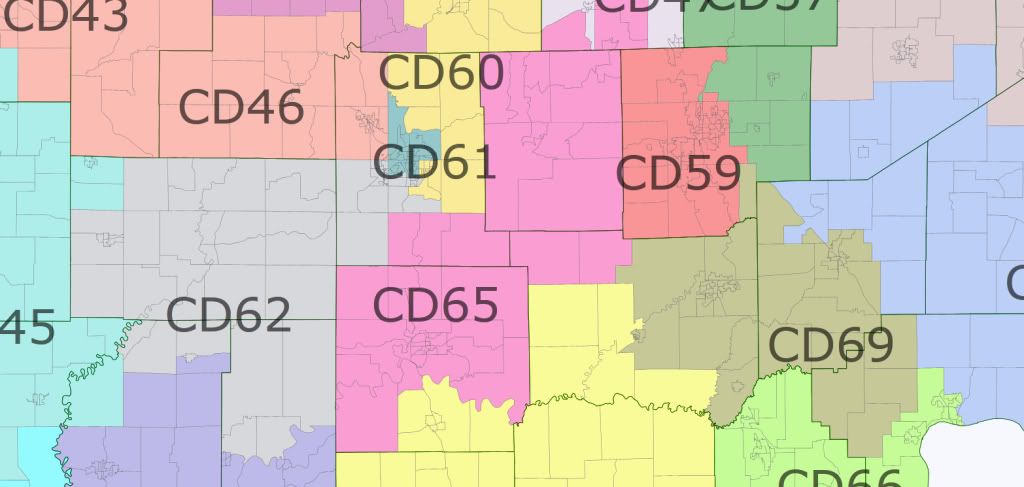 Dem: None; GOP: Rep. Eric Koch; Libertarian: Al Cox
Koch drew the State House map, which must have been to his liking. Dems did not even bother to contest this seat. This race is SOLID REPUBLICAN.
District 66 (Scottsburg-Charlestown-Madison-Scottsburg)- Incumbent: Terry Goodin (D-Austin), McCain 53.5, Obama 45.2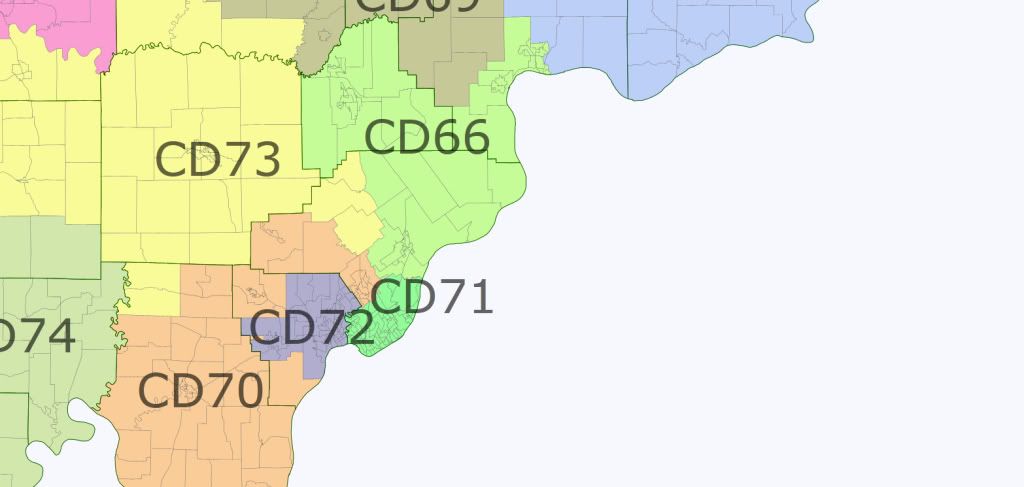 Dem: Rep. Terry Goodin; GOP: Congressional aide Justin Stevens
Terry Goodin got a district with all of Scott County, where he is very well known and liked. Goodin had no opponent until the GOP slated Justin Stevens, who is an aide to Rep. Todd Young. Goodin is a very strong candidate, who should dominate Scott County, but also faces new territory in Charlestown and Madison. Goodin is favored, but the GOP may decide they want to dump some money in the Louisville television market to go after Goodin, who is a fiery campaigner. This district is LEAN DEMOCRATIC.
District 67 (Greensburg-Vevay)- Incumbent: Randy Frye (R), elected 2010, McCain 60.1, Obama 38.3


Dem: Tom Cheek; GOP: Rep. Randy Frye
So much for Republicans drawing simple districts. This one has all or part of seven counties. Frye is one of the many freshmen elected in 2010, but this was a GOP open seat of Rep. Cleo Duncan, not a GOP pickup. This district is much different than Frye's old district. He loses most of Decatur County and all of Rush County. What he gains is the Southern Tier of Dearborn County, more of Ripley County, North and Eastern parts of Jennings County, Eastern Jefferson County, and all of Ohio and Switzerland Counties. This a Republican leaning district, but not nearly as Republican as before, especially with the gain of heavily Democratic Switzerland County. Cheek is a retired union pipefitter, and should get strong union backing, but this is a GOP leaning seat. This district is LIKELY REPUBLICAN.
District 68 (Lawrenceburg-Brookville)- Incumbents: Jud McMillan (R-Brookville), elected 2010 vs. Tom Knollman (R)- retiring, elected 2006, McCain 67.0, Obama 31.7


Dem: Dearborn County Democratic Chair Jake Hoog; GOP: Rep. Jud McMillan
This district is now the place where John McCain got his second highest percentage. McMillon defeated longtime Rep. Bob Bischoff (D-Lawrenceburg) in a district that was not as Republican. Not much to see here this year. It is just too Republican. This district is SOLID REPUBLICAN.
District 69 (Seymour-North Vernon)- Incumbent: Dave Cheatham (D-North Vernon), retiring, elected 2006 (previously served 1982-1992), McCain 54.7, Obama 43.5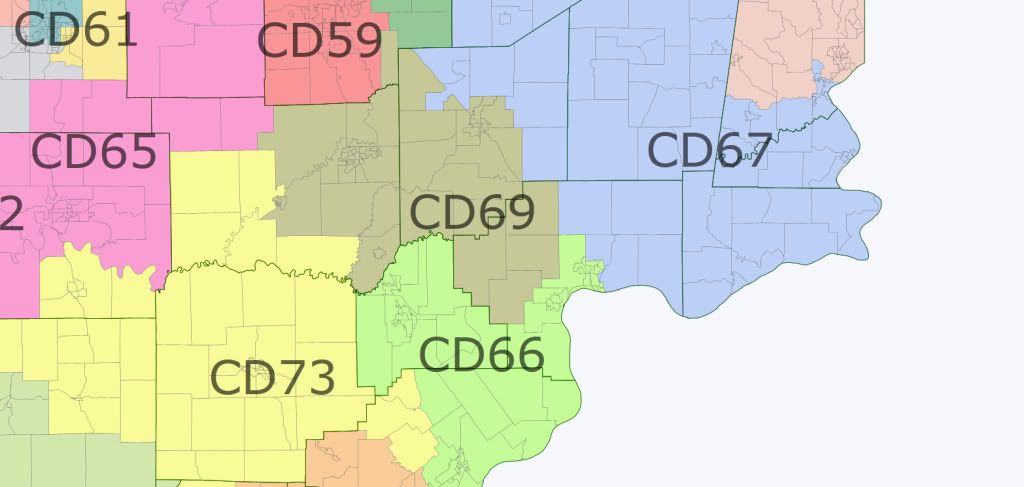 Dem: Retired Seymour High School Principal Jim McCormick, GOP: Seymour City Council Member Jim Lucas
This retirement was unexpected on the part of Dave Cheatham and it hurt. This is a reconfigured seat anchored in Seymour and North Vernon. Baron Hill once represented much of this area in the House in the 80s. The GOP decided to stick with Jim Lucas (a Seymour City Council member), who lost to Terry Goodin in HD-66. Dems recruited retired Seymour High School Principal Jim McCormick, who narrowly won a spirited primary against union electrician Trent Wiesner, who is from North Vernon. Both candidates are from Seymour, leaving the North Vernon area as a place where both candidates will have to introduce themselves. Both are good candidates, but it is clear the GOP will have more money. At this point, this district is a TOSSUP.
District 70 (Corydon-Greenville-Sellersburg)- Incumbent: Rhonda Rhoads (R-Corydon), elected 2010, McCain 59.0, Obama 40.0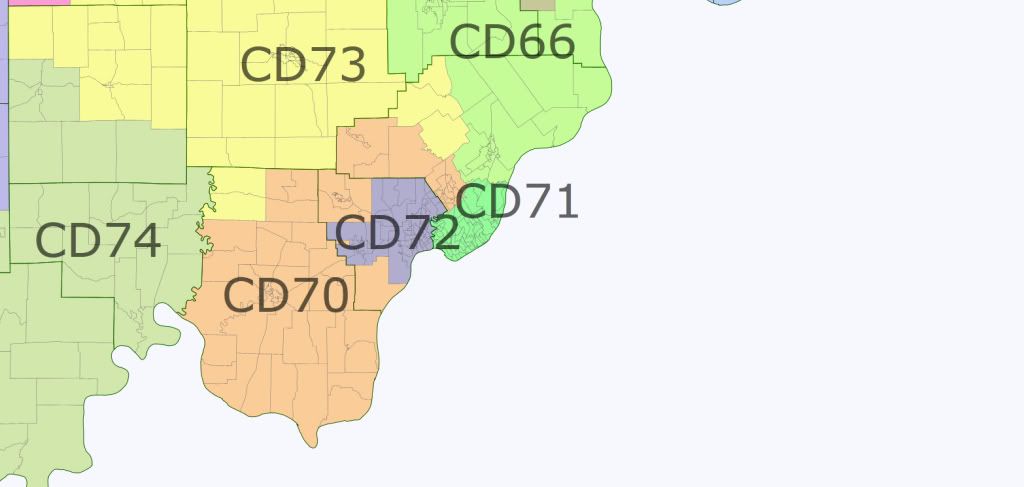 Dem: Former Harrison County Commissioner Terry Miller; GOP: Rep. Rhonda Rhoads
Rhoads will face the voters again after defeating 32 year incumbent Paul J. Robertson in 2010 in the GOP landslide, which was as strong in southern Indiana as anywhere in the nation (it took out Terry Miller in 2010). Democrats got behind Terry Miller several months ago, but union organizer Jim Kincaid, a longtime union man at Jeff Boat and Teamster member jumped in the race recently. Despite people thinking the primary would be close, Miller won nearly 65% of the vote. There did not appear to be any hard feeling from the primary, as Kincaid is backing Miller. Miller faces a tough race against Rhoads, who Republicans put over $600,000 in 2010 in her victory. However, she is extremely far to the right (she was a Tea Partier before there was a Tea Party) and she has faced voter backlash over right to work, and won't have the GOP 2010 landslide at her back. However, while Democrats can beat her in Harrison County, the Floyd and Clark parts of the district lean Republican. This seat may come down to the Sellersburg area of Clark County if Miller is to have a chance. This race LEANS REPUBLICAN.
District 71 (Jeffersonville-Clarksville-Utica)- Incumbent: Steve Stemler (D-Jeffersonville), elected 2006, Obama 51.7, McCain 47.5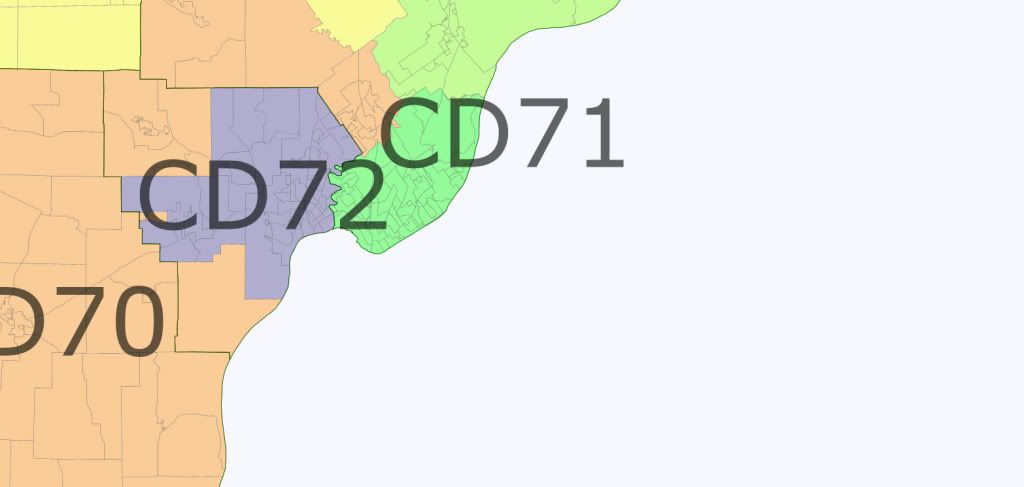 Dem: Rep. Steve Stemler; unopposed
It once seemed that Jeffersonville City Councilman Matt Owen, who is not even 20 years old, would take on Stemler, but he declined, as did all other Republicans. This district is SAFE DEMOCRAT
District 72 (New Albany-Floyds Knobs)- Incumbent: Ed Clere (R-New Albany), elected 2008, McCain 53.6, Obama 45.6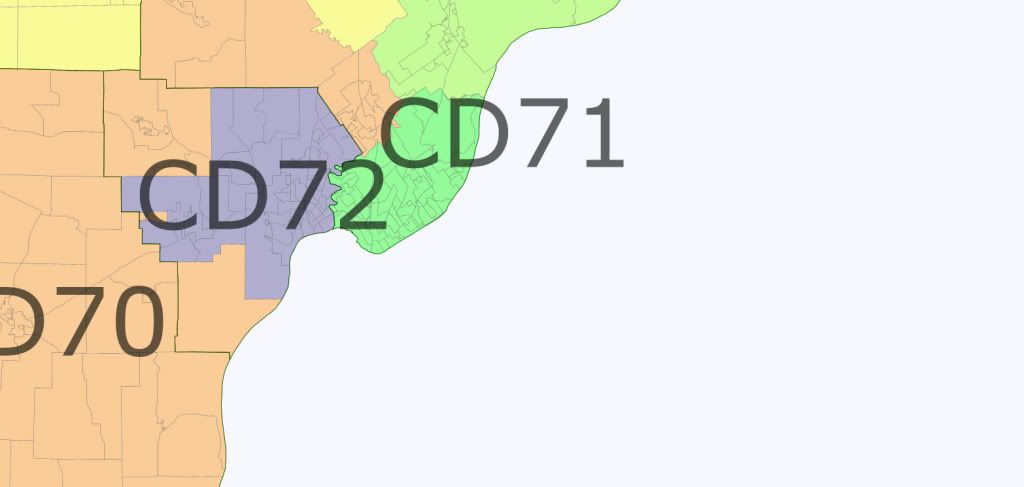 Dem: Sharon Grabowski; GOP: Rep. Ed Clere
Ed Clere won a narrow upset in 2008 against longtime Rep. Bill Cochran, and then rode the GOP tide to a landslide victory in 2010 over a strong Democratic candidate. Redistricting made few changes here, adding possibly a few hundred GOP votes. However, Clere voted for right to work in a seat where this is not popular. Grabowski won the primary here, and she is a union member. This does not seem to be a big target for Democrats. This district is currently LIKELY REPUBLICAN today.
District 73 (Salem-Paoli-Mitchell)- Incumbent: Steve Davisson (R-Salem), elected 2010, McCain 57.8, Obama 40.6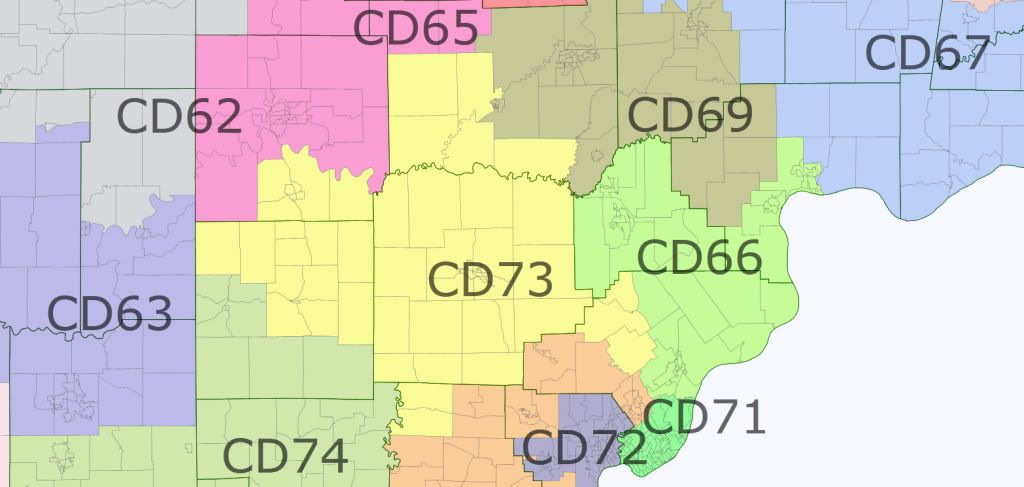 Dem: Former Rep. Sandra Blanton; GOP: Rep. Steve Davisson
Davisson kept Washington County in redistricting, but nearly all the rest of his seat is new. Democrats got a very strong candidate in former Rep. Sandra Blanton from Orange County, but they also cut out some favorable precincts in Orange County. Democrats look to be backing Blanton strongly given her ties in the legislature, but the seat is not easy. However, neither was her old seat. Davisson is well liked in the Salem area, so he has an advantage. Right now, this district LEANS REPUBLICAN.
District 74 (Tell City-English-Ferdinand)- OPEN SEAT: Sue Ellsperman (R-Ferdinand) running for Lt. Gov., elected 2010, Obama 52.2, McCain 46.0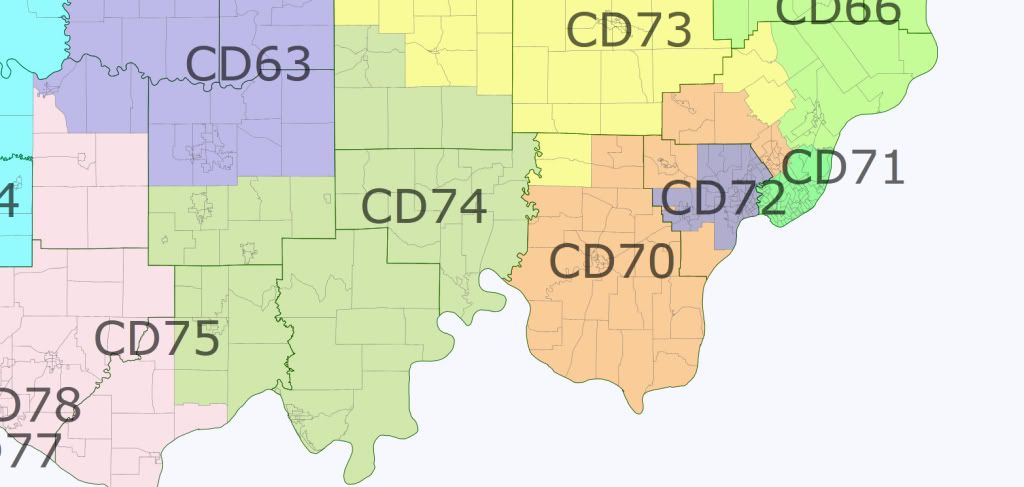 Dem: Retired North Spencer Assistant Supt. Mike Schriefer ; GOP: Lloyd Arnold
Democrats caught a break when St. Rep. Sue Ellspermann was tapped for Lt. Gov. While this seat leaned their way after redistricting, she was still a formidable candidate who defeated the #2 House Democrat in 2010. Given the number of Democrats packed into this seat, one must wonder if House Republicans already knew Ellspermann would be picked by Mike Pence. Democrats already had recruited a very strong candidate in in Mike Schriefer, who is well known in Spencer County from his time in the school system there. The GOP chose businessman Lloyd Arnold. Without Ellspermann as the candidate, it is hard to see the GOP keeping this seat. Therefore, it is a LEAN DEMOCRAT (PICKUP).
District 75 (Boonville-Petersburg)- Incumbent: Ron Bacon (R-Chandler), elected 2010, McCain 53.9, Obama 44.8


Dem: Boon Township Trustee and businessman Kevin Derr; GOP: Rep. Ron Bacon
Ron Bacon would have never won except for the GOP wave (won by only 164 votes). Then he got a completely redrawn seat to take in most of Warrick County, except for the most GOP heavy precincts in Newburgh. This seat also has Rockport and Petersburg. Derr is very well known in the Boonville area. While Bacon was one of five Republicans to vote no on right to work, Boonville is probably the strongest union town outside of NW Indiana, thanks to the large Alcoa plant and the presence of coal mining. The question is whether Bacon will get this taken out on him anyway. This is a prime Democratic pickup opportunity. This seat is a LEAN REPUBLICAN.
District 76 (Mount Vernon-German Township)- Incumbent: Wendy "Mac" McNamara (R-Mount Vernon), elected 2010, McCain 51.4, Obama 47.5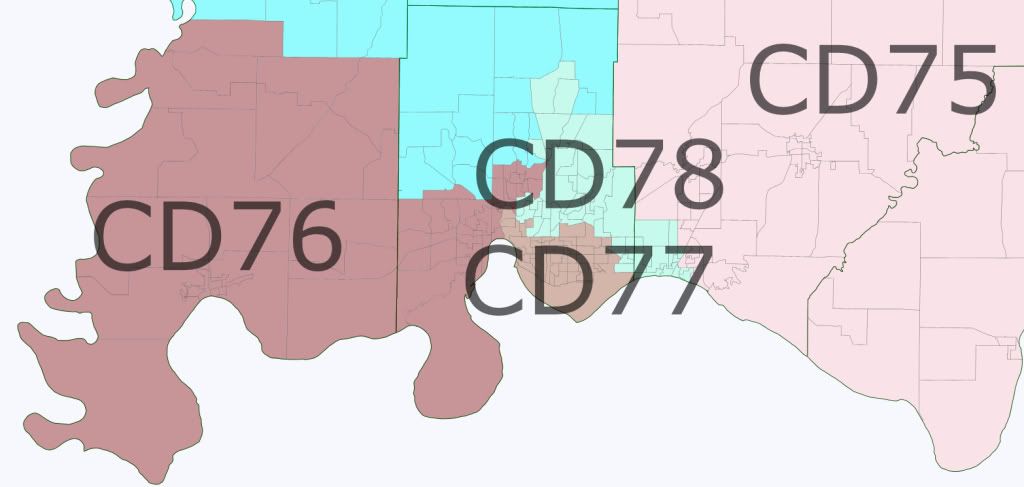 Dem: Former Sen. Bob Dieg; GOP: Rep. Wendy McNamara
McNamara won this seat by only 4 votes in 2010 against Dieg, who is seeking a rematch. McNamara is an attractive Republican from Posey County, but has been a down the line Mitch Daniels stooge. She voted for right to work, despite strong opposition in this area. Dieg should have a stronger chance than in the GOP landslide of 2010. This is another prime Democratic pickup opportunity. This district is a TOSSUP.
District 77 (Evansville Center)- Incumbent: Gail Riecken (D-Evansville), elected 2008, Obama 62.7, McCain 36.3


Dem: Rep. Gail Riecken; GOP: Retired Air Force Officer Alan Leibundgruth
The new version of District 77 eliminates all of what it had in its heavily Republican precincts in Newburgh. It is replaced by Democratic precincts in Evansville. In fact, there are only two precincts in this district not in the city of Evansville. It seems the goal here was clear: to pack as many Democrats as possible into this district. In fact, this district is now 19% black. Riecken faced her strongest possible opponent, former Local Government Finance Chair Cheryl Musgrave, who was strongly backed by Gov. Daniels in 2010 in a less Democratic district, still managed to hang on. With Obama on the ticket in 2012, who will boost minority turnout, in fact, one precinct in Ward 4, John McCain got 3 votes, and another he got 7 votes. This district is SOLID DEMOCRAT.
District 78 (Evansville East/North-Newburgh)- Incumbent: Suzanne Crouch (R-Evansville), appointed 2005, McCain 55.0, Obama 44.3


Dem: None filed; GOP: Rep. Suzanne Crouch
Crouch switched her previous vote on right to work to vote in favor this time, which is unpopular in Evansville, which is a union stronghold. At the same time, her seat became more Democratic when Republicans added GOP voters to other surrounding seats. This is mind boggling that Democrats did not even try to challenge her. This seat is SOLID REPUBLICAN.
Running Total on Seats
Solid Dem: 43, 61, 71, 77
Likely Dem
Lean Dem: 66, 74
Pure Tossup: 42, 45, 56, 60, 69, 76
Lean GOP: 46, 70, 73, 75
Likely GOP: 55, 62, 64, 67, 72
Solid GOP: 44, 57, 59, 63, 65, 68, 78