DK Quilt Guild: A place for quilters to gather, share ideas, projects, and to make the world a better place, one quilt at a time. Join us and share your thoughts, projects, questions, and tips. Quilters here are at many different levels of skill. Beginners and non-quilters are welcome, too!
We've got a lot going on! Glorificus is leading two projects -- group quilts to benefit Okiyap and NFTT --
read the details on those projects here
-- and contact Glorificus if you would like to make a 12" block for either quilt.
The other project is making 35 wheelchair quilts for the Spinal Cord Injury/Disability unit at the Palo Alto VA Medical Center. A full description of the project is here. These are small quilts, 36" x 60", in other words, a quick project. With 35 of them, we will provide every veteran in that unit at the time of NN13 with one -- plus a teddy bear.

So far, these quilters have signed up to make the wheelchair quilts.
Sara R
winglion
BeadLady
glorificus
kitchen table activist
jlms qkw
mamamorgaine
weck
Carol in San Antonio
Radiowalla
princesspat
Pam from Calif
angelajean
Embee
vtgal
geordie
Let me know if I missed anyone or if you would like to join in.
Today, I thought I would share some simple blocks that have been used in community quilts that might be suitable for beginners making wheelchair quilts.
First, there is the heart block - complete instructions are in this diary.
Another block that I really like is "Mr. Roosevelt's Necktie", used here in princesspat's quilt:
And here is what the blocks look like when they are pinned on the design wall all together. Here, they are all in the same direction, with the darks in the upper right and lower left. Or, you could try rotating the blocks to reverse the positions of light and dark, every other one, making a neat chain pattern.
The construction is very simple -- a sixteen patch that is made of four half-square triangles and twelve squares. You need a light background fabric, and a medium and a dark for each block. Or make it with a dark background with light and medium brights -- that would look stunning! This would be a great block pattern for using up scraps.
One more block...an old-fashioned bear paw.
This one was from ImpeachKingBushII's quilt. Once again, it is made with four half-square triangles and the rest is simple squares. To make the pattern stand out, it would be best with a sashing or alternated with plain blocks. If you did the latter, you would only need to build nine 12" bear paw blocks to make a wheelchair quilt -- alternated with nine 12" plain blocks. Hey, the same is true of the heart block!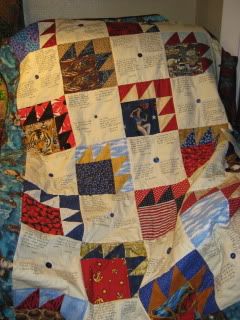 Please share some favorite, easy blocks in the comments below. If anyone is a beginner and needs precise instructions, I'll be happy to help.