When Mitt Romney at a private fundraiser dismissed all Barack Obama voters as moochers and victims—showing disdain for nearly half of the American electorate—he was speaking at the home of controversial private equity manager Marc Leder in Boca Raton on May 17, 2012. This is evident from references made by Romney within the full video recording of the event that has been reviewed by Mother Jones.
Mother Jones
Who is Marc Leder?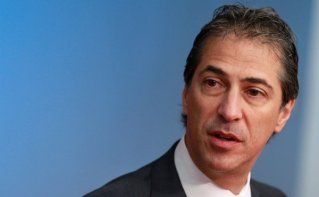 Shockingly, he's in private capital. He was "inspired" by Mitt Romney.

Mr. Leder personifies the debates now swirling around this lucrative corner of finance. To his critics, he represents everything that's wrong with this setup. In recent years, a large number of the companies that Sun Capital has acquired have run into serious trouble, eliminated jobs or both. Since 2008, some 25 of its companies—roughly one of every five it owns—have filed for bankruptcy. Among the losers was Friendly's, the restaurant chain known for its Jim Dandy sundaes and Fribble shakes. (Sun Capital was accused by a federal agency of pushing Friendly's into bankruptcy last year to avoid paying pensions to the chain's employees; Sun disputes that contention.) Another company that sank into bankruptcy was Real Mex, owner of the Chevy's restaurant chain. In that case, Mr. Leder lost money for his investors not once, but twice.
New York Times
And, in between (so to speak) . . .

It was as if the Playboy Mansion met the East End at a wild party at private-equity titan Marc Leder's Bridgehampton estate, where guests cavorted nude in the pool and performed sex acts, scantily dressed Russians danced on platforms and men twirled lit torches to a booming techno beat.

The divorced Sun Capital Partners honcho rented a sprawling beachfront mansion on Surf Side Road for $500,000 for the month of July. Leder's weekly Friday and Saturday night parties have become the talk of the Hamptons -- and he ended them in style last weekend with his wildest bash yet.
NY Post 8-7-2011
"I think the portrayal of me as having wild and crazy parties is absolutely incorrect," Mr. Leder said during a wide-ranging interview in Sun Capital's offices in Midtown Manhattan. "I spend a small percentage throwing some parties, attending some parties. I like music. I like to dance. But rather than reporting on how I spend 340 days and nights of my year, the media likes to report on the other 25."
New York Times
Yes, during those 340 days . . .

The Pension Benefit Guaranty Corporation, the federal agency that helps safeguard corporate pensions . . . accused Sun Capital in bankruptcy court filings of using the bankruptcy to shift Friendly's pension burden onto the agency.

"That's absolutely not true," Mr. Leder said. Friendly's pension fund, he said, was underfunded well before Sun Capital bought the company. The outcome, he added, is simply the way the bankruptcy process works.

"We don't make the rules," he said with a shrug.
New York Times