The latest data from the Census Bureau shows the poverty rate was 15 percent in 2011, essentially unchanged from the year before. But the official number doesn't include millions of people helped by government programs like Social Security, unemployment benefits, food stamps and the EITC.
Last week's Census Bureau report on income, poverty and health insurance in 2011 was filled with worrying data points: rising income inequality, median incomes down 1.5 percent, one in six Americans in poverty. Still, a few measurements exceeded expectations. The official poverty rate fell 0.1 percent to 15 percent, far better than analyst predictions of 15.5 percent. Overall, 46.2 million people were living below the poverty line in 2011 ($22,811 for a family of four with two children), including 16.1 million children.
TCF's Policy Associate Benjamin Landy writes that46.2 million sounds like a lot, and it is. But it is important to keep in mind that without government programs, the poverty rate would be much worse. Because the Census Bureau hasn't changed the way it measures poverty since the Johnson administration first launched the War on Poverty in 1964, transfer payments like SNAP (food stamps) and the federal earned income tax credit (EITC) aren't included in the official measure. By the Census Bureau's own reckoning, including those programs in the official definition would reduce the number of people in poverty by 3.9 million and 5.7 million, respectively. Removing Social Security, which is already included, would add 21.4 million people to the official figure. Removing unemployment benefits adds another 2.3 million.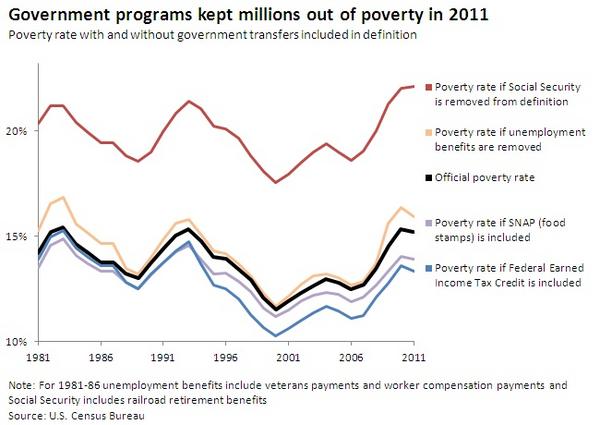 See more visual graphs here.