One of the surest signs a presidential campaign is in serious trouble is when other down ballot candidates of the same political party become alarmed at their presidential nominee's gaffes, mistakes, and political blunders and begin to chart a different route to ensure their own political survival.
According to The Hill newspaper

Sen. Scott Brown (R-Mass.) came out in opposition to Mitt Romney's controversial remarks on the "47 percent."

Brown, who has been distancing himself from elements of the Republican Party, joins GOP Senate candidate in Connecticut Linda McMahon in coming out against the statements.

"That's not the way I view the world. As someone who grew up in tough circumstances, I know that being on public assistance is not a spot that anyone wants to be in. Too many people today who want to work are being forced into public assistance for lack of jobs," he said in an email to The Hill.

The GOP presidential nominee scrambled to clarify his remarks during an impromptu press conference Monday night, explaining that his position was "not elegantly stated" and that he was indeed concerned with all Americans.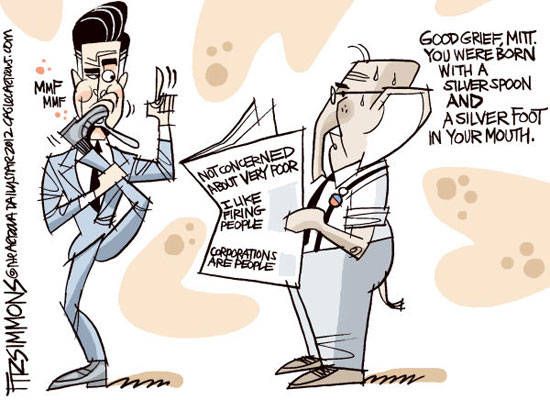 Update: I just watched the opening segment of Bill O'Lielly's show on Faux News. His message? This videotape is great news for John McCain Mitt Romney for, according to O'Lielly, there is a "culture of dependency" and victimisation in the country - one that President Barack Obama has helped foster through his social policies. What unadulterated nonsense!
Charles Krauthammer is agreeing with O'Lielly but said he wished Mittens had chosen different words although the 47% surely include many of Romney's supporters, including Social Security recipients. Not very smart strategy.
These people are not only delusional but fuc*&%g desperate!
How politically toxic has Romney become for other Republicans? The Hartford Courant reports that CT Republican US Senate candidate Linda McMahon has distanced herself from Romney
Republican U.S. Senate candidate Linda McMahon was quick to denounce Mitt Romney's secretly videotaped remarks to donors about the "47 percent" of the U.S. electorate who support President Obama and believe they are entitled to government handouts.

"I disagree with Governor Romney's insinuation that 47% of Americans believe they are victims who must depend on the government for their care. I know that the vast majority of those who rely on government are not in that situation because they want to be. People today are struggling because the government has failed to keep America competitive, failed to support job creators, and failed to get our economy back on track," McMahon said in a statement posted on her website this morning.

"I am sympathetic to the struggles that millions of Americans are going through because I've been there. As a young couple Vince and I lost our home and our car. With two small children it was not an easy time for my family."

See this 2011 video in which McMahon has her own problems with 47% of Americans.
Yes, there will always be political deadenders. When Richard Nixon resigned the presidency in August 1974, about 25% or so still supported him. This in spite of the fact that he would have surely been impeached, convicted, and forced to leave office had he not resigned.
This is where the Romney Campaign is today. What will tomorrow bring? Stay tuned.