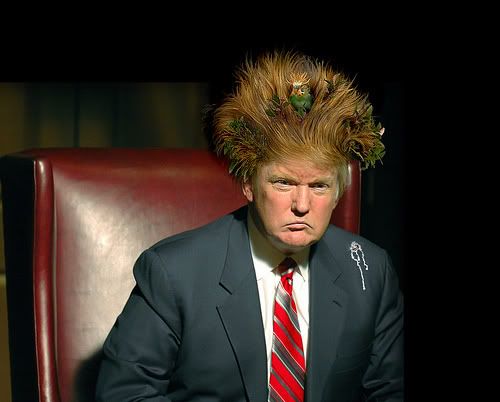 Donald "Its-alway-about-me" Trump urged Mitt Romney not to apologize in an interview with Matt Lauer, host of NBC's "Today," but his major concern seemed to be that we are witnessing a major media scandal where he is not the center of the attention. After brief remarks about Romney, Trump tried to turn the conversation to himself, complaining that due to the hurricane, the RNC did not run his comedy skit at their convention. (By the way, this is a real article folks. My picture is doctored, a little but not this link and the quotes.)
Kevin Robillard, of Politico, reports:

"He has to not apologize; I think we've seen enough apologizing already," Trump said on NBC's "Today." "He cannot apologize. What he said is probably what he means, and he did say 'inartfully stated.' The fact is he cannot apologize; he is going for those independents. He won't get the votes of a lot of people he's discussing, and if you're not going to get the votes, let's go on with it."

Yes, what an indignity that liberals keep on criticizing Romney after he's invoked the universally recognized immunity waiver "inartfully stated." Sheesh, Mitt Romney is the victim here. Thank goodness The Donald is here to explain to us how the system is supposed to work.
Then, Trump instinctually realizes he is focusing too much attention on Romney, so criticizes Republicans for not being tough enough, (read as tough as he is), and then, he skillfully uses this bridge to a criticism of the GOP convention planners who did not have the insight to find a way of airing a video of him firing an Obama impersonator, despite the fact hurricane Isaac blanked out the first day schedule.
Watching such a master at his craft gives me goosebumps.

First, Trump tells us how much people wanted to see the skit that involved him interviewing and then firing an Obama impersonator. If this was the same impersonator who we saw featured at the RNC, we would have to agree this might have been the only bit of wise judgement we've ever seen from The Donald. But, then Trump seems to wander off into gibberish.

"A lot of people wanted it [to air]," Trump said on NBC's "Today." "But the problem they have is, you know, they are not being tough enough. They're not getting, I can't say down and dirty, but that's exactly what President Obama is doing with them. And they've got to fight fire with fire. The Republicans have to get tougher, or they're going to lose this campaign."

"Today" broadcast excerpts of the video, in which Trump gives an Obama impersonator a performance review before deploying his "You're fired" catchphrase. The first night of the convention — when the video was scheduled to air — was canceled due to Hurricane Isaac, and the video didn't air later in the week.
Trump said the video was the RNC's idea and was made by "top Hollywood people."

Here we see Donald Trump's amazing ability to steer any conversation, on any topic back to center on himself. I'm wondering if, perhaps, The Donald saw Bill Kristol's offhand comment last night, suggesting in a joke, that if Mitt Romney resigned due to this weeks controversies, we might have a Ryan-Rubio ticket? Was his real motivation for showing up on Matt Lauer so people might think we still have a chance of a Trump-Ryan ticket in 2012?
"If not now, when?"
"If not me-who?"
Maybe Trump 2016?
Happy day's are here again.
7:43 PM PT: This is a real article folks. Well, the picture has been doctored a little bit, but check out the link to politico, The quotes are real.
And, I put a lot of work into this just for your evening's amusement!