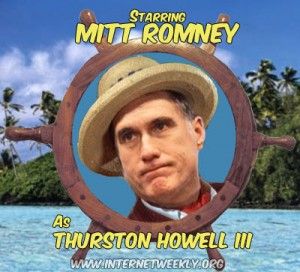 Mitt Romney Offers Full-Throated Attack On Obama's 'Redistribution' in a desperate attempt to change the narrative away from a long series of vile, self inflicted wounds, gaffes, and honest but unpresidential remarks, reports Luke Johnson.
Today, Mitt Romney, searched for a way out by seizing on the Drudge Report's release of a 1998 video purportedly showing President Obama favoring "redistribution." The White House has provided the context that as a State Senator, our president was talking about how to use government in a more effective way by opening up opportunities to all citizens.
But, Mitt Romney is now trying to weave this 14 year old sentence into a tapestry accusing President Obama of being a radical socialist, and mixing it with the out of context, quote, "you didn't build this."

"He [Obama] really believes in what I'll call a government-centered society. I know there are some who believe that if you simply take from some and give to others then we'll all be better off. It's known as redistribution. It's never been a characteristic of America," Romney said Wednesday at an Atlanta fundraiser. "There's a tape that came out just a couple of days ago where the president said yes he believes in redistribution. I don't. I believe the way to lift people and help people have higher incomes is not to take from some and give to others but to create wealth for all."

Obama, in the 1998 clip, said "I think the trick is figuring out how do we structure government systems that pool resources and hence facilitate some redistribution -- because I actually believe in some redistribution, at least at a certain level to make sure that everybody's got a shot." ...

Romney continued trying to connect the redistribution idea to a distortion of President Obama's explanation of the importance of infrastructure, mentors, and other community help entrepreneurs, and others get in achieving their success.

Again, watch for the keyword of the day, redistribution.
This idea of redistribution follows from the idea that if you have a business, you didn't build it, someone else did that. It's the same concept. That, see, government is responsible for everything that's gone on here. And therefore government can take and give as it chooses.

Luke Johnson reminds us that American government does rely on a certain amount of "redistribution" as the most wealthy are taxed to help the most poor, and to fund Medicare, head start, and food stamps.
Fortuitously, just as I was writing this, Bill Burton appeared on CNN, refuting Mitt Romney's new "redistribution" theme, saying the American people know who President Obama is, what he believes, what he stands for. Wolf Blitzer pressed Rep. Jason Chaffetz (R-UT) on how silly it is to try to portray President Obama as a radical who wants to redistribute wealth when over the last four years the rich have gotten richer.
Chaffetz deployed the usual GOP pivot, to something so inane I will not distract you with it.
An unusually aggressive Blitzer doubles down on the attack. saying, "38% of Utah returns were from non-payers of Federal Income taxes. "Are these people moocher, parasites?" "Are they victims?"
Again Chaffetz bumbles off something about economic opportunity, Obama is taking us down the path of increased government.
Burton responds, "that not what he said on your own broadcast, Wolfe."
Bill Burton, pointed out that the people President Obama is trying to help are the very poorest, students with Pell Grants, and I can't even remember exactly, but can fill in now, the poorest with Medicaid, and Medicare, and food stamps, unemployment benefits, job retraining. Are these the "redistribution of wealth" programs that Romney want to get rid of? How about getting rid of OHSA, EPA, the SEC, FDA, and taking us back to the robber-baron days of the 19th century? Romney is starting to sound more and more like a bad parody of Thurston Howell, III.
The more Thurston Howell Romney, III and his sad band of radicle anti-government zealots try to dig themselves out of this one the worse it gets.