As some of you know it's been a very rough year for our family. I started having low back pain last October that began to radiate down my leg, my Dad was in failing health and our beloved pootie Toonces had pancreatitis and three cancer surgeries. Two of those operations were on his nose but it was the last one that took him from us. He was diagnosed with adenocarcinoma of his bowel and mesentery and had a resection followed by three rounds of chemo. One month after his last chemo treatment we took him to our wonderful pootie vet for a check and got the horrible news that the tumor was back and larger than the original. Persiflage and I have been reeling ever since. We had to let him go Thursday. He was wrapped in my community quilt when he left us.
A few months ago horsefeathers asked if she could request that Sara and Ann make me a community quilt. She knew my back and leg pain was debilitating and that I was having injections that gave relief but only lasted a month and that my Dad was preparing to go on Hospice care. At the same time I was beginning the process of having a spinal cord stimulator implanted (the insurance company requires a trial stimulator and psychological evaluation). And Toonces had just had surgery to remove the adenocarcinoma. I was so humbled that someone would want to do that for me. I was at a really low point.
Toonces had his first chemo treatment the day my Dad died. I knew the quilt was going to be made and read the messages left for me in the quilt diaries. Words cannot express how much this meant to me, that people I have never met would care enough to write loving messages of support, that horsefeathers would care enough to initiate this, that Sara and Ann would care enough to make the quilt gave me strength at a time I sorely needed it.
When I had my surgery four weeks ago I knew the quilt was being made and imagined it's warmth around me as I recovered afterward.
I received word from Sara that the quilt was being sent! I couldn't wait to see it and get my hands on it.
Then we went to the vet. My beautiful quilt came the next day. Toonces and I got right under it and snuggled. He loved being under covers when he wasn't sleeping on my head.
As we watched our loving, talkative, playful 16 year old cat whom we've had since he was six weeks old go down like a stone, have fluid pulled off his abdomen so he could eat and still he couldn't eat, knowing his condition was irreversible and that he didn't feel well and soon would really suffer we knew we had to live up to his trust in us to take care of him and let him go.
When it was time to take him on his last ride I wrapped him in my quilt. I wanted him to feel the warmth and love. As I wrote above he was wrapped in it when he left his earthy pain behind. What little comfort I got came from that.
We miss him like you couldn't believe and now when I snug up in my quilt it's like a part of him is there.
Thank you from the bottom of my heart for this incredible gift. We never know in this life the ways in which a kindness to another brings even more succor to the recipient than could be imagined.
Rest well Toonces, we love you.
On his new pootie pad sent with the quilt.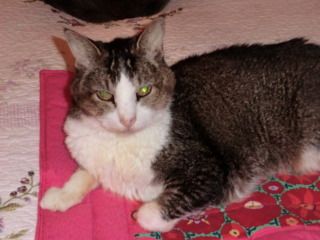 My beautiful quilt, Tea For Two and Ladybugs.