Pennsylvania is a mixture of Appalachian, Northeastern Megalopolis, and Midwestern voting patterns. Kerry won it by 2, Obama by 11, and Obama looks like he will win it by 8-12 points this year. It does not appear that Pennsylvania is moving rapidly right or left according these presidential results. Outside of presidential elections, Democrats have difficulty holding the coalition together statewide. Most of us know that the Philadelphia suburbs are moving left, and the counties around Pittsburgh (suburban, exurban, or rural) are moving right. But there are other regions of the state that are undergoing change. To further study these details, I made maps of the Pennsylvania counties by age and % Democratic voter registration. I ignored unaffiliated voter registration, although new registrants are twice as likely to register as independents compared to the overal population.
TOTAL: 453,996 Democrats, 375,643 Republicans
Overall, the age group of 75+ has strong Democratic voter registration. Of course if you look at the exit polls in 2008, it is clear that by now many of them are conservadems. The old statewide coalition for Democrats is plain to see - Philadelphia, the Lehigh Valley, Pittsburgh and the coal regions, Scranton (Lackawanna County) and Erie. Republicans had the Philadelphia suburbs, Harrisburg, Centre County (home of Penn State), Lancaster, and the rural northern tier.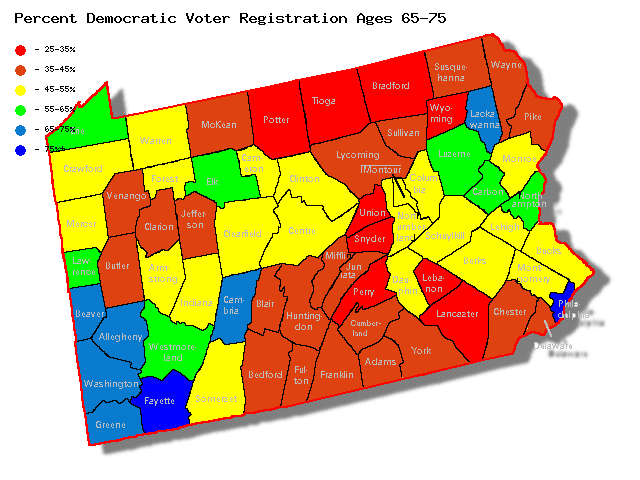 TOTAL: 471,543 Democrats, 393,037 Republicans
And so it begins. Democratic voter registration starts to wane around Pittsburgh and grow in Philadelphia suburbs. There is erosion of Democratic strength in the Lehigh Valley, but improvement in Harrisburg and Centre County. Similarly strong Democratic registration overall in this group.
TOTAL: 768,987 Democrats, 573,508 Republicans
The boomers are a good age group for Democrats in Pennsylvania. Democrats hold the line around Pittsburgh, recover a bit in the Lehigh Valley, and make some much-needed inroads into Lancaster County.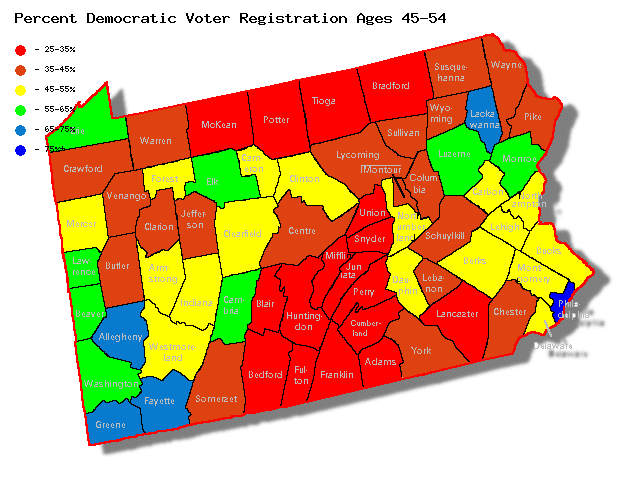 TOTAL: 764,107 Democrats, 658,804 Republicans
This is the worst age group for Democratic registration. Registration falters again in the Lehigh Valley, western Pennsylvania experiences a precipitous drop, there is no improvement in the Philadelphia suburbs, and central Pennsylvania turns an ugly shade of bright red again.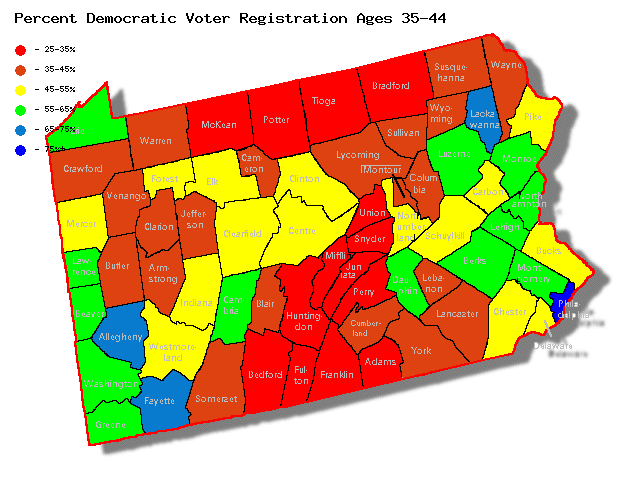 TOTAL: 645,380 Democrats, 484,362 Republicans
Here is where the registration statistics start to move inexorably toward Democrats. The Philadelphia suburbs and the Lehigh Valley take a sharp turn left, central Pennsylvania remains red, and western Pennsylvania continues to deteriorate. Notably, Dauphin county (Harrisburg) now has 55%+ Democratic registration.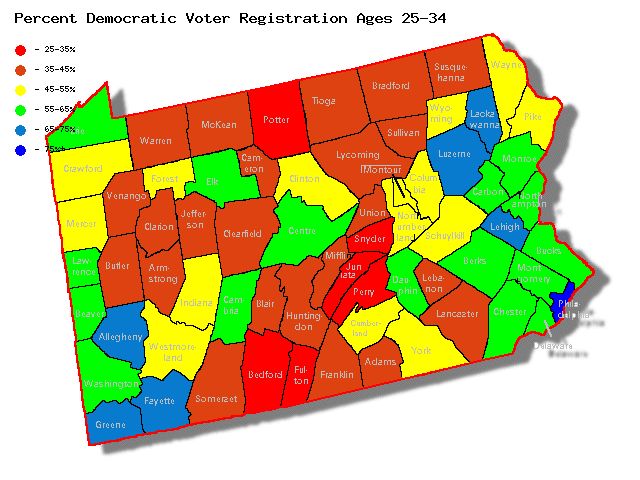 TOTAL: 714,833 Democrats, 405,337 Republicans
Woo. Democrats really start to crush Republicans in registration with this generation (mine!). Every county in the Philadelphia region now has 55%+ Democratic registration - they have come a long way. Blue coloring makes a welcome appearance in the Lehigh Valley. Harrisburg suburbs in York and Cumberland counties begin to become more liberal. Bright red almost disappears entirely from the map, except for in a few underpopulated counties.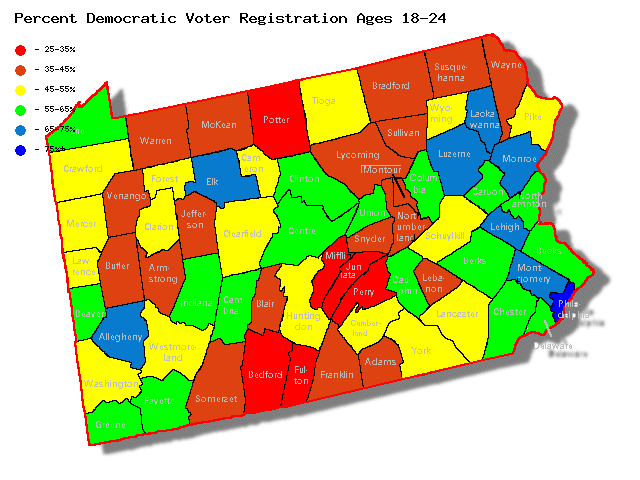 TOTAL: 354,870 Democrats, 202,869 Republicans
Let the good times roll. The youngest generation is just as Democratic as its immediate elders. There is further erosion in the southwest, and Democrats cannot seem to stop the bleeding there. But that is the only weak spot. Montgomery county in the Philadelphia suburbs now has a 2:1 Democratic registration advantage. Monroe County on the New Jersey border turns blue. Lancaster county continues its march toward registation parity. Probably the most surprising development for me, is a Democratic turnaround in the interior northwest. Indiana, Clearfield, Clinton, Cameron, Elk, and Forest counties all move left!
Republicans cannot rely on the southwest to save them. Almost every other region of Pennsylvania shows improvements for Democrats among the youngest voters. The Philadelphia suburbs continue to move left, with little of evidence of stopping. The Lehigh Valley continues to move left, probably with an assist from a growing Latino population. Monroe County's New York transplants are really making a difference. I thought Obama's improvement in Cumberland-York-Lancaster might be temporary, but the statistics suggest otherwise. In the youngest group in York county, 48% are Democratic registrants. Swingy Berks county, home of Reading, is slowly moving left. Allegheny county gave Obama a rather unimpressive 57-42 victory in 2008, but Democratic registration is slowly improving. I think Republicans have a hit a wall in Allegheny. Erie, Centre, Dauphin, and Philadelphia counties continue to move left slowly. The big cities are not letting us down.
For the next decade the districts of Dent (PA-15), Meehan (PA-07), Gerlach (PA-06), Fitzpatrick (PA-08), and Pitts (PA-16) will remain or become competitive. Mike Kelly's (PA-03) district will stagnate as Pittsburgh suburbs move right, and Erie moves left. PA-04, PA-05, and PA-11 are not especially competitive right now, but if Republicans cannot stop the bleeding in Erie, Elk, Centre, Clinton, Luzerne, Cumberland, York, and Dauphin counties they will be by the end of the decade.
If Mark Critz wins PA-12 this year, or if Larry Maggi wins PA-18, their days will probably be numbered. PA-09 and PA-10 will remain uncompetitive. Indiana county's surprising inclusion in hard-right PA-09 probably shows that Republicans acknowledge problems there.