It rained big time yesterday. It's raining today. Water is coming down in buckets. I wasn't too optimistic about the 5k walk at Marlin Park yesterday, but my daughter persuaded me that the organizers had a back up plan for the rain.
I want to do an official 5 k or 10 k walk and my daughter thought this would be a good way to find out how I'd do. We have a friend who is a photographer and was a "red strider" for this event. Diabetes is a good cause. It's a silent killer. I had a student hospitalized last week because of Type II diabetes. Ok. It's a go. We went.
I'm not a morning person. It was a little strange for me to go to bed early and willingly get up at 6 am to drive down I-95 to the site of the old Orange Bowl that is now the home to Marlin Park by 7:45am. That was the goal, anyway. I ended up getting up at 6:30am and we got there in the pouring rain around 8 am.
The organizers had a plan for rain.
It was to stay under the stadium's overhang - which worked for the most part. This picture was taken after the rain settled down to a steady light rain.
The rain changed out walk route. Instead of walking up the ramp to walk around the 100 level once, then down the ramp and out to walk the perimeter of Marlin Park, We stayed under the stadium's over hangs and circled the 100 level seats 6 times (we did 8). Here's the entrance to the up ramp.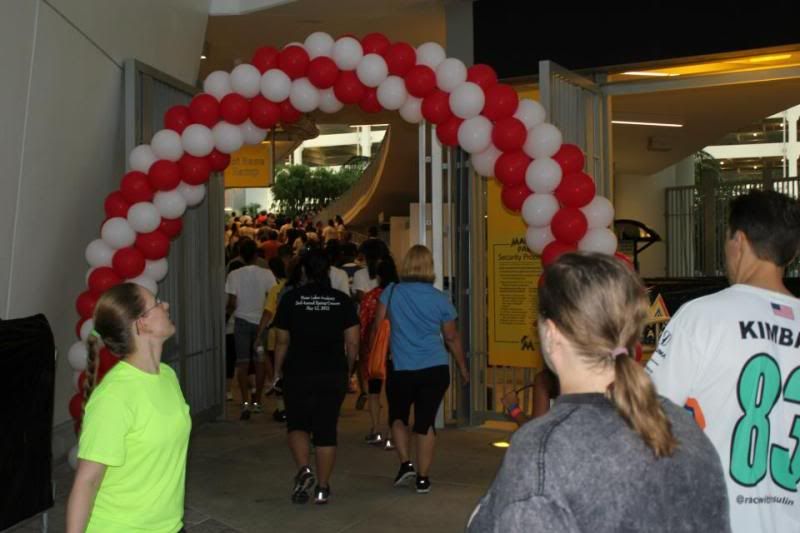 We had a welcoming committee cheering the walkers.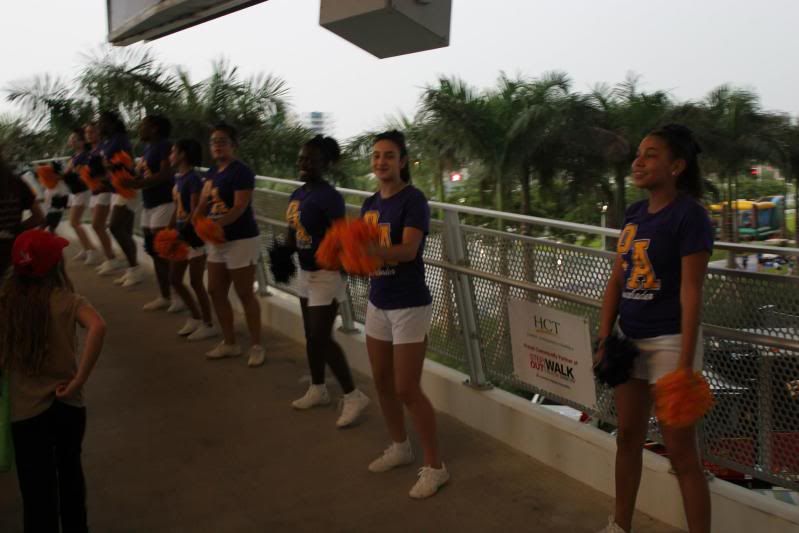 I was most impressed with this walker. She really had a hard time moving around, but she was there. She completed the entire route and she deserves recognition. Her friend stayed with her the whole way.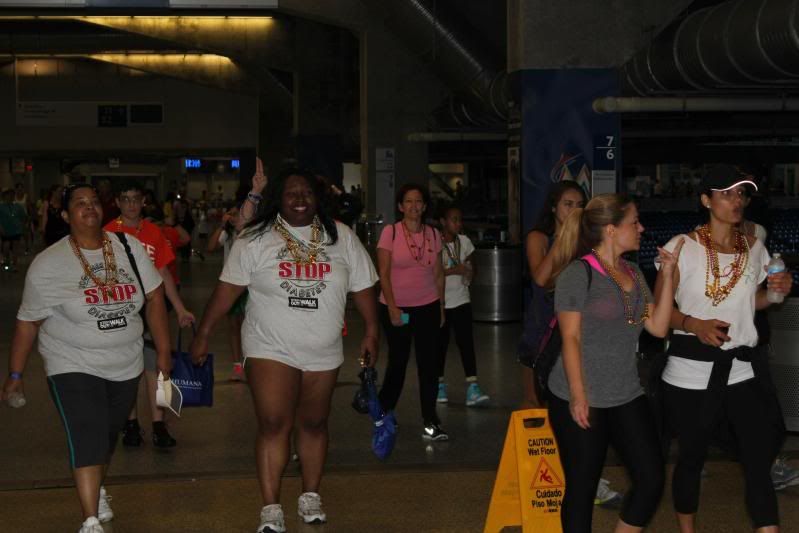 At various points they had students holding diabetes facts. If you were wondering why I'm writing about diabetes on a political blog, it's because diabetes is going to become a political problem if it isn't one already.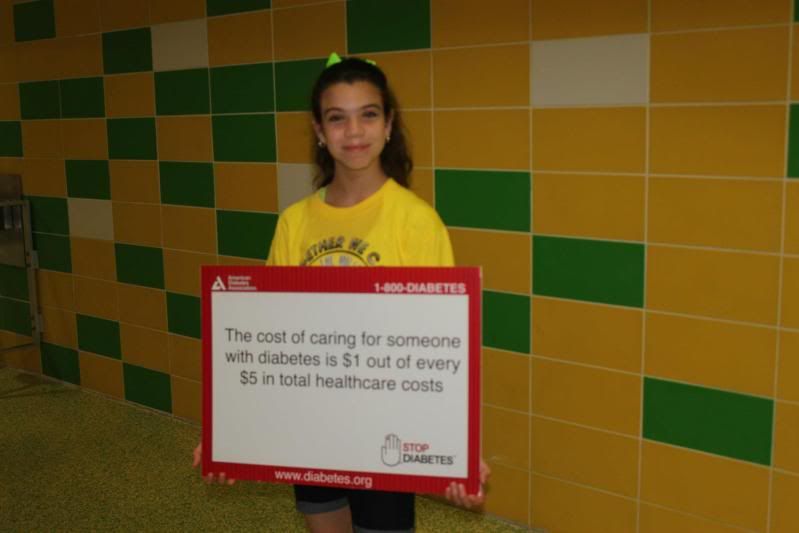 and here you can see the new stadium is very attractive inside. Too bad the fact this student is holding is troubling - a projection that 33% of the U.S. population will be dealing with diabetes by 2050.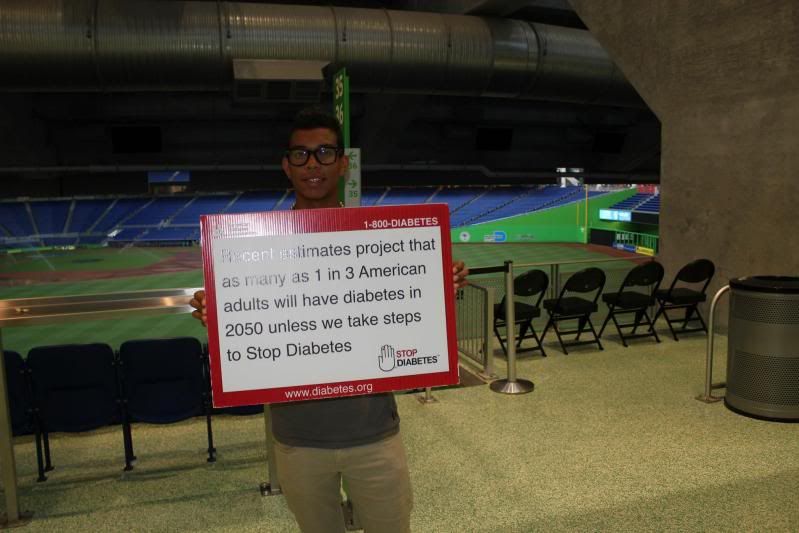 and we might not think of people who have diabetes as facing civil rights violations, but they do.
We even had a woozle walking with us.
The Marlins have set up a bobble head collection - kinda cute.
After the walk we went through the booths and I had an A1C test done and was expecting an ok number, but was really surprised to see it was a 5.1 (which means my blood sugar averaged around 97 for the last couple of months).
Here is our photographer, Ben Badger and his friend, Betty who was working this event.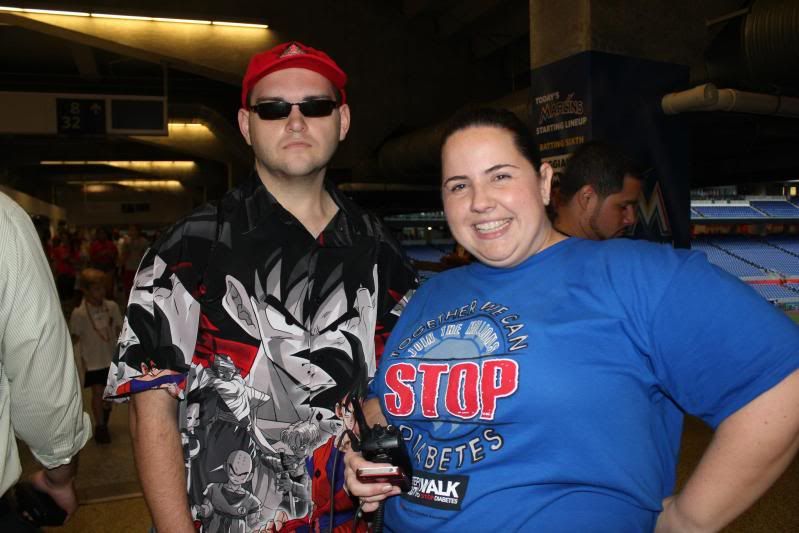 Despite the rain, we had a great time yesterday. I don't know when they will update this fund raiser, but I'd say they most likely met their goals. They had $130k before the event and I believe they collected thousands at the event.
On a personal note, my goal was met. I'm not afraid to sign up for a conventional 5k or 10k timed walk. Ft. Lauderdale's Step Out is October 20th, 2012 at the Bank Atlantic Center. I'm thinking of going.