Data is a funny thing. Even little pieces of it can add up and really help to clarify a muddy picture. Of course, nothing is muddier right now than Mitt's taxes.
Nonetheless, there is now some (albeit highly limited) data that we can apply to help narrow down the possibilities:
Of these data points, only 2011 is solid. We don't know all of the details from 2010, although I suspect that there isn't anything egregious that happened that year. More likely, there is residual evidence of something embarrassing that happened earlier. I completely accept the pwc letter - but it says very little.
The weakest data point is McCain's statement. The only reason I include it is that he didn't have to make it. He could have claimed confidentiality. The fact that he stated it so clearly makes me tend to believe that it is true. Of course, McCain may differ with others on what is "disqualifying", but still ... there it is.
OK. That's not much data. What can we do with it? Find out after the symbol for the great orange satan's cool new currency.
Let's start by putting these data points on a timeline: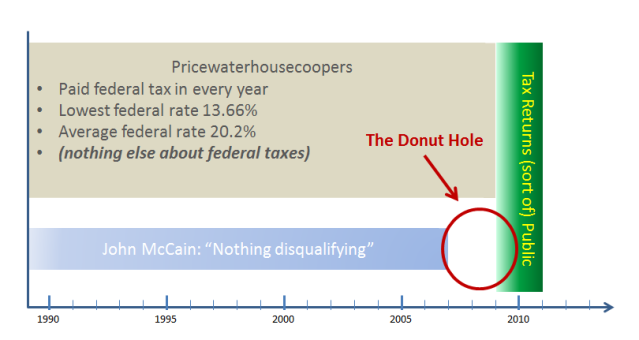 We know that 2010-2011 probably doesn't contain anything terribly embarrassing. Certainly nothing worse than evidence of his conspicuous wealth and tax aversion. We now have ample corroborating (arguably stronger) evidence of that out Mitt's own mouth.
We know that he did pay taxes in every year from 1990 to 2009. We also know his lowest rate of federal tax (13.66%) and his overall average rate (20.2%). (more about that below). However, we have no details beyond this.
If we believe John McCain, nothing awful occurred between 1990 and 2007 (the last year McCain could have reviewed prior to the 2008 election).
So that sort of points us toward the time period 2008-2009, maybe early 2010. We only have the minimal information from pwc to cover that period.
I call that the donut hole.
So let's bore in a little closer to view that period. Again we can use a timeline: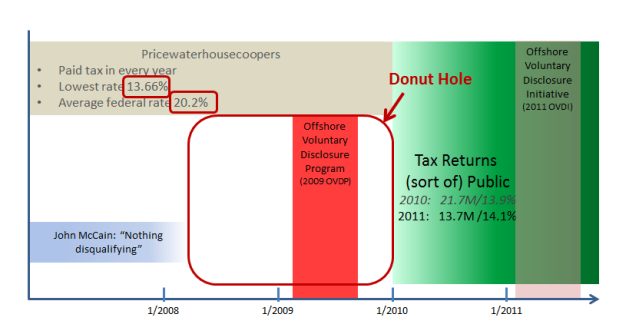 I have obviously added a bit more data. I have listed the key stats from 2010 and 2011 and I have flagged the periods when the IRS had open amnesty programs for tax evaders. Thanks Christopher Tucker. The have been two versions of the program. The first was in 2009 and was specifically targeted at the Union Bank of Switzerland (UBS) participants. A second occurred in 2011. It doesn't seem relevant because Mitt's best tax release covers that period.
Now for some observations:
The 2009 IRS Offshore Voluntary Disclosure Program fell right in the middle of the donut hole. Interesting.
Mitt has released absolutely no information that in any way contradicts his possible participation in that program. Strange and Convenient.
Does any of this prove that Mitt was in the program? No, No, No and No.
Does any of this give him an alibi? No, No, No and No.
But there is still a bit more we can glean:
Remember the lowest and average rates from 1990 to 2009? That's a big difference! More than it looks on the surface.
We know that Mitt paid about 14% in 2010 and 2011. We know that his lowest rate from 1990 to 2009 was 13.7%. About the same as his last two years.
Yet the average over that 19 year period was 20.2% That means that if you add up all of his income over 19 years, he paid 20.2% of it in federal taxes. But we know that in three years (the lowest of the 19 plus the 2 since), he only paid about 14%. He must have paid a lot more taxes in some of those 19 years for the overall average to be boosted so much higher. Quite a bit more than 20% for sure.
Why would he do that?
Mitt passionately believes in paying the lowest possible legal tax. What could possibly have happened to boost his tax bill that much? Did he have a few years where he got a ton of personal income instead of capital gains?
Why would he let that happen?
If he couldn't avoid it, why not put a hint in the pwc letter?
You can see where I am going. And why the OVDP dates may be important.
I did some simple spreadsheet modelling. If Mitt's income were constant over the 19 year period, the calculations would be trivial. However, I have to assume that his income rose (probably fluctuated) during this time. That means that a high marginal rate in the early years (when he might have been more salary-centric in Bain and lesss well invested) would contribute less to pushing him up to the 20.2% overall average. If his income has been rising, it is more plausible that the bigger tax bills came more recently.
So I build a spreadsheet that modeled 1990 to 2011. We know his 2010 income was $20M. I played with a couple of growth scenarios. One had his 1990 income start at $2M and the second starting at $6M. Then I scaled his income up linearly to the $20M in 2011. There are all sorts of weaknesses to these assumptions, but even with a lot more income volatility (which I would expect) they create a platform for my key point.
I then tried different average tax rates (14%, 16% and 18%) for all years except 2008, 2009. If there were lows of 14% and the overall average was 20%, a typical yearly average of 18% would be pretty reasonable for most years.
Finally, I looked at what would happen if these assumptions held for every year except 2008, 2009. What sort of tax would Mitt have had to pay in those 2 years to balance out lower rates (on lower income levels) in earlier years ((when McCain said there was nothing disqualifying)?
The answer is A LOT. Conceivably 10s of millions of dollars in taxes. Tax rates well over 100% of (my crudely) estimated income.
Could those be penalties? Hmm.
Does any of this prove that Mitt was in the program? No, No, No and No.
Does any of this give him an alibi? No, No, No and No.
Does this add any circumstantial evidence to move him up the suspect list? yeah, a bit
Every time Mitt lets out another fragment of data about his taxes, good analysts can use it to narrow the possibilities.
Of course, Mitt can wipe all of this speculation away if he were just to sign the following statement (with appropriate legalese and safeguards added):

I, Willard Mitt Romney, did not participate in any way in the 2009 or 2011 IRS Offshore Voluntary Disclosure Programs.

signed W. Mitt Romney