In 2010, the Republican wave was greatly slowed in Colorado. We kept our US Senate seat, the Governor's mansion, and the State Senate. But by a margin of less than 200 votes, we lost the State House by just 1 seat!
Democrats were already itching to retake the majority the day the results were official, but on the day before the end of the 2012 session, the dramatic battle and eventual death of Civil Unions fired up the Democratic base like almost nothing else could have this year. Redistricting also did Democrats a favor, with the chair of the Reapportionment Committee siding with the Democrats' map.
While Republicans in the Senate have been intent on shooting themselves in the foot, Republicans in the House have actually been much smarter in their candidates overall. Add the money advantage that comes with the majority and the battle for the House is going to be a much tougher fight in November. As before, Bennet-Buck numbers used in each district.
HD1 (Labuda-D) - 56%-38%


Despite Labuda not being particularly strong, this district is only getting bluer, Republicans will have to continue their hiatus from having any seats in Denver (going on 12 years now). Safe D.
HD2 (Ferrandino-D) - 73%-23%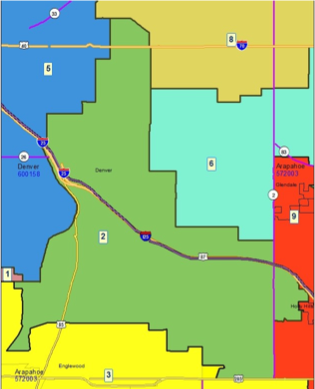 This central Denver "super gay" district is safe for Minority Leader Mark Ferrandino, who will hopefully be Speaker next January. Safe D.
HD3 (Kagan-D) - 50%-45%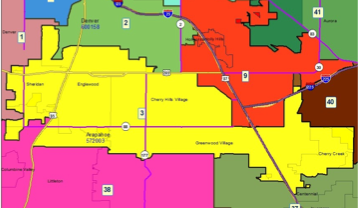 Daniel Kagan is target #1 for the Republicans. To keep the House they have to take this newly competitive seat in the southern burbs. Kagan has a well-known reputation for being a liberal, but he's certainly raising the money he needs to defend himself against the formidable Brian Watson (R). Tossup.
HD4 (Pabon-D) - 76%-18%


North Denver, nothing to see. Safe D.
HD5 (Duran-D) - 75%-20%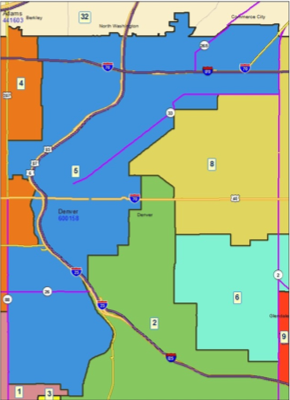 This central and northern Denver seat is drawn to be Hispanic majority and is safe for Crisanta Duran. Safe D.
HD6 (Court-D) - 68%-29%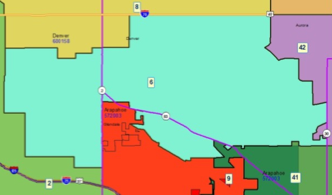 East Denver. Safe D.
HD7 (Williams-D) - 79%-18%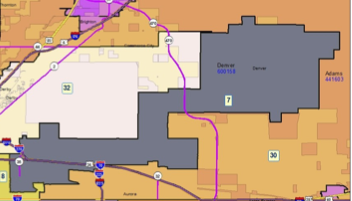 This north-east Denver seat is only 25% White. Safe D.
HD8 (McCann-D) - 84%-13%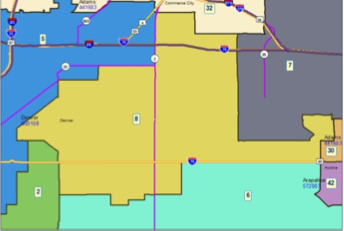 The bluest district in the State. Safe D.
HD9 (OPEN D) - 61%-34%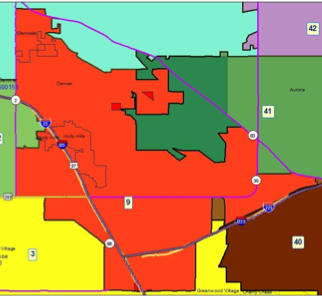 Republicans held a seat in this area until 2000, but you'd never know it now. This is a free ride for Paul Rosenthaul (D) who will be part of the doubling of Colorado's LGBT caucus. Safe D.
HD10 (Hullinghorst-D) - 79%-17%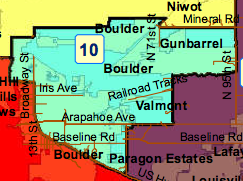 City of Boulder, Rep. Hullinghorst (D-Lollypop Guild) has nothing to worry about. Safe D.
HD11 (Singer-D) - 54%-40%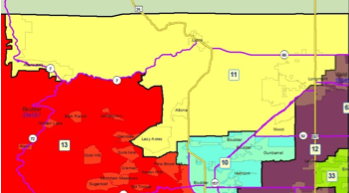 A seat Republicans could have taken if they had only gone along with the compromise map. The Democratic map drags this district from Longmont into the liberal Boulder County towns to the west. Likely D.
HD12 (OPEN D) - 62%-33%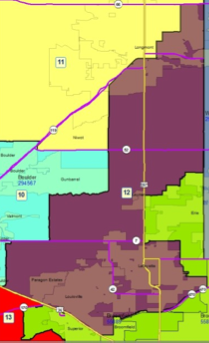 Louisville (pronounced Louis-Ville, not Lui-Ville) and eastern Boulder County, Deputy DA Mike Foote won the primary, which was the only election that matters. Safe D.
HD13 (Levy-D) - 67%-28%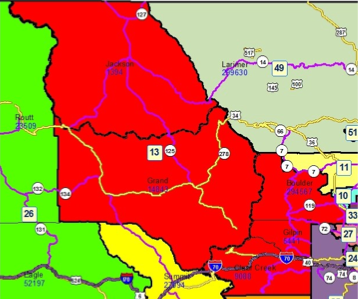 Republican Grand and Jackson Counties are overwhelmed by western Boulder County. This started off the chain of events in SD8 by leaving Randy Baumgardner (R) without a House seat to run in, Claire Levy was safe regardless. Safe D.
HD14 (OPEN R) - 26%-70%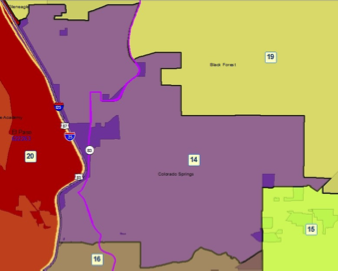 Rep. Joshi represents most of this area, but redistricting lumped him into HD16, leaving this seat around Northgate and Briargate in Colorado Springs open. The only question is how far to the right Daniel Nordberg will be. Safe R.
HD15 (Waller-R) - 30%-63%


This eastern Colorado Springs seat is safe for Mark Waller. Safe R.
HD16 (Joshi-R) - 34%-60%


Rep. Joshi's new seat, around north-east Colorado Springs is safe for him. Safe R.
HD17 (Barker-R) - 46%-46%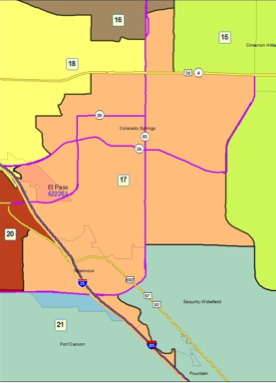 This majority-minority seat has changed hands twice in the last 2 elections. With low voter registration and turnout, just a few votes here and there makes a huge difference. Democrats landed a great recruit in retired firefighter Tony Exum, who ran for Colorado Springs City Council last year. Exum, who is black, is a good fit for a district that votes way more Democratic in presidential years than off-years. Rep. Barker also got the attention of gay groups by voting against Civil Unions. Tossup.
HD18 (Lee-D) - 52%-42%


After winning a narrow victory in 2010, Pete Lee probably hoped to have it easier this year. He was out of luck though. Redistricting made this district expand to take in less friendly areas to the north and south and Republicans recruited Jennifer George, who is not a loon and has been a strong campaigner. Lee has proven himself to be an equally formidable candidate and this race will be fought tooth and nail. Tossup.
HD19 (Stephens-R) - 22%-73%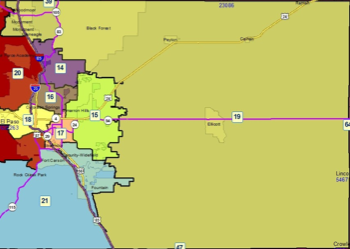 One of the mashups from redistricting, Majority Leader Amy Stephens (R-Focus) was paired with Rep. Marsha Looper. The two fought it out in a "Gays v. Obamacare" smack down and in the end Stephens' edge in previously held territory put her over the top. She's safe now to become Minority Whip in January. Safe R.
HD20 (Gardner-R) - 35%-61%


This Broadmoor/Shadow Mountain district, greatly impacted by the recent fires, was merely renumbered. No problem for Bob "The Kracken" Gardner. Safe R.
HD21 (OPEN R) - 38%-54%


Looper was drawn out of this seat, centered around Fountain. Safe for the winner of the Republican primary, Lois Landgraf. Safe R.
HD22 (OPEN R) - 42%-52%


Rep. Jim Kerr (R) is termed-out, but don't expect much action given this district's lean. Mary Parker (D) is a better candidate than they usually put up, but she doesn't have the funds to make a dent. Likely R.
HD23 (Tyler-D) - 53%-42%


Max Tyler shouldn't be in this much trouble. His district leans Democratic and while he picked up unfamiliar turf, Democrats have done well here since taking the seat in 2004. Republicans put up a great opponent in Rick Enstrom, a businessman (candyman even). Enstrom has out-raised the incumbent and has shown a great ability to campaign. This one could be a big headache for Democrats. Lean D.
HD24 (Schafer-D) - 53%-41%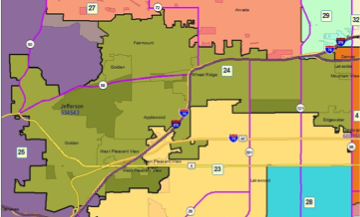 Sue Schafer hasn't had much trouble since first getting elected in 2008. While her district changed to add Golden, her opponent doesn't seem to be gaining much traction. I don't expect much trouble here. Likely D.
HD25 (Gerou-R) - 45%-50%


Cheri Gerou (R) is the perfect fit for this socially liberal, fiscally conservative foothills district in Jeffco. Safe R.
HD26 (NEW) - 54%-41%


In the scramble to appease the CO Supremes, Democrats split as few counties as possible. This district is entirely the ski counties of Eagle & Routt. It should be a fairly easy race for Routt County Commissioner Diane Mitsch Bush (D). Likely D.
HD27 (Szabo-R) - 46%-49%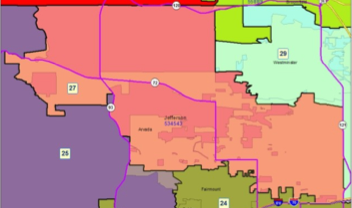 Libby Szabo dislodged Rep. Sara Gagliardi (D) fairly easily in the 2010 election, Democrats were smart to make her safer and improve HD29 to the north. Safe R.
HD28 (NEW) - 52%-43%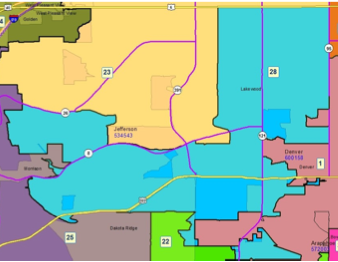 See HD23 for the story on this race. Left open after every incumbent was drawn out, Democrats nominated Brittany Pettersen of New Era Colorado, a liberal advocacy group, to run here. Running through the entire redistricting/primary mess was Amy Attwood (R), a strong member of the community who far outpaced Pettersen in fundraising. Pettersen has been able to catch up in the money race, but not before putting this race on the map when it wasn't supposed to be at all. Lean D.
HD29 (Ramirez-R) 51%-42%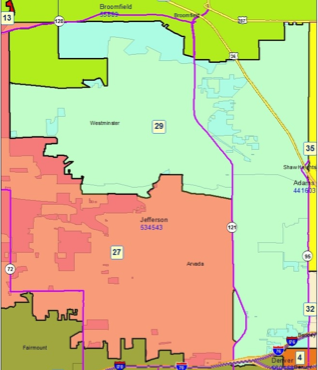 This seat was the heartbreaking 193 vote margin that lost Democrats the House. Winning this seat has symbolic significance along with needing to take it to win back the majority. Tracy Kraft-Tharp (D) has been in the race for over a year and has been an able fundraiser. With Rep. Ramirez's flip-flop on Civil Unions, he's guaranteed himself a big target on his back with gay groups eager to take out House Republicans who killed the bill this year. Lean D.
HD30 (NEW) 50%-43%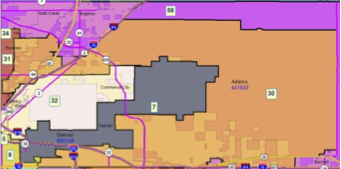 Democrats were smart in redistricting, taking Brighton out of HD30 and lumping it in with the uber red exurbs and rural areas of Adams and Arapahoe counties. This enabled Democrats to take back this swing seat without having to fight the popular Kevin Priola (R). Evidently Republicans aren't going to put up much of a fight for this new seat, putting up a crazy-face with little money against former Human Services employee Jenise May (D). Lean D.
HD31 (OPEN D) 51%-42%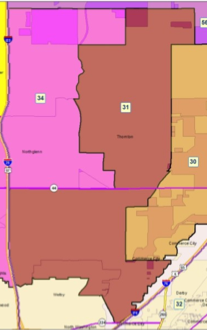 After Rep. Judy Solano (D) barely held on in 2010, Democrats drew this seat much bluer, taking in old Thornton. Attorney Joseph Salazar (D) will have to work against Thornton City Councilwoman Beth Humenik, but she isn't raising much money. Lean D.
HD32 (OPEN D) 58%-33%


This Commerce City-based district was made even bluer with the addition of south-west unincorporated Adams County. Majority Hispanic, this will be no trouble for Commerce City Councilman Dominick Moreno (D), another addition to the LGBT caucus and the youngest house member at 26. Safe D.
HD33 (OPEN R) - 51%-44%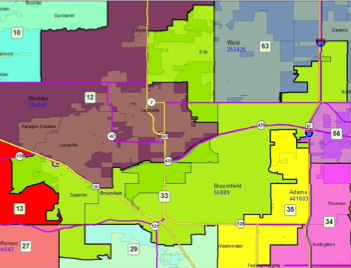 Rep. Dianne Primavera (D) was swept out in 2010 by Don Beezley (R). Democrats were able to draw this seat slightly bluer this time around and Beezley decided to hang it up instead of run again (he subsequently went against his own party in voting for Civil Unions). Primavera now has a great shot at a comeback. Lean D.
HD34 (OPEN D) 51%-41%


Rep. John Soper (D) had a surprisingly tough race in 2010, but this area is normally pretty friendly to Democrats. Thornton City Councilman Steve Lebsock (D) should be a good fit for the district. Lean D.
HD35 (Peniston-D) 51%-43%


This seat could have been much tougher, but in the end this is still a much tougher race than Rep. Peniston is used to. Republican Brian Van De Krol is trying yet again to win a house seat and has raised decent money. Will have to wait until the parties jump in to see where this ends up. Tossup.
HD36 (Ryden-D) 52%-42%


Rep. Su Ryden has to be way happier with her district now than what Republicans wanted. Still more competitive than it was, she also lucked out with an opponent who has raised $670 total. Likely D.
HD37 (Swalm-R) 45%-51%


This district is on the edge of competitive, and Rep. Swalm isn't very impressive. No credible opponent has been able to make a race of this before though, and Jan Spooner (D) isn't likely to either. Likely R.
HD38 (Conti-R) 45%-50%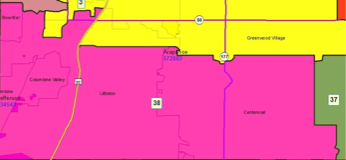 When "Crazy face" Kathleen Conti beat Joe Rice (D) in 2010, it was a stinging defeat in an already bad year. Redistricting nudged this district to the right and now Conti gets a free ride with an opponent who has barely enough money for inkjet-printed flyers. Likely R.
HD39 (NEW) 33%-63%


Douglas County just won't stop growing, HD39 now takes in rural Douglas and Teller since Castle Rock gets its own House District now. Polly Lawrence (R) won the primary and now has a free ride to November. Safe R.
HD40 (Acree-R) 51%-42%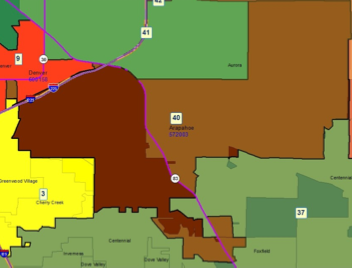 Poor Cindy Acree, going from a rural/exurban/suburban safe Republican seat to one where Democrats outnumber Republicans centered right in southern Aurora. Add the great recruit John Buckner (D) is turning out to be and Acree's days are probably numbered in this Presidential year. Lean D.
HD41 (OPEN D) 57%-38%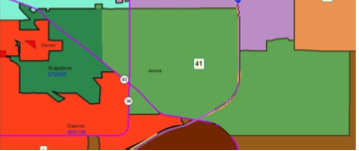 This seat is safe for the winner of the Democratic Primary, Jovan Melton. Who will likely be part of the doubling of the House's African American representation. Safe D.
HD42 (Fields-D) 62%-32%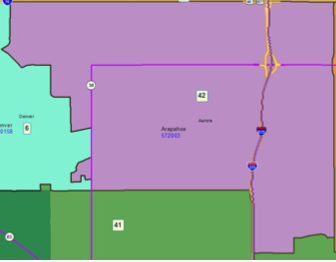 Rhonda Fields has to be thrilled that in the end her district was almost untouched. Safe D.
HD43 (McNulty-R) 40%-57%



The future Minority Leader of the House is safe in his Highlands Ranch-based seat. Safe R.
HD44 (Holbert-R) 36%-60%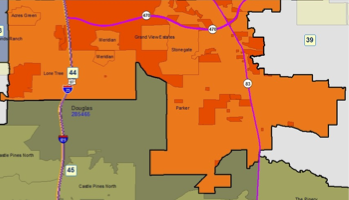 Parker in Douglas County. That's all. Safe R.
HD45 (Murray-R) 32%-63%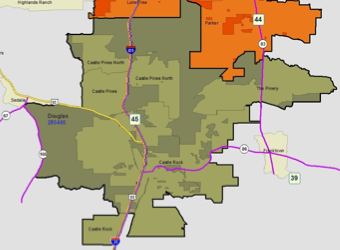 Carol Murray gets to focus on Castle Rock now, still safe. Safe R.
HD46 (OPEN D) 54%-41%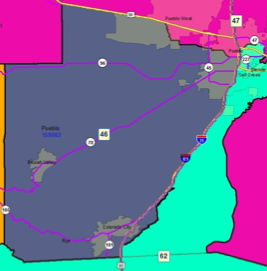 Made redder to help HD47, this open Pueblo seat is still safe enough for any Democrat. Councilman Leroy Garcia (D) will have little trouble. Likely D.
HD47 (OPEN R) 45%-49%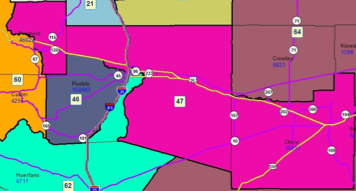 Hard to believe an even redder version of this district was held by Buffie McFayden (D) until 2010. Democrats worked hard to make it more competitive, even drawing out the incumbent. This district still leans Republican now, but candidate recruitment is making up the difference. Chuck Rosodevich (D) is raising enough money and a great campaigner. Republican Clarice Navarro-Ratzlaff is falling behind on both fronts in a race that should be her's to lose. Tossup.
HD48 (OPEN R) 34%-61%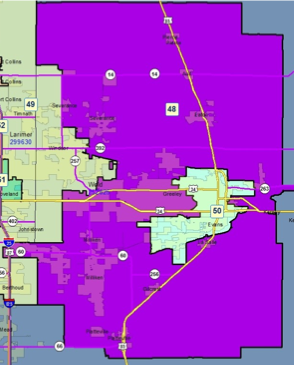 The growth of Weld County transformed this into a western Greely district. Stephen Humphrey (R) is now a shoe-in for the general. Safe R.
HD49 (OPEN R) 40%-54%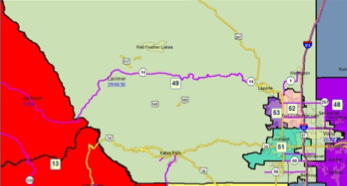 After BJ Nikkel was drawn out of this district (in a suspicious-looking tail from HD51), Ken Buck's (yes that one) wife ran for this seat. Perry Buck should have no trouble in this reliably Republican district. Likely R.
HD50 (Young-D) 46%-48%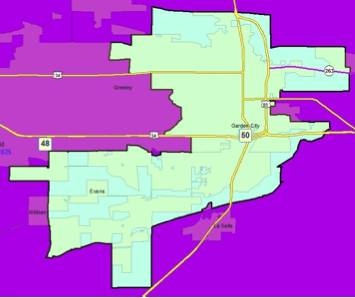 Democrats were lucky to get a replacement for incumbent Jim Reisberg. After redistricting, this is the only Democratic-held seat that voted for Ken Buck. But Dave Young has been working incredibly hard, raising boatloads of money. His opponent meanwhile doesn't seem to be taking this race as seriously. I don't expect Republicans to give up here though. Tossup.
HD51 (DelGrosso-R) 40%-53%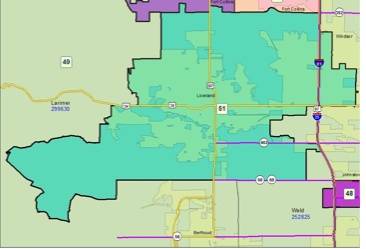 With Nikkel (wisely) stepping aside in this district, DelGrosso has an easy race for re-election in such a Republican district. Safe R.
HD52 (OPEN D) 54%-41%


Joan Ginal (D) seems likely to keep this seat for Democrats and become the 2nd lesbian member of the house. This district's lean is too much for a typical Republican. Likely D.
HD53 (Fischer-D) 58%-36%


Western Fort Collins including Colorado State University. Randy Fischer is safe. Safe D.
HD54 (OPEN R) 28%-64%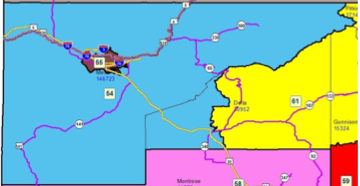 No matter how much Republican nominee Jared Wright screws up, there is no Democrat running in this blood-red seat. Safe R.
HD55 (Scott-R) 36%-58%



Drawn out of his district into a Grand Junction-only district, Ray Scott is still safe as ever. Safe R.
HD56 (Priola-R) 38%-56%



The rising-star Kevin Priola was drawn out of his swing district and into a super-safe Republican stronghold. Safe R.
HD57 (OPEN R) 39%-54%


The one Dem casualty of redistricting was Rep. Wilson (D), avoiding county splits meant putting Glenwood Springs in with the very red northwest corner of Colorado. Wilson is instead retiring. Republican Robert Rankin will coast to November. Safe R.
HD58 (Coram-R) 35%-58%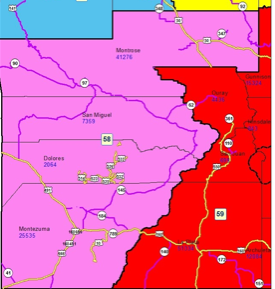 Rep. Coram may have family issues after voting against civil unions (his own son is gay), but that doesn't translate to troubles with re-election. Safe R.
HD59 (Brown-R) 48%-47%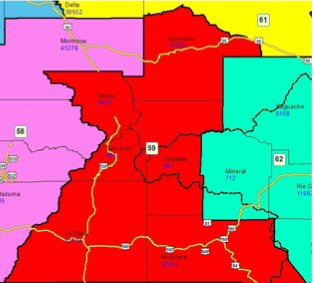 This Durango-based district has eluded Democrats for years, but redistricting finally enabled them to make a go. They've definitely taken advantage of this opening, recruiting former CO solicitor general Michael McLachlan. McLachlan has out-raised Brown, who seems intent on sticking his foot in his mouth as often as possible. Tossup.
HD60 (OPEN R)38%-55%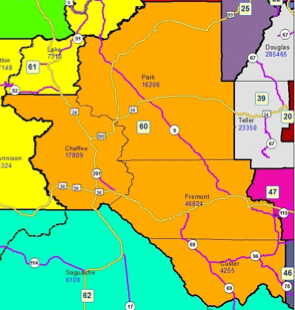 With Tom Massey (R) facing term-limits, we're basically seeing the end of moderate Republicans in the House. After winning the primary, Republican James Wilson is a shoe-in. Safe R.
HD61 (Hamner-D) 53%-41%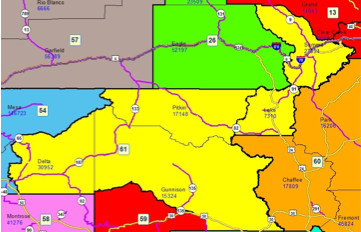 Millie Hamner has ended up with a very different district than she initially had, gaining production/agriculture counties along with the ski counties. Add the addition of former Rep. Kathleen Curry (I) into the race, and it becomes very difficult to determine where this ends up. Tossup.
HD62 (Vigil-D) 56%-39%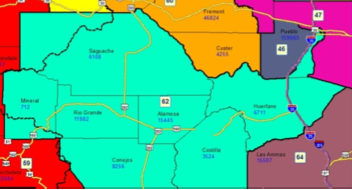 This San Luis Valley district juts into Pueblo for Hispanic voters, safe for Vigil. Safe D.
HD63 (NEW) 36%-57%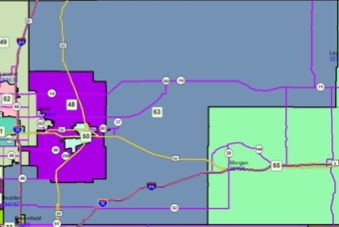 Unable to split Weld County, Rep. Becker was thrown into HD65, leaving this new very Republican seat to cover rural Weld County. Lori Saine will be replacing Becker. Safe R.
HD64 (OPEN D) 32%-62%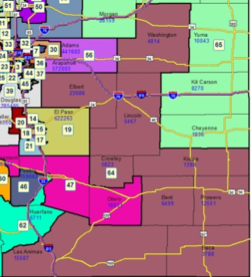 This may be an open Democratic seat, but a Democrat has no chance in this district that now stretches from the Arkansas River Valley into the eastern plains. Timothy Dore (R) will replace the House's resident cowboy. Safe R.
HD65 (Sonnenberg-R) 31%-63%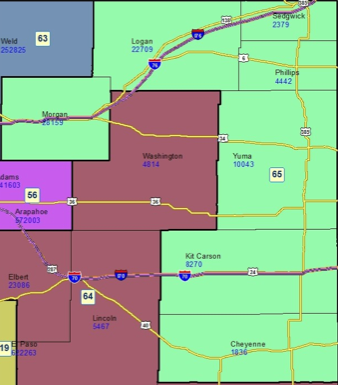 Rep. Jerry Sonnenberg caught a break when Becker decided to step aside, he now has an easy ride in this northeast plains district. Safe R.
This leaves 22 seats for Democrats and 8 leaners with 27 seats for Republicans and no leaners of their own. Of the remaining 8 tossups, Democrats need to take 3 to retake the majority in the house if they don't lose any seats that are currently leaning their way. As things stand now, Democrats are more likely than not to retake the Colorado House! But any significant change in the national tide could easily push things back to parity or worse so this isn't settled by any means.