Let me just pretend I'm the Realclear poll-guru where I post the aggregates for dozens of polls each day. How can I keep Obama's national numbers from looking too good?
1. I keep the PPP state but ignore their national polls.
2. I also don't include the Reuters tracking numbers because they...I don't know maybe...are too favorable?
3. Then, if the actual results show Obama @ 4.9%, I can lower it almost a full point like this but you have to watch carefully: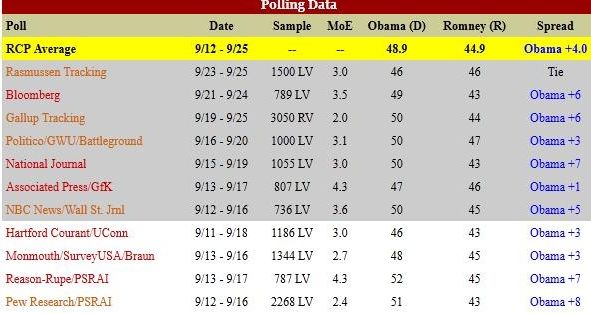 4. I simply discard the Pew poll 9/12-9/16 with Obama leading by 8 while keeping the NBC/WSJ from the exact same dates with that show Obama up five. So bam, Pew poll out!!
5. Then I toss the Rupe poll taken 9/13-9/17 with Obama +7 while keeping the AP poll with the exact same dates with Obama up just by one. There you go...bam!! Another Obama 7+ poll bites the dust.
6. I then do the same with all the state polls--no rationale, no standards just including or discarding at will for some unknown reason.
I get the results I "create" and everyone's happy.
Right????