On September 20 Princeton professor (numbers, not polysci) Sam Wang created a bit of interest with his blog post claiming a 74% probability that the Democrats would wind up in control of the House in 2013. He's got a new post up pushing back against the pushback to his original post.
It is fascinating stuff, I recommend you read it for yourself. Wang provides the following quote from Bill Kristol as a piece of (very persuasive) evidence that insiders know his theory has merit:

an Obama +3 victory on Election Day [could] drag the Democrats to an edge in the congressional vote—and control of the House. In any case, based on current polling, I don't think one can say that it's now out of the question that we could wake up on the morning of November 7 to the prospect of … Speaker Nancy Pelosi.
And, oh yeah: Wang (numbers, remember, not polysci) did a pretty good job predicting the outcome of the 2010 elections:
We are all conditioned to scoff at "generic House ballot" polls, but even so: who would you rather be, the red line or the blue line?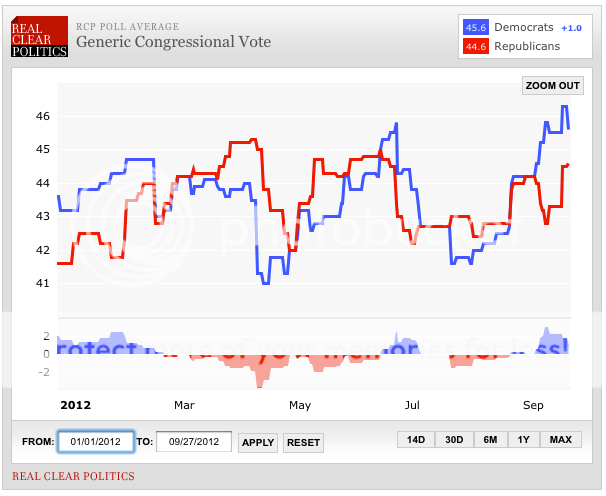 Wang says we should be scoffing a bit less. The party that wins the popular House vote almost always ends up controlling the house.
But, redistricting. Two points:
1) There is little evidence of Republican competence on display right now, so don't bet against them gerrying their mander incorrectly;
2) Wang:
One answer is that from year to year, elections are uncertain. You can pack a lot of your opponents into a few districts, but if your own districts are only 55% for your own party, a 10-point swing can knock you out of office. And the swing from 2010 to 2012 is currently about 9 points. Another answer is that redistricting is sometimes done to protect specific incumbents – which results in packing one's own party members into a district. On average, the whole thing could well be a wash.