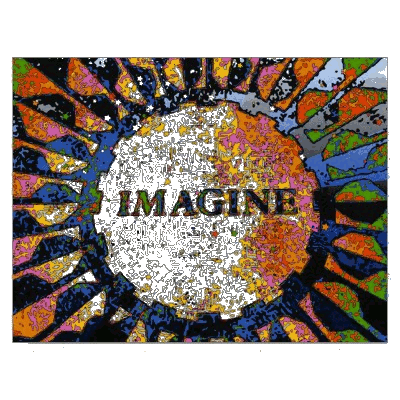 Welcome! "What's Happenin'?" is a casual community diary (a daily series, 8:30 AM Eastern on weekdays, 10 AM on weekends and holidays) where we hang out and talk about the goings on here and everywhere.
We welcome links to your writings here on dkos or elsewhere, posts of pictures, music, news, etc.
Just about anything goes, but attacks and pie fights are not welcome here. This is a community diary and a friendly, peaceful, supportive place for people to interact.
Everyone who wants to join in peaceful interaction is very welcome here.
---
Good Morning!
An AGM-114 Hellfire missile hung on the rail of an US Air Force MQ-1L Predator Unmanned Aerial Vehicle (UAV) is inscribed with, "IN MEMORY OF HONORABLE RONALD REAGAN." (Source: Source: DoDMedia via Wikimedia)
For the same reason, targeted strikes conform to the principle of humanity which requires us to use weapons that will not inflict unnecessary suffering. For all these reasons, I suggest to you that these targeted strikes against al-Qa'ida terrorists are indeed ethical and just.
~ John Brennan, Assistant to the President for Homeland Security and Counterterrorism. April 30, 2012
---
John Lennon - How Do You Sleep?

Drop in
any time
day or night
to say hello.

---
News and Opinion
New report by the Columbia Law School Human Rights Clinic and the Center for Civilians in Conflict. PDF file is here.
The Civilian Impact of Drone Strikes: Unexamined Costs, Unanswered Questions

Drones are touted as the most precise and humane weapons platform
in the history of warfare. The technological advance is significant, but covert drone strikes carry costs for civilians and local communities.
This report is the first systematic study of the US government's covert drone program and its objective was to critically assess US government procedures and standards for ensuring civilian protection and responding
to civilian harm from drone strikes conducted both outside of full-scale military operations and with a degree of secrecy. The study is based on
a review of publicly available materials, interviews with current and
former government officials, responses to requests for information
from agencies, and previous field interviews by Center for Civilians in Conflict.

Report released last week by NYU and Stanford. PDF is
here
.
Living Under Drones: Death, Injury, and Trauma to Civilians From US Drone Practices in Pakistan
Executive Summary and Recommendations
In the United States, the dominant narrative about the use of drones in Pakistan is of a surgically precise and effective tool that makes the US safer by enabling "targeted killing" of terrorists, with minimal downsides or collateral impacts.[1]

This narrative is false.

Following nine months of intensive research—including two investigations in Pakistan, more than 130 interviews with victims, witnesses, and experts, and review of thousands of pages of documentation and media reporting—this report presents evidence of the damaging and counterproductive effects of current US drone strike policies. Based on extensive interviews with Pakistanis living in the regions directly affected, as well as humanitarian and medical workers, this report provides new and firsthand testimony about the negative impacts US policies are having on the civilians living under drones.

Real threats to US security and to Pakistani civilians exist in the Pakistani border areas now targeted by drones. It is crucial that the US be able to protect itself from terrorist threats, and that the great harm caused by terrorists to Pakistani civilians be addressed. However, in light of significant evidence of harmful impacts to Pakistani civilians and to US interests, current policies to address terrorism through targeted killings and drone strikes must be carefully re-evaluated.

It is essential that public debate about US policies take the negative effects of current policies into account.

[ ... ]
Diplomacy, Fewer Drones
Ibrahim Mothana, an activist, is a co-founder of the Watan Party and Yemen Enlightenment Debate.

This is why Al Qaeda in Yemen today is much stronger than it was a few years ago. Al Qaeda in the Arabian Peninsula had just a few hundred members in 2009, and controlled no territory. Today it has, along with Ansar al-Sharia, at least a thousand members and substantial operational spaces in Abyan and Shabwa, in addition to a presence in Mareb, Rada, Hadramout and other regions of Yemen.

Overlooking the real drivers of extremism and focusing solely on tackling security symptoms with brutal force is as ineffective as curing blood cancer with invasive surgery: not only ineffective but also counterproductive. The repercussions of drone attacks in Yemen could spill across borders, inspiring homegrown terrorism in other countries.

[ ... ]

The drone program is by nature a Sisyphean struggle, no matter how many terrorists are eliminated. In Yemen, every time a drone kills civilians, young Yemenis like me who have always admired America start to see it as part of the problem, not the solution.
Yemen's Leader Praises U.S. Drone Strikes

President Abdu Rabbu Mansour Hadi, elected in a one-candidate election in February, said at the Woodrow Wilson International Center for Scholars that the precision afforded by drones gave them a marked advantage over the aging Soviet aircraft in the Yemeni Air Force.

"They pinpoint the target and have zero margin of error, if you know what target you're aiming at," said Mr. Hadi, a former army officer and the successor to Ali Abdullah Saleh, who stepped down after protests against his three-decade rule.

[ ... ]

Mr. Hadi expressed no concerns about any reaction against drone strikes, which critics and some government officials have said can fuel anti-American sentiment and feed militancy.

[ ... ]

On Tuesday, President Obama underscored America's gratitude to Mr. Hadi by dropping by as the Yemeni president met in New York with John O. Brennan, Mr. Obama's counterterrorism adviser. While Mr. Obama spoke briefly with several heads of state at a reception during the United Nations General Assembly meeting, Mr. Hadi was the only one singled out for a meeting.
Ibrahim Mothana

In such comment Hadi was more" Kingly than the King" or perhaps more "Brennanly than Brennan" fits this context better in. Giving a blind eye to an existing drone-strikes based local grievances and national sovereignty concerns will simply undermine his local legitimacy, give his many opponents unneeded loopholes to attack and weaken an already fragile transition in Yemen.

It's always worth remembering that Hadi's advantage before Yemen's one-candidate election in February is the consensus on him. Exchanging local support with international glamor rather than striking balance between both will simply turn him into a Yemeni version of the weak and ineffective Karazai! Counter-terrorism cooperation not compulsion is what Yemen really needs.
Washington's Mistaken Belief in the Greatness of Drone Technology

One year after the United States launched a drone strike and executed US-born Muslim cleric Anwar al-Awlaki and US citizen Samir Khan in Yemen, Columbia Law School's Human Rights Clinic and the Center for Civilians in Conflict have released a report that aims to further ignite debate over drone technology that has quickly become the future of warfare.

Titled, "The Civilian Impact of Drone Strikes: Unexamined Costs, Unanswered Questions," concludes "all variations of targeting procedures have a civilian impact." The report does not attempt to draw "firm conclusions about drone use and civilian harm" but rather aims to challenge "current assumptions about drones as a panacea for counterterrorism efforts."

Naureen Shah, Acting Director of the Human Rights Clinic at Columbia, told Firedoglake the "degree of secrecy" around drone strikes is "unprecedented," expressing a concern that is become more and more common. "The US government is refusing to say that these operations are conducted by CIA [or] JSOC themselves. The government is refusing to say how many are being killed." And, according to Shah, policymakers have gone along with the secrecy is because of "the mistaken belief" in the "greatness" of drone technology.
[ ... ]
There is also the issue of what the report terms the "soda straw" effect. A drone can zoom in to pinpoint a target, but if it loses the "wider picture of the area—like viewing a small amount of liquid through a soda straw, instead of the entire glass," then "the soda straw effect creates a risk that civilians may move into the vicinity of the strike without being noticed by drone operators." For example, drone pilot Matt J. Martin targeted a truck in Afghanistan of "insurgents." Two young boys Martin had not expected appeared after Martin had fired a missile. All he could do is watch as the two boys were killed along with those in the truck.
[ ... ]
The "reliability and vetting of local informants and foreign cooperating government personnel" is questionable. Informants are reportedly paid "$300-$1000 or more" and there are multiple stories suggesting, "Families and rival groups use locator chips to have their enemies targeted and to settle personal vendettas." Local informants may offer "sketchy" information, leading to drone operators firing on people without confirming their identity. And intelligence may be obtained from foreign governments or military officials, who may seek to have the US target their "enemies" instead of the individuals or groups the US wants to target.

Obama Cabinet Flunks Disclosure Test With 19 in 20 Ignoring Law

On his first full day in office, President Barack Obama ordered federal officials to "usher in a new era of open government" and "act promptly" to make information public.

As Obama nears the end of his term, his administration hasn't met those goals, failing to follow the requirements of the Freedom of Information Act, according to an analysis of open-government requests filed by Bloomberg News.

Nineteen of 20 cabinet-level agencies disobeyed the law requiring the disclosure of public information: The cost of travel by top officials. In all, just eight of the 57 federal agencies met Bloomberg's request for those documents within the 20-day window required by the Act.
Samsung wins reconsideration of Galaxy Tab sales ban

(Reuters) - A U.S. appeals court ruled on Friday that a lower court should reconsider a sales ban against Samsung's Galaxy Tab 10.1 won by Apple in a patent dispute with the South Korean electronics maker.
Barry Riholtz and a guest poster.
Deploying Shock Troops Against Blog Posts

BR: In the post last week Fisking McArdle, there seemed to be a concerted, coordinated Troll effort both here and at naked capitalism to counter the factual criticism of McArdle with bad arguments and poor rhetoric.

As someone who spends lots of time looking at patterns, the response looked totally non-random. Don Druid gives a solid explanatory as to why that is,

It is an important enough point that I am elevating his comment to a post of its own.

I'll freely admit that I never read this blog until the eXiled directed me here. However, many of the comments made by 'readers' look very familiar.

You've certainly noticed that as soon as your link went up, a bunch of mysterious comments appeared following the same pattern:


1) Dubious compliments for you and your site, often with false claims of long-time readership (good catch on one of these very early in the comments);

2) False statements that "all of this is already known", "nothing to see here", etc. about the facts on McArdle;

3) False statements that "both sides do it", "everyone does it", etc. about McArdle's naked conflicts of interest;

4) False statements accusing you of being a Democratic partisan, designed to draw discussion away from McArdle;

5) False statements arguing that there is effectively no such thing as a conflict of interest[!], and that McArdle's financial interests in the subjects she covers mean nothing.

[ ... ]

BR: I'd love to get a copy of that playbook — please use comments for links or PDFs if you can direct me towards it !

Manifesto for a Post-Growth Economy
What single change stands to give Americans more free time, healthier ecosystems, and more meaningful jobs?

Americans are substituting growth and ever more consumption for doing the things that would truly make us and our country better off. Psychologists have pointed out, for example, that while economic output per person in the United States rose sharply in recent decades, there has been no increase in life satisfaction. Meanwhile, levels of distrust and depression have increased substantially.

Politically, the growth imperative is a big part of how we the people are controlled: the necessity for growth puts American politics in a straitjacket—a golden straitjacket, as Tom Friedman would say—and it gives the real power to those who have the finance and technology to deliver that growth—the corporations.

Here's the good news. We already know the types of policies that would move us toward a post-growth economy that sustains both human and natural communities. It is possible to identify a long list of public policies that would slow GDP growth, thus sparing the environment, while simultaneously improving social and individual well-being.
---
Blog Posts and Tweets of Interest
Afghanistan 1 out of 5 combat deaths are insider attacks
The return of Droney by Tom Tomorrow
House Unanimously Passes Whistleblower Protection Bill by Jesselyn Radack
On Drones by RFB
Lessons From the Blogosphere by OPOL
News Sources About Afghanistan by Garrett
Times of London: Shipload of Looted Missiles From Libya Arrives in Turkey by leveymg
Rebecca Solnit's Mirror by emptywheel





After finishing his two interim presidency years, Hadi could become a brilliant drones sales agent. #Yemen


— Ibrahim Mothana (@imothanaYemen) September 30, 2012



Karazaing Hadi- My initial thoughts on president Hadi's definite endorsement of US drone strikes on.fb.me/VYci91#Yemen


— Ibrahim Mothana (@imothanaYemen) September 29, 2012



Hadi's statements on drones were stupid, but there's really no way for him to look good on this issue. #Yemen (cont.)


— Yemen Peace Project (@YemenPeaceNews) September 29, 2012



If Hadi objects to #drones, then he looks weak, since he can't actually stop them without going to war with US. #Yemen (cont.)


— Yemen Peace Project (@YemenPeaceNews) September 29, 2012



Hadi can either accept complicity in US strikes or show himself too weak to protect Yemeni sovereignty. Either way he loses. #Yemen


— Yemen Peace Project (@YemenPeaceNews) September 29, 2012
---
Barry McGuire Eve Of Destruction
---
There's room in our circle for you.
We are a vibrant cluster of people who are creative, committed, energetic and awake. We are a community without any particular label drawn together in the pursuit of fresh ways to inform, debate, persuade, enlighten, and to act.
"We are what we repeatedly do. Excellence then, is not an act, but a habit."
~ Aristotle