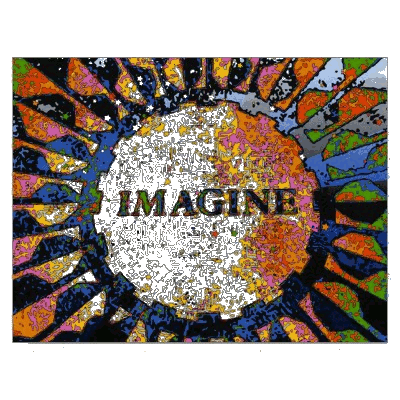 Welcome! "What's Happenin'?" is a casual community diary (a daily series, 8:30 AM Eastern on weekdays, 10 AM on weekends and holidays) where we hang out and talk about the goings on here and everywhere.
We welcome links to your writings here on dkos or elsewhere, posts of pictures, music, news, etc.
Just about anything goes, but attacks and pie fights are not welcome here. This is a community diary and a friendly, peaceful, supportive place for people to interact.
Everyone who wants to join in peaceful interaction is very welcome here.
---
Good Morning!
Armed Predator drone firing Hellfire missile. Source: Wikipedia
In our time, political speech and writing are largely the defense of the indefensible. Things like the continuance of British rule in India, the Russian purges and deportations, the dropping of the atom bombs on Japan, can indeed be defended, but only by arguments which are too brutal for most people to face, and which do not square with the professed aims of the political parties. Thus political language has to consist largely of euphemism, question-begging and sheer cloudy vagueness. Defenseless villages are bombarded from the air, the inhabitants driven out into the countryside, the cattle machine-gunned, the huts set on fire with incendiary bullets: this is called pacification. Millions of peasants are robbed of their farms and sent trudging along the roads with no more than they can carry: this is called transfer of population or rectification of frontiers. People are imprisoned for years without trial, or shot in the back of the neck or sent to die of scurvy in Arctic lumber camps: this is called elimination of unreliable elements. Such phraseology is needed if one wants to name things without calling up mental pictures of them.

~ Orwell, 1946
---
Yes - Starship Trooper

Drop in
any time
day or night
to say hello.

---
News and Opinion
The Drone Unknowns

We don't know how many civilians are killed in drone strikes, but we do know the US government is almost certainly wrong about it.

That's one conclusion you could draw from a report on the impact of the use of drones in targeted killing by the Center for Civilians in Conflict at Columbia University, released Sunday, a year to the day that radical American cleric Anwar al-Awlaki was killed in a drone strike in Yemen. While the US government has maintained that few if any non-militants are killed in drone strikes, reports about how targeting decisions are made, the realities of airborne warfare, and the basic fallibility of humankind call the Obama administration's claims of precision into question. There's also the problem that some behaviors which might seem to indicate "guilt" out of context, like carrying a gun, are common in the areas being targeted. "A civilian carrying a gun, which is a cultural norm in parts of Pakistan, does not know if such behavior will get him killed by a drone," the report notes. While "personality" strikes are aimed at specific individuals, the government also conducts "signature strikes" which hit anonymous individuals on the basis of a "pattern of behavior."

Because the government has yet to even officially acknowledge the existence of the CIA's targeted killing program or its military counterpart in the Joint Special Operations Command however, it's hard to evaluate the Obama administration's claims about avoiding civilian harm. The report notes that the dearth of first-hand information from the areas most frequently targeted by drone strikes means that determining who is a "militant" and who is not, particularly after the fact, is very difficult. That's why third-party estimates, which cast serious doubt on the government's assessments, vary so widely, and why the Obama administration itself may not even know how many civilians are being killed. Here's a chart from the report:
Nato withdrawal from Afghanistan could be speeded up, says Rasmussen
Exclusive: Redeployment of some troops might be accelerated, says Nato chief, who admits 'green on blue' attacks have hit morale

In an interview with the Guardian Nato's secretary-general, Anders Fogh Rasmussen, responded to pressure for a faster withdrawal from Afghanistan by stating that the options were being studied and should be clear within three months.

"From now until the end of 2014 you may see adaptation of our presence. Our troops can redeploy, take on other tasks, or even withdraw, or we can reduce the number of foreign troops," he said. "From now until the end of 2014 we will see announcements of redeployments, withdrawals or drawdown … If the security situation allows, I would not exclude the possibility that in certain areas you could accelerate the process."
[ ... ]
On the pace and phasing of withdrawal – the difficult task of pulling out more than 120,000 troops from forbidding and frequently hostile terrain – Rasmussen said a key moment would come later this year when General John Allen, the US overall commander of the operations, delivered a report with his military recommendations.

"Political decisions will be taken based on his recommendations as to how we will adapt to the transfer of lead responsibility to the Afghans," he said. "The pace will very much depend on the security situation on the ground."
U.S. General On Insider Attacks: 'We're Willing To Sacrifice' In Afghanistan 'But We're Not Willing To Be Murdered'

In an interview with 60 Minutes, the top U.S. general in Afghanistan warned that the attacks by Afghan soldiers on coalition forces will not be ending anytime soon. Speaking with Laura Logan, General John Allen said that he was "mad as hell" about the deaths of allied soldiers at the hands of Afghans — so-called "green on blue" attacks in military parlance:

ALLEN: You know, we're — we're willing to sacrifice a lot for this campaign. But we're not willing to be murdered for it.
Lure of drone technology must not blind Defence to its faults

This week marks the one-year anniversary of the controversial American drone strike that killed US citizen Anwar al-Aulaqi in Yemen.
Given Australia's role in piloting drones in Afghanistan and the increasing use of drones for surveillance at home, it is time to reflect on the wisdom of our involvement in the new global paradigm of drone warfare.

[ ... ]

The technological capabilities of drones can be seductive, but as the Australian Defence Department considers acquiring $3 billion of US drone technology, it should stop and consider the US experience: drones are not infallible and they have a human cost.

Though the US defends drone strikes as "precise", our research shows that they can lead to the mistaken killing of civilians due to flaws in the supporting surveillance and intelligence.
ACLU: Docs Reveal "Exponential" Growth of Domestic Spying - New Justice Department documents show huge increase in warrantless electronic surveillance

The release of new Department of Justice documents obtained by the ACLU reveal that federal law enforcement agencies are increasingly monitoring Americans' electronic communications, and doing so without warrants, sufficient oversight, or meaningful accountability. Though there is a long history of legal (and not so legal) surveillance by federal and local authorities, the new documents—released by the DOJ following Freedom of Information Act requests by the ACLU and presented in this report—show that under the Obama administration, the rate of surveillance has risen "exponentially" in many key areas, including information gathered from telephone, email, and other Internet communications.
Wall Street is getting good value for its political "donations":
Obama administration accused of spreading misinformation about Financial Transaction Tax

On Friday, 62 civil-society organizations charged the U.S. State Department with spreading "misinformation" regarding the feasibility of levying a small tax on stock sales and other financial transactions, revenues from which could be used for national and international public goods. Referring to a July meeting of the United Nations that discussed long-term financing options to help countries deal with the effects of climate change, a letter sent Friday to U.S. Secretary of State Hillary Clinton accuses a member of the U.S. negotiating team of "misstatements". The letter requests that the U.S. government "not discourage other countries from supporting this tax". Calls for such a levy, known as a financial transaction tax (FTT, also called a Robin Hood tax), have been gaining strength in the United States and abroad in recent months. Proponents suggest that such an approach could not only raise hundreds of billions of dollars for use in mass-scale efforts towards health, education or climate change, but could also cut down on the type of computerized high-speed trading that facilitates damaging commodities speculation.
NEW FEDERAL LAWSUIT FILED AGAINST NYPD FOR OCCUPY ARRESTS – PCJF CHALLENGES UNLAWFUL POLICE TACTICS, SIDEWALK ARRESTS, ORANGE NETTING CORRAL

The Partnership for Civil Justice Fund (PCJF) has filed a federal lawsuit on September 20th, 2012 in the U.S. District Court for the Southern District of New York challenging the New York Police Department's use of sidewalk arrests in which persons are targeted for false arrest based on their association with or proximity to dissent and protest. The lawsuit is filed on behalf of individuals who were falsely arrested on September 24, 2011 in the first week of the Occupy Wall Street movement, including one plaintiff who was subject to Deputy Inspector Anthony Bologna's notorious pepper spray attack on peaceful demonstrators.
---
Blog Posts and Tweets of Interest
Krugman to Obama: Don't fall for the Simpson-Bowles Trap
Success in Quebec Speaks to Power of Mass Movements
Afghanistan 1 out of 5 combat deaths are insider attacks
World Heritage Site Destroyed: Another Casualty of War
Drone War Crimes Accusations An October Challenge For President?




---
Yes - I've Seen all Good People
---
There's room in our circle for you.
We are a vibrant cluster of people who are creative, committed, energetic and awake. We are a community without any particular label drawn together in the pursuit of fresh ways to inform, debate, persuade, enlighten, and to act.
"We are what we repeatedly do. Excellence then, is not an act, but a habit."
~ Aristotle