Mitt Romney likes Bird Bird -- BUT Mitt Romney is going to fire him anyways ...
In the last debate, Mitt Romney said as much -- that he likes being able to fire Big Bird (PBS's Jim Lehrer too). And the "awe shucks" way he said that, kind makes you think Mitt's given that see-ya-later speech more than just a few times before in his wealth reallocation career. Hah, hah, ha.

Mitt Romney loves Big Bird, will kill funding for him anyway
by Robin Abcarian, LATimes.com -- Oct 3, 2012

Then, looking at moderator Lehrer, Romney said, "I'm sorry, Jim, I'm gonna stop the subsidy to PBS…. I like PBS, I love Big Bird -- I actually like, you too -- but I am not going to keep spending money on things [we have] to borrow money from China to pay for."
Why do Republicans, including now Mitt Romney, absolutely
hate
Public broadcasting so much?
Could it be they are not as really "fair and balanced" as they like to pretend they are -- when it comes to getting all sides of a story? Or promoting and protecting "free speech" from ALL civil points of view?

Mitt Romney Declares "War" On PBS, NPR, NEH, NEA, and Amtrak
theprogressiveprofessor.com -- Sep 29, 2012
Republican Presidential nominee Mitt Romney has declared "war" on knowledge and learning, by his statements that he will, if elected President, move to eliminate funding for PBS, National Public Radio, the National Endowment For The Humanities, and the National Endowment For The Arts.

He also would eliminate Amtrak, a transportation system that benefits the "hated" Northeast part of the country, the most educated part of the nation!

All of this together would save a pittance, just a total of $2 billion, a "drop in the bucket", with a multiple trillion dollar budget annually, while at the same time wishing to give massive tax cuts to the wealthy, even though that has not created new jobs, as conservatives have said would be the result!
[...]
Even if Republicans got their way and could eliminate these 5 socially-enhancing programs -- they'd save only "drop in the bucket" -- the Federal Spending budget.
SOOO, it's not really the money borrowed from China they'd save -- SO, what is it?
Perhaps it's because these are public-strengthening institutions -- that they as conservatives, are unable to easily craft, coerce, or control?




Perhaps it's because an educated and socially-aware populous -- is the biggest threat to their own narrow-minded, self-centered points of views?

Public Broadcasting Targeted By House
by Paul Farhi, Washington Post Staff Writer -- June 10, 2005
A House subcommittee voted yesterday to sharply reduce the federal government's financial support for public broadcasting, including eliminating taxpayer funds that help underwrite such popular children's educational programs as "Sesame Street," "Reading Rainbow," "Arthur" and "Postcards From Buster."

In addition, the subcommittee acted to eliminate within two years all federal money for the Corporation for Public Broadcasting -- which passes federal funds to public broadcasters -- starting with a 25 percent reduction in CPB's budget for next year, from $400 million to $300 million.
[...]

"Americans overwhelmingly see public broadcasting as an unbiased information source," Rep. David Obey (Wis.), the ranking Democrat on the subcommittee, said in a statement. "Perhaps that's what the GOP finds so offensive about it. Republican leaders are trying to bring every facet of the federal government under their control… Now they are trying to put their ideological stamp on public broadcasting."
Fair warning Republicans:
When you go after Big Bird -- you are messing with the very fabric of Americans' sense of "fair play." And just because Americans are forgiving -- doesn't mean you can walk all over our meager
and earned
public services -- and expect to get away with it, electorally unscathed.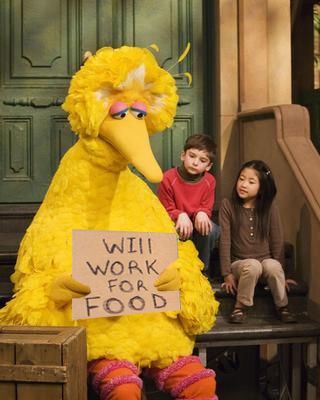 Mitt if you mess with Big Bird -- you are messing with US -- ALL of us hopeless, helpless worker bees -- that you love to exploit ... from your quiet Job Creator rooms.

Obama, Romney Differ Over Jobs Report at Virginia Events
nbcwashington.com -- Oct 5, 2012

[...]
In Fairfax, Va., Obama embraced the public television icon.

"So for all you moms and kids out there, don't worry -- someone is finally getting tough on Big Bird," he quipped. "Rounding him up. Elmo has got to watch out, too. Gov. Romney plans to let Wall Street run wild again, but he's going to bring down the hammer on 'Sesame Street.' It makes perfect sense."
So there you go -- Mitt Romney
will crack on Sesame Street
like a ton of brick -- but then
look the other way again
, when it comes to the regulation the Casino on Wall Street ... (Mitt's old schoolyard playground).
How soon Republicans forget -- forget what their Trickle-down policies have already done to America. And now they want to blame their own debt -- on some "drop in bucket" newly-coined Government Trickle-down programs.
Robert Creamer, huffingtonpost.com -- March 18, 2011
[...]
Thirty-three million people listen each day to NPR affiliate stations, and some 27 million tune into at least one program distributed by National Public Radio.

NPR's long-form news shows -- that actually explore issues in all of their depth and complexity -- are very popular with huge segments of the American public. And they are available to everyone. The network is especially popular with baby boomers and Americans with higher levels of education. But it is has ardent fans in every part of the population and every section of the country. In fact, 99% of Americans have access to an NPR affiliate.
[...]

First, they hate any successful public sector -- non-corporate venture. It flies in the face of radical conservative belief that the "private sector" always does things better.
[...]

Second, the Republicans hate the idea that NPR is drawing listeners from stations owned by corporations like Clear Channel. They are all about "competition" until private corporations have to compete with public sector ventures that can provide superior services for less money and don't have to pay millions in profits to satisfy their corporate task masters.
[...]

NPR is all about maximizing the quality of the news coverage for its own sake.
Those are some very good reasons why Republicans, including now Mitt Romney, absolutely
hate
PBS.

I'd add one more reason why -- why Republicans often resort to waging rhetorical war on things like Big Bird, and Amtrak, and Planned Parenthood, and Food Stamps, and pre-school "Head Start" assistance.
-- it's because such indignant micro-managment discussions serve as major distractions from their own "unaccountable spending track records" ... China has nothing to do with -- given their party's long history of Credit Card spending benders ...

Mitt Romney loves Big Bird, will kill funding for him anyway
by Robin Abcarian, LATimes.com -- Oct 3, 2012
[...]
"When I walked into the Oval Office," said Obama, "I had more than a trillion-dollar deficit greeting me. And we know where it came from: two wars that were paid for on a credit card, two tax cuts that were not paid for, and a whole bunch of programs that were not paid for, and then a massive economic crisis."
Hey fiscally incompetent GOP Faux-Misers --
Meet Mirror
.
Because if there's one thing that Republicans are pros at -- it's blaming others for their own irresponsible spending behavior.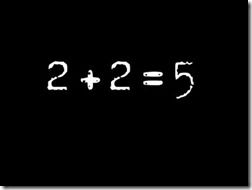 If anyone needs the basic Math skills taught daily on programs like 'Sesame Street' -- it's them -- the Party of the Mathematically-challenged.
The Say-Anything, Do-Nothing, Charge-Everything Republican party.