These are sad days for those who love members of the US military. On Sunday, September 30th, the official AP count of US forces killed in the 11-year Afghanistan war reached 2,000. That same day, a US soldier was severely injured when he was helping to patrol around a poppy field which was believed to be providing al-Qaida with funds from drug trafficking. The man, Sergeant 1st Class Aaron Henderson, was taken to the Heath Craig Joint-Theater Hospital at Bagram Airfield.
The next day, October 1st, a suicide bomber detonated a vest rigged with explosives near a group of Afghan and NATO forces after they had started to walk through a Khost City marketplace. Three US soldiers, four Afghan police officers, an Afghan translator, and six Afghan civilians died in the blast. More than 60 civilians and three American soldiers were wounded.
Tuesday, October 2nd, Sergeant 1st Class Henderson, from the beautiful state of Maine, lost his last battle for life. Also, on that day, the remains of the three soldiers killed in Khost City were flown back to the US. The soldiers who arrived at Dover Air Force Base that evening were:
• Sergeant Thomas J. Butler IV from North Carolina
• Sergeant Jeremy F. Hardison from North Carolina
• Sergeant Donna R. Johnson from North Carolina

Sergeant 1st Class Aaron Henderson



Aaron Henderson was born in the small rural community of Houlton, Maine. He graduated from Hodgdon High School in 1997. He played soccer, basketball and baseball in high school, He was a four-year starter on the baseball team and helped the team win a state championship in 1996.

Henderson completed three deployments in Iraq before his most recent deployment in Afghanistan. He was a Special Forces communications sergeant with the 2nd Battalion, 5th Special Forces Group (Airborne), which is headquartered at Fort Campbell, Kentucky.

Those who knew Henderson said he had a personality and character that left a lasting impression on each person who met him. An article in the Bangor Daily News states:
Lori Weston, community development director for the town of Houlton, said it was Henderson's "gregarious" character that helped draw him close to her three sons. The friendship meant lots of get-togethers between the two families. Henderson's mother, Christine, and older brother, Sam, live in Houlton. His father, Dallas, a successful insurance salesman, died in 2010. A beloved figure in the community, Dallas Henderson once jumped into a swollen river behind his office to save two teenagers who had been swept away by the current and were struggling to get to shore.

"Our families just melded together immediately," Weston said. "There were lots of baseball and basketball games. Aaron was just such a unique guy. You felt his presence when he came into a room. When he talked to you, he really talked to you. He focused. He listened. Everyone else and everything else just melted away."

Being a Green Beret was a "natural fit" for Henderson, she said.
Sergeant First Class Aaron Henderson was wounded by an improvised explosive device (IED) during a foot patrol with his unit in the Zombalay Village of Afghanistan on September 30th. He died October 2nd at the hospital at Bagram Air Field in Afghanistan. The Green Beret was 33 years old at the time of his death.
The death of Henderson is hitting the southern Aroostook county community hard. Outside the Houlten High School, in his hometown, a sign states: "Our thoughts and prayers are with the Henderson family."
Some members of Henderson's military unit have arrived to help the family cope in any way possible. Aaron Henderson was predeceased by his father, who died in early 2010 from a heart attack. Among those family surviving him are his mother, Christine, and older brother, Sam, who live in Houlton, Maine.
~+~+~+~+~+~+~+~+~+~+~+~+~
Sergeant Thomas J. Butler IV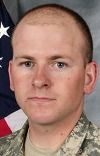 Thomas Jefferson "TJ" Butler attended Topsail High School and Cape Fear Community College. TJ began his military service in June of 2007. The deployment to Afghanistan was his first and he had been in Afghanistan for 11 days before he was killed.
He was assigned to the 514th Military Police Company, 60th Troop Command, which is based in Winterville, North Carolina. The unit left North Carolina for Fort Bliss, Texas, in June and departed for Afghanistan in early August.
Army Sergeant Butler was killed Monday when, according to some reports, a man riding a motorcycle packed with explosives rammed into a group of soldiers on patrol in Khost, a city in the eastern part of Afghanistan. Sergeant Butler was 25 years old.
A statement by North Carolina Adjutant General Maj. Gen. Gregory A. Lusk says, in part:
"We are still grieving for these soldiers, their families and their unit members still carrying on with their mission,"

"They were the embodiment of citizen Soldiers who put everything on hold to go in harm's way for all of us. They will be remembered and sorely missed."
His awards and decorations included the National Defense Service Medal and the Army Service Ribbon.
Sergeant T. J. Butler, IV leaves behind his wife Holly and their young son, who is also named Thomas. Funeral arrangements are being handled by Andrews Mortuary in Wilmington.
~+~+~+~+~+~+~+~+~+~+~+~+~
Sergeant Jeremy F. Hardison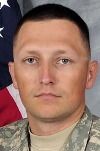 Hardison attended White Oak High School and North Carolina State University. He entered the military in May 2006 and deployed to Iraq in 2009.
He became a husband and stepfather this past April when he married Brittni, who was from Greensboro. The young couple were living in Browns Summit, North Carolina with Brittni's daughter.
Family members talked to
WFMy news
about their loss:
"He loved Brittni. They had a true love, and he just accepted Alyssa even though it wasn't his daughter," said Brittni's sister, Heather Allen.

Jeremy was only expected to be overseas for nine months. The family's only connection came through Facebook, Skype, and phone calls.

Vaughn said, "We would see him on Facebook. Brittni was talking to him so I didn't think it was that dangerous and I think that's hitting home."
Jeremy Hardison was assigned to the 514th Military Police Company, which is based in Winterville, North Carolina. He was deployed to Afghanistan six weeks ago.
Sgt. Jeremy F. Hardison of Maysville was killed, along with Sgt. Thomas Jefferson Butler IV of Wilmington and Sgt. Donna R. Johnson of Raeford when a suicide bomber drove a motorcycle rigged with explosives into a group of Afghan and NATO forces. The MPs were with a group of other US and Afghan police officers who had started a walk through the Khost City market area. The MP was 23 when he died in the blast.
Awards and decorations earned by Sergeant Jeremy Hardison included the Combat Action Badge, Iraq Campaign Medal with a campaign star and the Army Commendation Medal.
The body of Sergeant Hardison, along with those of Sgt. Donna R. Johnson and Sgt. Thomas J. Butler IV were flown into Dover Tuesday evening. Funeral arrangements have yet to be announced.
~+~+~+~+~+~+~+~+~+~+~+~+~
Staff Sergeant Donna R. Johnson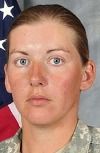 Donna Johnson joined the North Carolina National Guard in August of 2006. She had previously deployed to Iraq from 2007 to 2008.
Johnson was assigned as an MP to the 514th Military Police Company, 60th Troop Command, which is based at Winterville, North Carolina. The unit left North Carolina for Fort Bliss, Texas, in June and departed for Afghanistan in early August.
Army Staff Sergeant Donna R. Johnson was killed Monday when a Taliban suicide bomber rammed a motorcycle packed with explosives into a joint US-Afghan patrol. Two other US MPs were among the 14 fatalities. The incident that took their lives occurred at approximately 9 am local time in Khost City, which is the capital of Khost province in Afghanistan.
The Staff Sergeant's awards and decorations included the Combat Action Badge, Iraq Campaign Medal and Army Commendation Medal.
Johnson's sister was interviewed by
Advocate.com
the video is shown on the site, and the article goes on to say:
The American Military Partner Association noted on its Facebook page that Johnson is survived by her wife, Tracy Dice. The post continued, "In days to come, the American Military Partner Association will be sharing more of the story of Donna & Tracy and their commitment to each other and our nation. We ask for your continued thoughts, prayers, and privacy for Tracy and her family during this difficult time."

Dice also serves in the military, according to North Carolina TV station WRAL. Rene Johnson, Donna's sister, told WRAL the couple had been together for several years, long before "don't ask, don't tell" was repealed. "She is a soldier," Rene Johnson said of her sister. "She went over there to fight, not because she was gay or because she was lesbian."
Among those left behind by Staff Sergeant Johnson's death, at age 29, are her wife, Tracy Dice and her sister, Rene.
**********************
Helping our troops:
If you wish to assist our military and their families, consider contributing to Fisher House. Donating to Netroots for the Troops provides care packages that make a real difference in a military person's life. To assist the animal companions of our deployed military, information is available here. Also, you could visit:

When our veterans come back home, they need jobs. Look at the programs of Hire Heroes USA and Welcome Back Veterans to see if you can help out.
About the IGTNT series:
"I Got the News Today" is a diary series intended to honor, respect, and remember the fallen, and to remind us that each casualty has family and friends who received the terrible news that their loved one has died. US service members whose names have been released by the US Department of Defense will usually be diarized two days after the official announcement on the DoD website. This allows the IGTNT team to cover each person more fully, but still in a timely manner. Click the IGTNT tags below to see previous diaries in the series, which was begun by i dunno, and is maintained by Sandy on Signal, Monkeybiz, Noweasels, Blue Jersey Mom, Chacounne, Twilight Falling, Joyful, Roses, SisTwo, a girl in MI, Spam Nunn, JeNoCo, True Blue Majority, CalNM, Wide Awake in Kentucky, Maggiejean, JaxDem, TheFatLadySings & Ekaterin. These diaries are heartbreaking to write, but show our community's respect for those who have died.
Please bear in mind that these diaries are read by friends and family of the service members mentioned here. May all of our remembrances be full of compassion rather than politics.