On CBS's website they now have a banner headline reporting the results of their poll.
Lyin Ryan got 31%
19% still don't know
Biden won on knowledgeable 85% vs Ryan's 75% (Before/After Debate - so they both improved in that regard but Joe by more).
Biden won on who would be more qualified to be President if necessary. Ryan got only 49%.
This is from their 'Scientifically Selected Sample' of 500 uncommitted voters.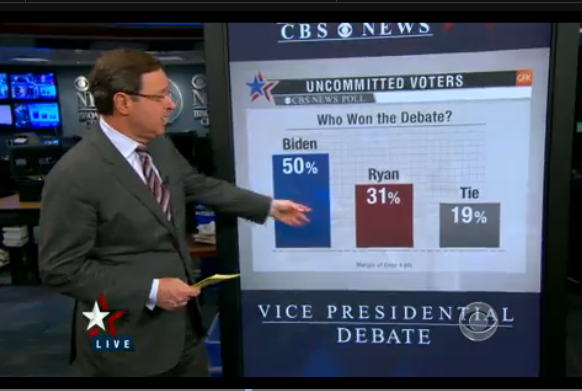 PBS Charlie Rose - "when it came to the economy Biden UNLOADED on Ryan" LOL!
Al Hunt - Biden did everything Obama failed to do last week. (it was a beatdown - paraphrase)
Ryan showed he could hold his own in the major leagues - LOL.
Rich Lowry - Biden was playing by Cable TV rules. He came off as off putting and rude. (Hey if it's good for Romney it's good for Biden).
Chuck Todd - Biden was the aggressor. He controlled the debate. Biden said Romney 18 times, Ryan said his name 9 times. Uh, ok.
Al Hunt - Ryan didn't hurt his ticket. SCORE!
Chuck Todd - factcheckers won't be busy tomorrow (!). Both answered the religion question really well.
John Heileman - trying to blunt the impression of Biden's success by reminding viewers just how bad Obama was. Remember? "Where was Obama last week? Next week at Hofstra is going to be even More Important!!!!!"
"Republicans won't be as disappointed with Ryan as Democrats were with Obama". LOL!
Katty Kay - people will remember Biden's mannerisms more than what he said. Arrogant.
Chuck Todd - this win for Biden isn't that meaningful. The only result that would have been meaningful is if Ryan had cleaned Biden's clock.
John Dickerson - Biden had his fist in Ryan's mouth the whole time.
Rich (starburst) Lowry - the Ryan people specifically negotiated for the seated format on the premise that it's harder to be a jerk when you're seated. Biden obviously disproved that. (eyeroll).
Chuck Todd distracted by baseball game. Huge sigh of relief in Chicago. Romney bump bigger nationally than in battlegrounds. Obama structural advantage still holds - levees haven't broken.
David Letterman weighs in - the only thing Ryan had to was not look like a beady eyed weasel. Before the debate Ryan said he would 'stick to the facts'. See, he's already lying.

eXtina - Biden won this debate because he showed passion. I think voters will appreciate that.