Hi everybody-
weatherdude has posted on Facebook that he will have limited internet access and will likely not be available this weekend. (If you aren't following him there, I strongly recommend it.)
I'm scheduling this diary to post early Saturday morning-I'll update it mid-morning once I drag my sick self out of bed.
Update 10:39am: Just read the updated convective outlook for today, and I'm struck by the level of uncertainty that still persists throughout the region. Except for Oklahoma:
FORECAST SOUNDINGS OVER CNTRL OK VALID LATE THIS AFTERNOON INTO EVENING INDICATE THE POTENTIAL FOR A GREATER SUPERCELL/TORNADO THREAT THAN IS INDICATED BY CURRENT TORNADO AND HAIL PROBABILITIES.
***
Did you really think we were done??
To be honest, I did-it's been so freaking dry and without moisture you have limited severe weather potential.
The extended day convection outlook discussions at the Storm Prediction Center has been calling this weekend out for a few days now. The models are still really unpredictable-if you are in any of the areas indicated below, please be aware of your surroundings and weather conditions. The good news is that any tornadoes that form are expected to be isolated and weak, but the potential for wind events and localized flooding is quite large.
Let me start with the temperature map from Friday night, courtesy of weather.com:
There are huge temperature variations right now-70s and 80s in the states bordering the Gulf Coast and high 40s-low 50s as far south as Iowa and Nebraska.
Here's a snip of that surface wind map website I love so much-prevailing winds are running south to north, pulling moisture from the Gulf into the plains states.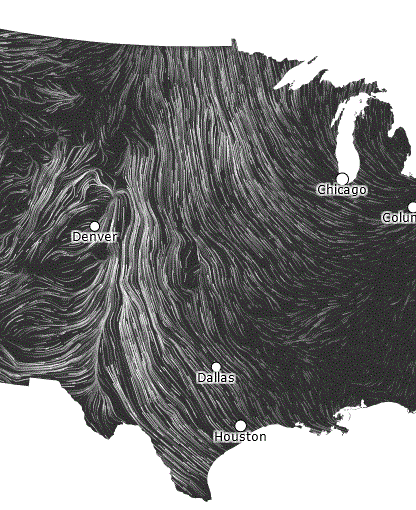 I really like adding cities to the NOAA convective outlooks. Note the hot pink area-that is the area with the highest chance of severe activity Saturday:

Although the most recent convective outlook states that tornadoes should be isolated, I will note that the TOR-CON levels from weather.com have increased-see that 5 for OK? That was not there Friday afternoon. Oklahoma-you guys be careful.
Saturday, Oct. 13
AR west, night - 3
IA – 3 to 4
IL northwest – 3
IL northeast, west-central night – 2 to 3
KS central – 3
KS east – 4
MN south – 3
MO north, west - 4
MO east-central, south-central night - 3
NE east – 3 to 4
OK except panhandle – 5
SD extreme southeast – 2 to 3
TX west of I-35 - 3
TX northeast night - 3
WI south – 3
Other areas – 1 or less
Here is a very useful graphic, again from weather.com. (Yes, it is small!) Although the earliest projected timing for these storms is 1pm, the convective outlook specifically says that the timing and severity of this outbreak are really uncertain.
Please, please be careful today! If everything lines up correctly conditions could deteriorate very, very quickly. Please have an alternate plan if you intend to be outside, especially in the afternoon/early evening, and be aware of places to take shelter.
Briefly-here is Sunday's convective outlook as of Friday night.