Archaeologists and biological anthropologists spend a lot of time with dead people. Both graves and the human remains contained within them provide important clues about the past. By studying the remains of our ancestors, biological anthropologists allow our ancestors to speak to us, to tell us about their lives. Human burials provide a great deal of information about disease, diet, working conditions, and population demographics.
Bones are the most common thing that biological anthropologists study. The bones can tell us about life experience, death, and even what has happened to the body after death. Patterns of physical activity leave ridges in the bone. The wear and tear on the bone and arthritis show us patterns of physical activity. Diseases and injury also leave their mark in the bones.
Bones can tell us about the kinds of diets that our ancestors had. The tissues of all living things contain stable isotopes of elements such as carbon and nitrogen, and by measuring the amounts of these elements in bone, the biological anthropologists can reconstruct ancient diets.
With regard to Irish DNA, geneticist Bryan Sykes, in his book Saxons, Vikings, and Celts: The Genetic Roots of Britain and Ireland, reports:

"We have seen some evidence of a genetic link between Ireland and Spain along the Atlantic fringe of Europe, which archaeologists are now beginning to realize was a much busier seaway than was once thought."
Bog Bodies:
Throughout Northern Europe, bodies have been uncovered in bogs. The unusual conditions of the bog generally mean that the skin and internal organs remain, while the acid in the peat has dissolved the bones. A number of bog bodies have been found in Ireland—130 to be exact—and several, shown below, are on display in the National Museum in Dublin.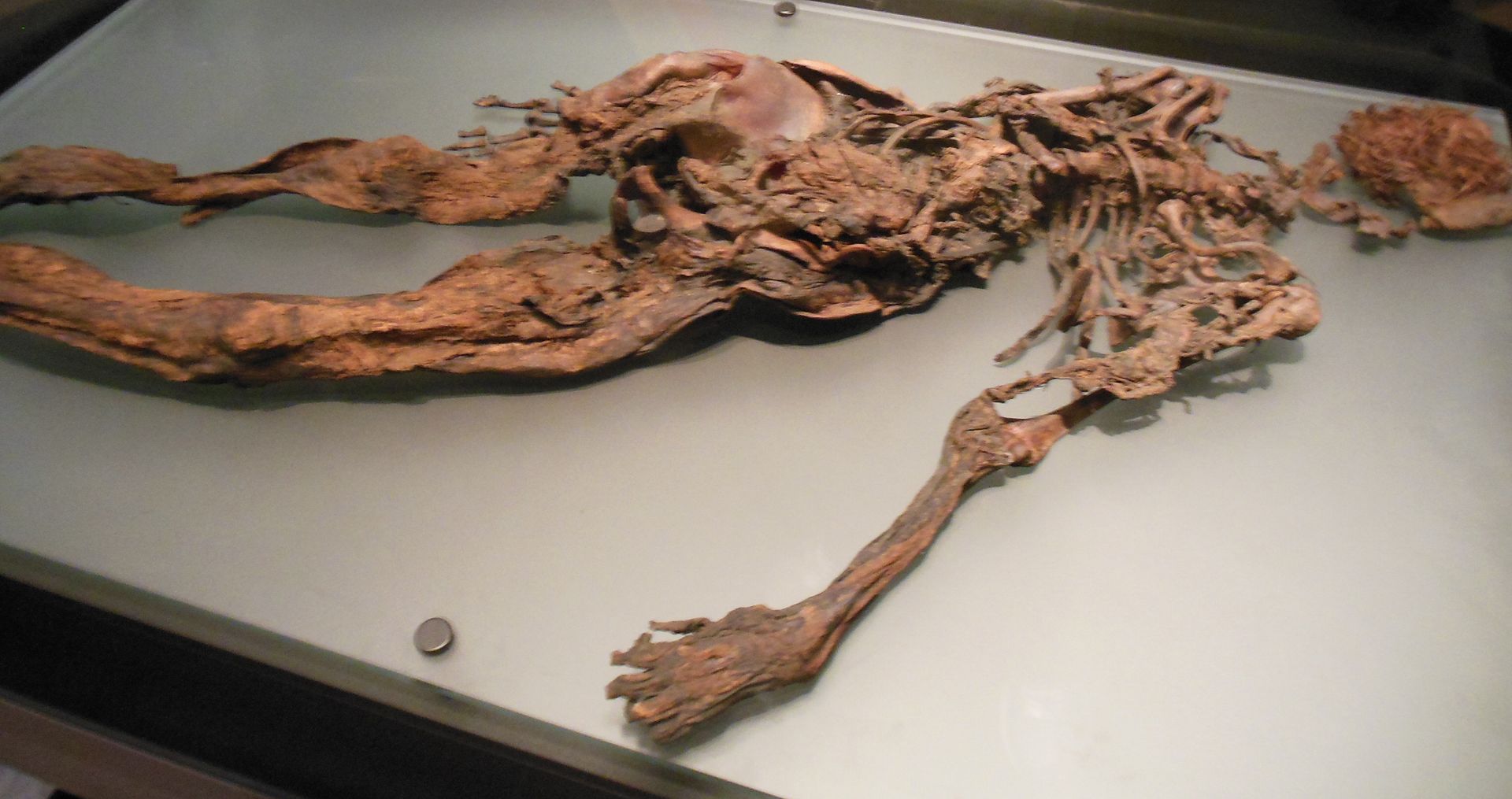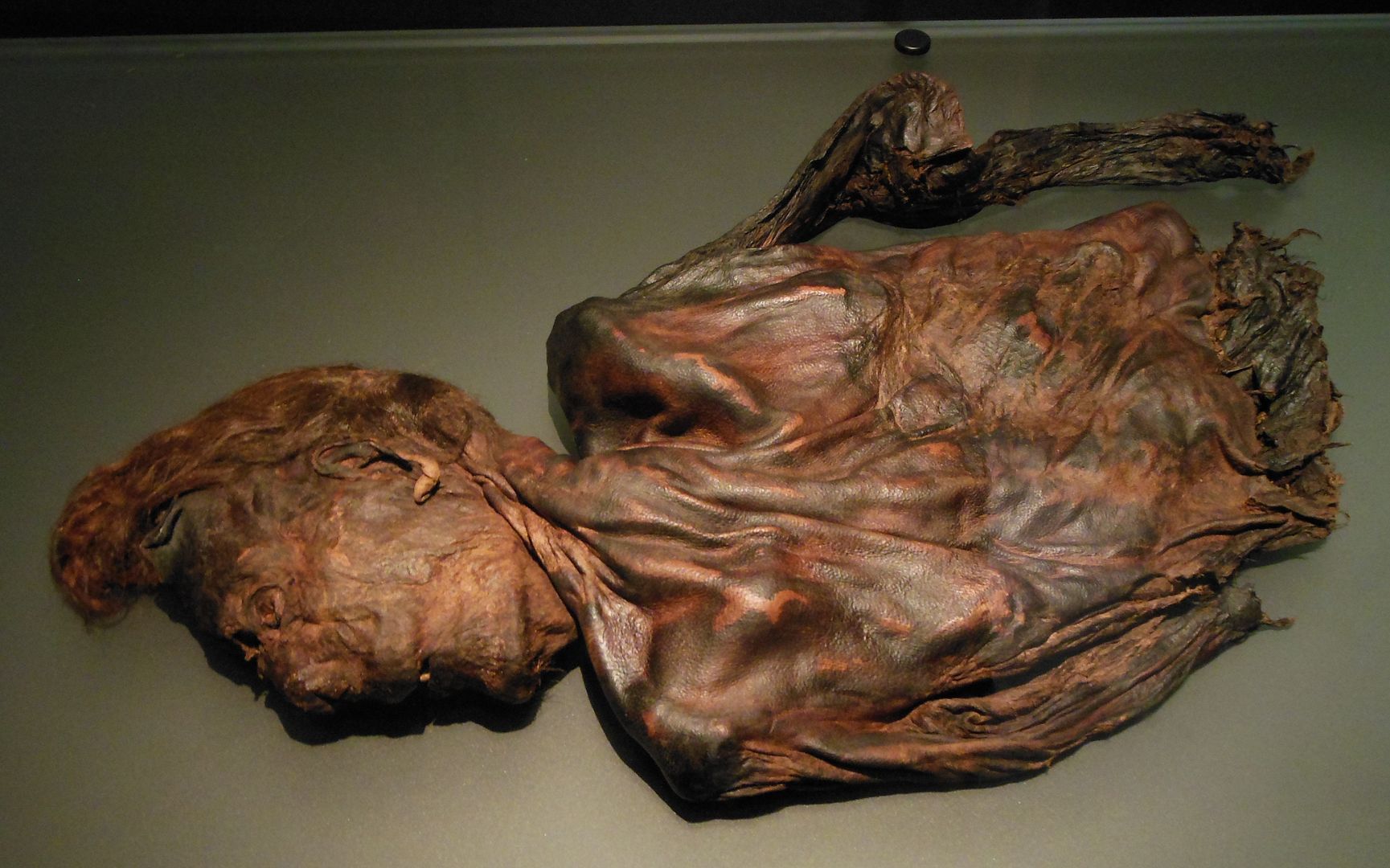 The bog body known as Clonycavan Man is shown above. One of the interesting features of this body, found in 2003, is the distinctive hair style. His hairstyle was held in place by the application of a sort of gel made from resin imported from France or Spain. This suggests that he was a high status individual with enough resources to obtain exotic foreign imports. Analysis of his stomach revealed that during the past four months of his life he had a plant-based diet. This suggests that he died in the autumn.
At the time of his death he was about 25 years of age and he stood about 5 feet 9 inches tall. He was killed by a series of blows to the head, probably by an ax. There are also suggestions that he was disemboweled. The bog where the body was found would have been on the border between two kingdoms at about 300 BCE.
Shown above is the body known as Oldcroghan Man. He was fairly tall—an estimated 6 feet 3 inches. On his left arm is a plaited leather armband. Analysis of his fingernails shows that during the last four months of his life he had a diet that included substantial amounts of meat. His final meal appears to have been different than his regular diet in that it was cereals and buttermilk with no meat.
Oldcroghan Man was killed by a stab wound to his chest. Defense wounds on one arm show that he tried to fight off the fatal assault. He was decapitated, his nipples were cut, and his thorax severed from his abdomen. The cutting of the nipple is highly significant. Sucking a king's nipples was an ancient Irish form of submission and the mutilation perpetrated on Oldcroghan Man would have rendered him ineligible for kingship. Oldcroghan Man was probably a person of high social rank: his hands show little evidence of hard work and his fingernails were carefully manicured.
Twisted hazel ropes known as withies were inserted in cuts made in the upper arm and probably served to anchor the body to the bottom of the bog pool.

In describing people's attitudes toward bogs, Irish archaeologist Nóra Bermingham writes:

"We see that bogs are known to be dangerous: firm ground is sought out. The bog is viewed as ground fit only for traitors and other miscreants who could not be buried elsewhere."
The bog is often a place to which people are condemned by other people, but in some cases the bodies which they contain may have come to rest there through folly or misfortune. It many cases it is felt that the bog bodies were social outcasts who were precluded from normal burials.
The earliest bog bodies in Ireland date to the Mesolithic era and do not show any evidence of having been human sacrifices. With regard to later bodies, those from the late Bronze Age to the first millennium CE, Nóra Bermingham writes:

"Isolated, mutilated and naked bodies may represent votive offerings or severely punished individuals devoid of ritual associations."
With one notable exception, all of the bog bodies in Ireland were chance discoveries and were not professionally excavated. The exception is the Tumbeagh body—just a pair of legs with no torso—which was found during an archaeological survey in 1998 and professionally excavated. In possible association with the body were some wooden stakes and withy. Some of the other bodies found in peat bogs had been anchored into the bog with stakes, raising the possibility that this body had also been somehow staked into the bog. The Tumbeagh body has been dated to the late fourteenth or early fifteenth century, which means it is a relatively recent body. This means that it is well outside of the prehistoric period generally associated with Irish bog bodies.
The Tumbeagh body is from the Christian era, a time when internment was in a grave in consecrated ground (i.e. a cemetery). Bodies were placed in a supine extended position, oriented east-west, with the head to the west and the feet to the east. The unbaptised were buried elsewhere. The bodies of drowned sailors, suicides, murder victims, and adulterers were traditionally buried in unconsecrated ground. The Tumbeagh body is thus an irregular burial which had been placed in the bog in a flexed position rather than extended and on its left side rather than supine. The body was not oriented in an east-west position, nor was it buried in a coffin.
Single Burials:
It is not just dead bodies that tell archaeologists and biological anthropologists about the past, but also the graves themselves: how they were constructed, the grave goods which they contain, where they are built, and how they are oriented in the landscape. All of these things provide clues about life in past times and about the structure of ancient societies.
During the transition from the Neolithic to the Bronze Age in Ireland, there was a change in the way people buried the dead. Previous, large passage tombs, such as Newgrange, had been used. Now, however, single graves were being used. This change in burial practices reflects a fundamental restructuring of Irish society. While the earlier megalithic tombs served as communal monuments in which the remains of an elite were entombed, the increased use of single graves suggests that Ireland was becoming more egalitarian at this time.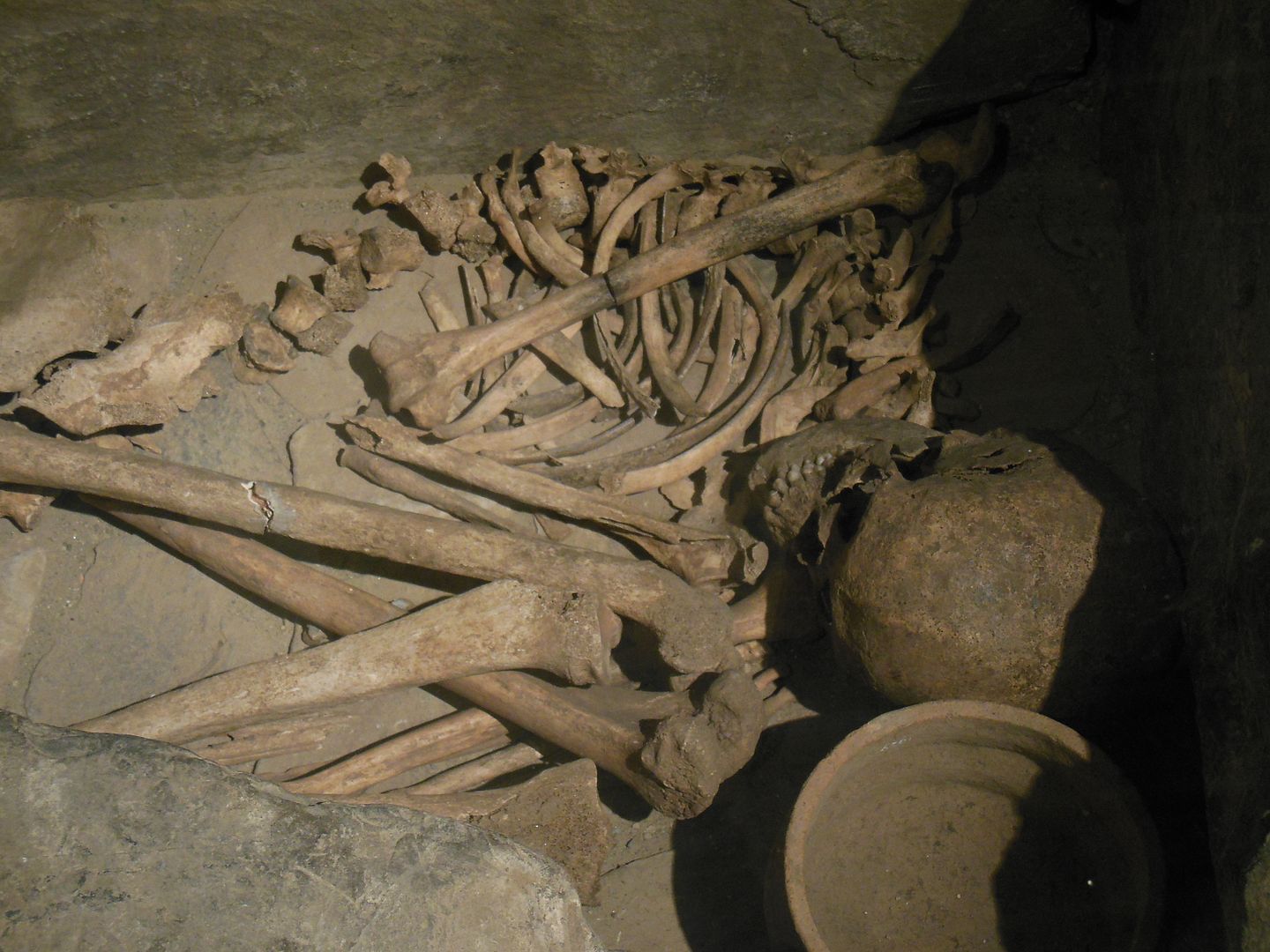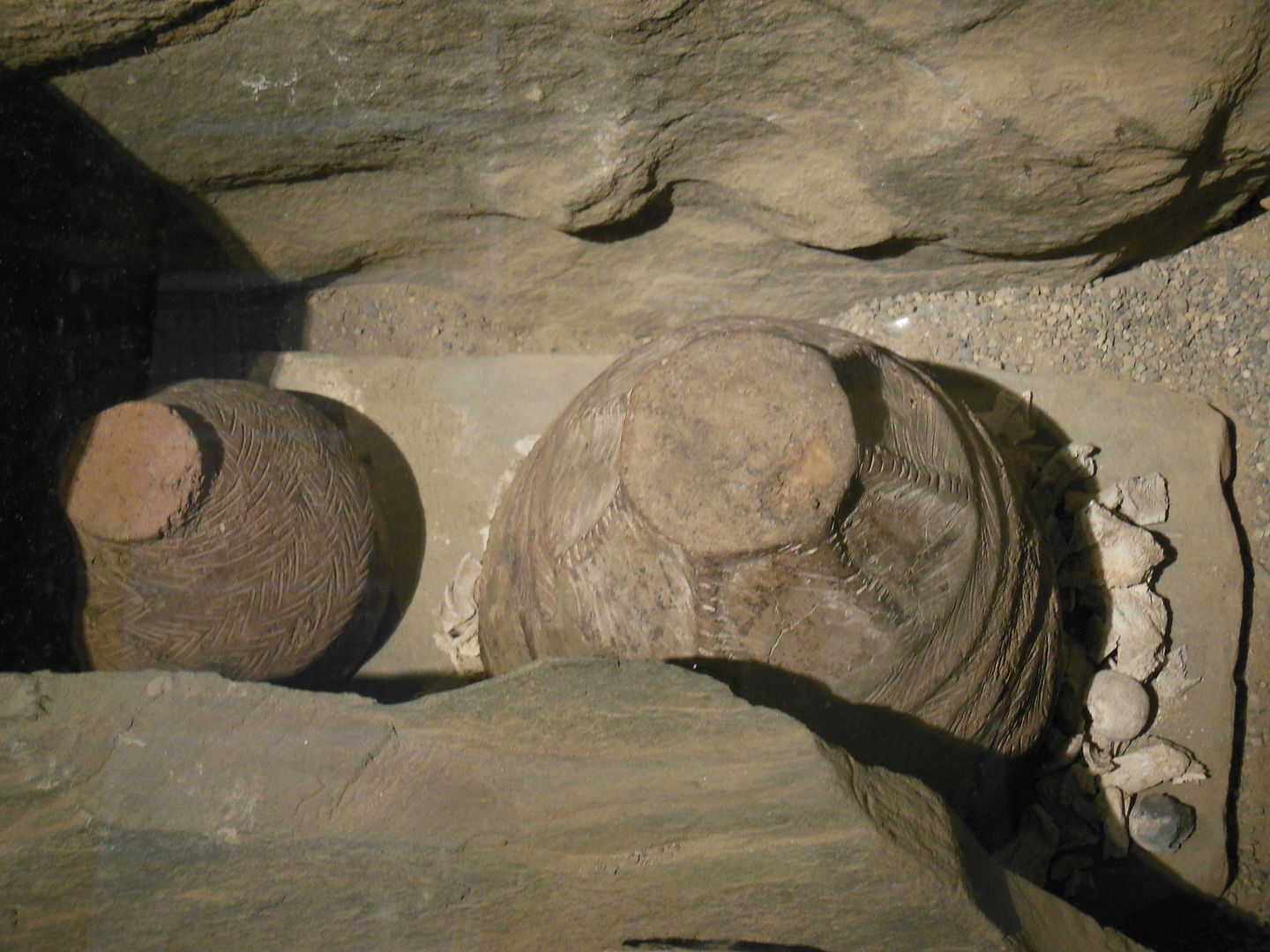 Shown above are displays of single graves in the National Museum in Dublin.