I just stumbled across this from the Twitter feed, very very good news.

Former FL Repulican Gov Charlie Crist stumps for PBO! Says PBO was imploring Congress to Help ALL People & They Said NO!tampabay.com/blogs/the-buzz…

— WayneEdH (@WayneEdH) October 16, 2012
Republicans are watching the 21st century slip through their fingers. All that they are and stand for is dying a slow death from acute lack of relavency. The ones smart enough to see the writing on the wall are high-tailing it out of there; they can see that either the Republican party must make huge changes, or it will die at last. Unfortunately, due to the advanced stages of the problem the changes required may prove too drastic. The GOP may not survive no matter what they do. Nevermind supporting him; if every prominent Republican stood up and merely renounced the nasty things they've said about President Obama, forswearing not to speak so ill of our President in the future, their own constituency would throw them out.
Which of course is exactly what should happen. Not likely, more's the pity.
But we do have one: Charlie Crist, former governor of Florida. Yes, that Florida.
From the Tampa Bay Times

Gov. Charlie Crist hit the trail in Ohio Saturday, campaigning in the Columbus and Cincinnati areas for Barack Obama alongside former Democratic Ohio Gov. Ted Strickland. They received loads of TV coverage while bracketing Mitt Romney campaign events in the Buckeye State.

At one rally, Crist blamed congress for the slow jobs recovery: "He wanted to do everything he could. He was imploring the congress to help people - real people, all of them, 100 percent - and the congress just said no."

To a TV interviewer, Crist spoke how much the stimulus package helped Floridians: "I understood and saw as governor of Florida, this great man, this great president, came to Florida even though I was a Republican at the time, helped us with out teachers, our firefighters, our law enforcement officers."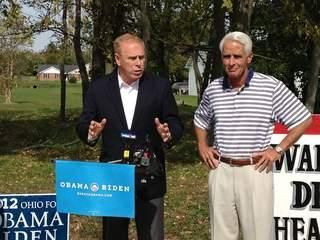 Great news. Kudos to him for seeing the obvious, heh.
You can donate to Obama for America here