First time diary here. Forgive my inability to stay focused.
I have a full-time job but suffer from a deficiency in enough income to pay for daycare. So I also have part time job in telemarketing. I work 64 hours a week in total. In my telemarketing job I am very anal in keeping statistics, so I have about 8 months worth of records. Not only will I make some attempt to provide a little insight into polling, but I can also give some handy tips with telemarketers. More below the pig in the blanket.
Not going to get into TOO much detail about my telemarketing job. I'll just say that it's 5 days a week and about 5 hours a day. I DO NOT make sales, I "make appointments".
Calls are when my computer calls a number and it's picked up. This includes people that accept my offer, reject the offer, answering machines and people that want me to call back another time. So one day I could make 300 phone calls and only make 30 contacts. The people that I get to accept my offers are converts or registrations. If I convert 10 out of those 30 contacts, that is 33% conversion rate. That's the basics.
Each week I call a different area. I don't call all over the country. Typically we call ares around metros. Usually staying within 30 or 40 miles of the city. Montana and Idaho covers a LOT of ground. We call cell phones as well as landlines.
The record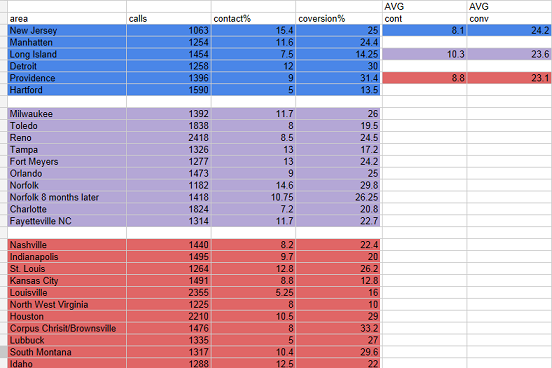 Areas are highlighted by color according to their state.
This ended up being a lot more similar than I thought it would be. It's easier to make contacts in a swing state by quite a bit. Blue states are the hardest to make a contact in. But blue states are also the easiest to convert while red states are the most difficult. I would say that for a pollster to call way more red states than blue states consistently, that may not be an accident.
I don't know if it's easier for a pollster to make contacts than it is for me. I do know that I have had quite a few people ask me angrily if this call was political. These were usually swing states. I have never ever had a person profess their liberalness. Part of my pitch is an "as seen on tv" type thing where I mention CBS, CNN and ABC. I have had more than a few people say they don't watch "that liberal crap". I have had one guy say he's too broke because of Obama. And I had one lady say that all she's concentrating on is getting Romney elected (this lady was in the St Louis area).
///////
Now some tips (I posted much of this elsewhere previously):
Simply adding your phone number to the do not call registry will not make the system work. When somebody violates this you need to report them with as much detail as you can provide on the website.
How does your info get out there? Do you have a magazine subscription? Boom. They sold your info. Credit card? Boom. They sold you out on top of increasing your interest. Make a contribution to Newt Gingrich's campaign? Uh oh! Etc...The most valuable asset to facebook is your info. They will eventually sell it. Their stock has been a bust and it's just too much money for them not to profit. They already get in trouble every few months for screwing with your privacy settings.
Have you ever filled out a survey for free stuff? You probably clicked somewhere on the survey giving guys like me permission to call you, regardless of the DO NOT CALL list. Sorry guys. This is hard, I know. I have (and I have no stake in this company) an app on my phone called Mr Number. Check it out. I love it. Of course I wouldn't be surprised if they sold my info either :)
It is my company's policy to put the contact on our internal DO NOT CALL list if requested. It is also policy to put them on the "not interested" list if requested. This would keeps calls away until the next time we get to your area (usually once every 8 months). Most of us at my company are really cool people and polite, and honor your wishes. I do know that there are other companies where callers are jerks and rude. I was once called a "Dick" and a "faggot" by an outbound caller on my home phone. Won't get into that call at this time though unless asked about it.
We are told to ATS, or Assume The Sale. Simply hanging up will likely result in a phone call the next day. We will think you dropped the call on a cell phone.
Say not interested at least twice. I actually typically get at least 1 registration a day off of somebody that told me "not interested" once. Remember that I am assuming the sale and I HAVE to try a rebuttal. After two "no's" though, most of us will politely thank you for your time and put you down as not interested. If you request to be put on our internal DO NOT CALL list, again be polite. We will put you on the list, and supposedly it will not call you for at least a year. I know that "no means no" but expect rebuttals. Other people may try and try and try, but after 2 "no"s I thank you and hang up.
Do not be rude. These are people typically working for not THAT MUCH money (no benefits either) trying to get their 20% goal. And if you are a jerk to them, they will protect their conversion rate and put it down as a "call back tomorrow". Call backs do not count against conversion rates. I have had a guy threaten to slit my throat and drink my blood I put him down as a call back tomorrow. I had another lady tell me to get a real job and then hang up. That was a call back tomorrow, after all they never said they weren't interested.
Some easy tips:
1) Like I said, politely say you are not interested, listen to rebuttal and then say, "I am sorry but I am not interested, please add me to your internal DO NOT CALL list"
2) Do not just hang up. I assume it's a dropped call.
3) If answering for spouse or other person that is not home don't say that they would not be interested. After all,l we got their information, they have to have been interested, right? Usually we will call back in a day or so in a different time of day in hopes of getting in contact with correct person. Try this instead, "He is out of town on business and will not be back for few months." This gives the caller the option of setting a call back for a later day (not that likely) or setting an "Out of Area" option (more likely). You are lying here but it may help stop the call AND it gives the caller an option to preserve the conversion rate. Win/win.
4) If it's the wrong number and you have been getting calls for "Betty" for years, don't explode and get pissy with caller. We have old information. Just say that it's the wrong number.
Surprisingly, I may only get 2 phone calls a day where the contact is rude and pissy with me.
Now if only that company that wants to put home security signs in my yard would stop calling me...