Inspired by the movie Julie on Julia where Julie the main character cooks her way through Julia Child's Cookbook. I decided while moving from SF to Chico where I now have a whole house and a wonderful kitchen, to do the same thing with my favorite food group, BREAD. At a used book store with Beth Henspenger's cookbook THE BREAD LOVER'S BREAD MACHI8NE COOKBOOK, which has over 300 recipes.
It has been a fantastic therapy thing, it gives me something to focus on outside myself, a purpose for my retail therapy splurge of a bread machine I bought during a depressed state. I was going to return it, and then found the cookbook at the used book store. To be honest the bread machine is best invest I have EVER made, there is no real way to explain the joy that the smell brings me, and how wonderful the bread is warm and bread and butter is!
I have had a issue with what to do with all the bread I was making. A loaf a day is actually A LOT of bread. The the other day while walking I saw 5 special needs kids standing on the side walk waiting for the short yellow bus. I walk at 5 o'clock in the morning, so I decided to wait till an appropriate hour to introduce myself and take over some bread. I went over at 11am and introduced myself and explained my bread project and asked if they would mind if I brought over the leftover bread each day. The woman was very happy, seems they adopted 7 special needs kids. WOW they obviously have BIG HEARTS.
So I gave her the 3 loafs I had, and this morning on my walk I dropped off a fresh, still warm Vevain Loaf. When I returned from the walk the bag and bread were no longer on the porch. The lady told me that one of her kids could only eat Gluten Free BREAD so I decided to add ANOTHER loaf to my Project, 3 or 4 times a week I am kinda excited about learning something new.
So I started to look at gluten free bread cookbooks and found one with 200+ recipes in it. The first one I did was Banana Walnut, do to my FAIL in ther Banana bread department before!
Banana Walnut Bread Adventure Gluten Free!
My bread machine has a Breville Bread machine has a Gluten Free setting, and the book that came with it includes a Banana Walnut recipe. So I decide that my first attempt would be with a tried and true fool proof recipe. I did use a suggestion from "CroneWit" in a msg to me. I microwaved the Banana and cooked down the juice, and used exactly I cup.
Gluten Free - Banana Walnut bread from Breville bread machine cookbook
2 Eggs (4 Oz.)
Milk (80 degrees) 3/4 cup
Apple Cider 1 teaspoon
Mashed Banana microwaved for 2 minutes, juice reduced 50% 1 Cup
Brown Sugar 1/4 cup
Salt 1 1/4 teaspoon
Unsalted Butter 1/4 cup
Chickpea Flour 1 cup
Sorghum flour 1 cup
Tapioca Starch 1/4 cup
Xanthan Gum 2 1/4 teaspoon
Yeast: Active Yeast 1.5 teaspoon
I did a little reading about gluten free breads before I started. I read that the dough should be about the consistency of mashed potatoes. I read that the bread would be dense and moist when done, and I read that "normies" don't like gluten free bread. So I beat the eggs, let them warm to room temperature, warmed the milk to 80 degrees. added it to the machi8ne. then added the microwave soften butter, and the brown sugar. Then I put the machine on Dough cycle and let it mix that stuff up while I sifted the salt, Chana Besan (gram Flour/Chickpea Flour) (anyone that has been reading the series knows that I have been looking for ever for a bread that uses Chana Besan since I bought a bag of it in a little shop in SF!), Sorghum Fourn (Which I had from visiting some friends in Fort Knox KY! WOW found a use for it too! now if I just like the bread!), the Tapioca, Xanthan and yeast. I sifted these 3 times because I read somewhere online that they had to be well sifted. Added that to the machine, and set the machine for a 2.5 Gluten-free Loaf. So I hit the start button and let the machine do its thing. In 5 minutes I took a look: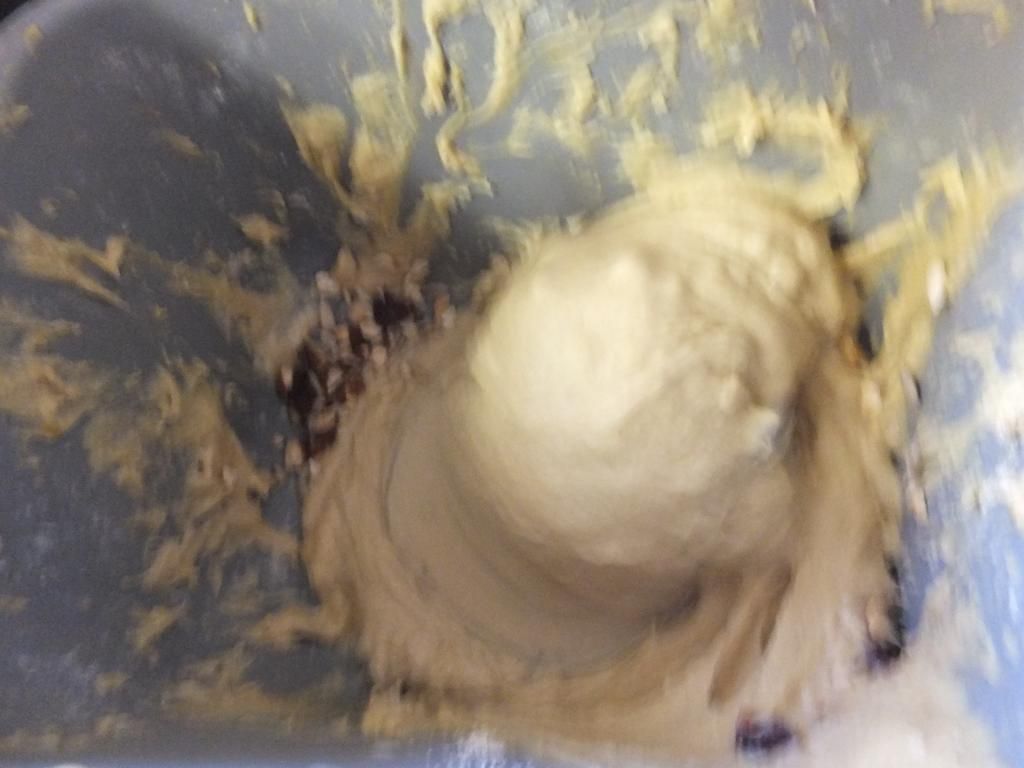 I tried to scrape the sides and found the stuff was STICKY, there was no cleaning the machine up, just making it WORSE. It kinda looked like mashed potatoes, but my Mom's or my Nana's. Nana's tasted a lot better, she put sour cream in them.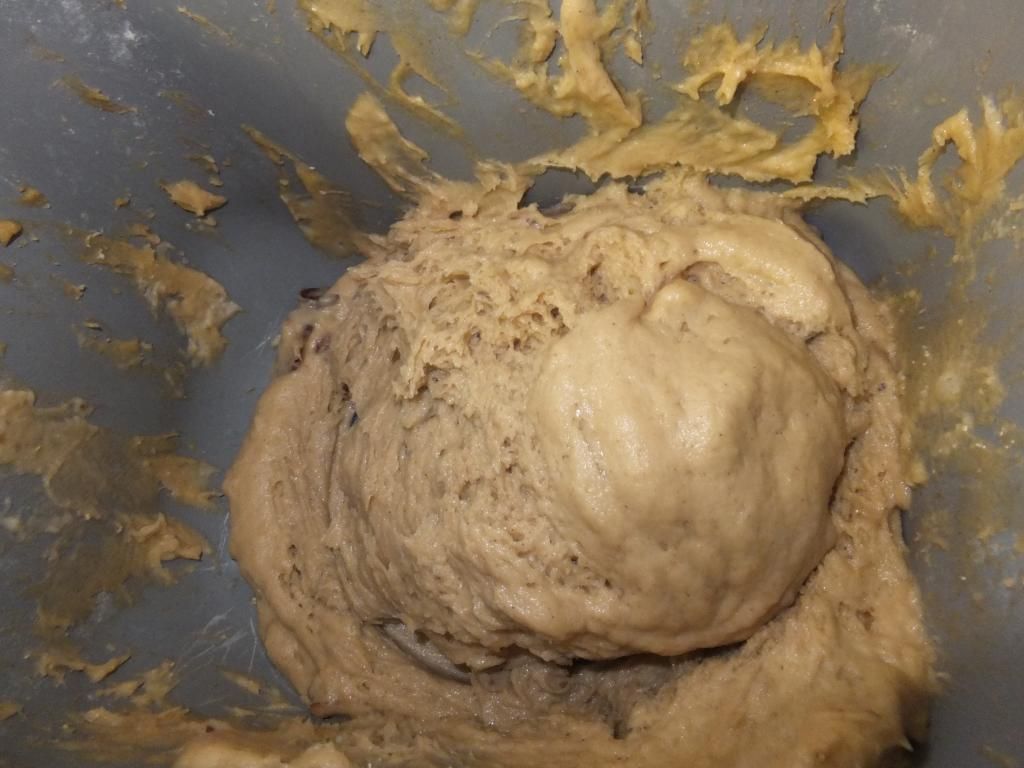 "Gluten Free dough should resemble mashed potatoes, if it is to wet add a 1 tablespoon water...." What the heck, if you have never made this before that is not very helpful! So i sent a prayer up, and closed the lid and let it bake, and bake it did.
So I finally tried some. It is not describable. It wasn't bad AT FIRST, but as I chewed it started to taste worse. Soon I swear I was chewing wall paper paste. It was not the Terrible, I didn't have to spit it out, but it was not pleasant to eat!
I know I made it right, I checked and rechecked. I hope the child that is Gluten intolerant likes it.
I MET THE DAD TONIGHT ...
I took over the loaf of bread and met the father, who is retired from the Navy. I gave him my personal information, showed him my ids and tried to explain I wasn't some wierdo. I got nervous, and my Tirets started to act up. I felt my mouth start to do the involuntary movements, I knew I wouold start the clicks and grunts soon. So I answered and reassured him that I was ok, encouraged him to Google me and left. How do you tell someone that "those kids were me", I was a special needs kid, I got ":adopted" by a friend family at 14, I used to ride the "short bus".
How do you prove a negative, only a Liar can say he doesn't lie, only a cheater can say he has never cheated, how do you reassure someone that you are a wierdo trying to kill or poison their kids with bread.
I decided you can't. I don't know what they did with the bread I gave them, and I never want to know. In my reality they treated their kids to well made, made with love bread, from someone that used to ride the short bus, and actually "made it", had it all, and lost it all! My life has been an open book, and and now choose the realities that make me feel the best, and the thouoght that makes me feel the best is those kids enjoying my fresh bread, so that is my STORY and I am sticking to it. Negative thoughts be gone!
Sat Oct 27, 2012 at 3:45 PM PT: WOW - The mother of the kids just stopped by and brought me the book that I ordered online today! We spoke for a minutes and she is a really warm and wonderful woman who enjoyed the bread and thought it was great, (acquired taste?). She said to bring bread by any time. I also went by the 2 health food stores I know of in Chico and they let me sample some gluten free breads so I had an idea of what they are supposed to taste and what the texture is like from the different flours. I can honestly say, that while I am excited about learning about gluten free breads, and GMO of wheat scares the heck out of me, Bread is still my favorite food group, and the gluten free stuff that I tried today, while some was OK, was not like a wonderful french bread or Sour Dough.
So I am going to bake a few loaves a week so that the child with celiac has some too, I know how kids are! and I will try the different breads, (I am not giving anything to anyone without tasting it!), but I am not hopeful that I will get off the WHEAT WAGON, GMO or not! I already have enough diseases to fill Wikipedia, I can't see how switching now would be anything other than shutting the barn door after the cows are out! Besides I LOVE bread, I LOVE baking bread, I LOVE the smell when it fills the house as it bakes!
Why give up something that gives me joy and that I love, isn't that GOOD for my health too.
I am THRILLED to be in the Community Spotlight, and I loves the lively discuss that is taking places! and I am making a Rice Wheat bread from the new cookbook right now.
Yet another blessing in an already blessed life!
Sat Oct 27, 2012 at 5:37 PM PT: Well second Loaf of Gluten-free bread is filling the house with a wonderful aroma, I think it will be a winner!