Let's for argument sake say that in a Romney administration he'll help the middle class and the wealthy. We all know that Romney is a man born into privilege. I'm okay with that. I'm not going to criticize his family's success other than to make sure that those reading this blog understand that the seed money came from a lawsuit filed by Grandpa Romney against the Mexican Government. In that lawsuit Grandpa alleged he had been damaged by losing all his properties during the Mexican Civil war of 1910 and that somehow Mexico and its government was responsible for his loss. Romney's grandpa fled Mexico with his numerous wives and Willard's Mexican born daddy to Utah where he setup shop under a guarantee that he would not be prosecuted by U.S. officials. Grandpa Romney had originally fled the United States to Mexico to avoid prosecution over his polygamist lifestyle. The rest is Romney history. However, with that lawsuit settlement as seed money, the Romney empire was established. So George Romney, Willard's dad, may have suffered a little, but Willard has certainly never suffered financially. Willard could not possibly understand what it's like to be poor, to be without, to spend sleepless night worrying about how you'll come up with the water payment or electricity payment before they cut it off. Willard has never spent one moment wondering where his next meal will come from, or how he's going to feed his children. Once again, I don't blame Romney for living his sheltered life to the fullest as tendered to him by Dad and Grandpa Romney, but we can't possibly think that a man of privilege could even fathom what a poor man feels. It's just not within their scope of understanding and comprehension. There are just a handful of men in history that were born wealthy and tended to the poor, and most of those rejected their wealth and lived amongst the poor. That's the only way that a wealthy person could reprogram themselves to not only care, we all care, but to feel and understand what it's like to feel the desperation one feels as a poor person, and I say that from experience.
Taking into consideration the aforementioned, it would be absolutely nonsensical for a poor person regardless of their ethnicity or color to vote for Willard "Mitt" Romney.
Recently Willard Romney criticized those on welfare and food stamps. Those comments are reflective of how out of touch with poor people Romney actually is, it's truly sad to know that the man responsible for sheltering Willard from being exposed to the pain of poor people was himself a welfare recipient at one time, his father and ex governor of Michigan George Romney.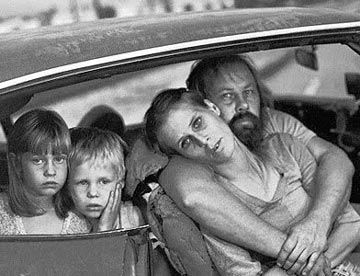 Carlos E. Galindo is a radio talk show host & political analyst conducting radio shows in both English and Spanish on four radio stations in Arizona. Mr. Galindo is a weekly contributor to KPFK 98.7 FM Los Angeles and has appeared on CNN, Univision and Telemundo as a political analyst. Mr. Galindo is also an Op-Ed columnist on Prensa Hispana Arizona. Carlos Galindo is a founding member and President of the Immigrant Advocacy Foundation, Inc.
http://www.carlosgalindo.com