Georgia's legislative elections have been fairly under the radar. At least this year (more about that later), Georgia is a firmly red state, and an inelastic one at that. In fact, there is literally zero chance of the Republicans losing the trifecta this year, as Democrats have left a majority of seats in both chambers completely uncontested. So why am I bothering to write about this election when I haven't even lived in Georgia?
The reason is because Republicans want to be able to amend the state constitution, and they need a two-thirds supermajority to do that. Per the Atlanta Journal-Constitution article linked above, they have talked about fiscal amendments (maybe something like Prop 13 or TABOR), abortion amendments (probably personhood), pro-voucher amendments, and a proposal to separate the red northern section of Fulton County from the blue southern portion containing Atlanta.
In the 56-member Senate, the Republicans have 36 now and need 38, while in the 180-member House they have 115 and need 121.
While the Republicans are very close to 2/3, they are pretty close to maxed out already, with most of the remaining seats majority black and therefore Safe D. What's more, time is not on their side; immigrants and African-Americans are moving to Georgia in considerable numbers, and many are settling in suburban areas where Republicans are currently dominant, particularly Cobb and Gwinnett Counties. As with Texas, Latino and Asian immigration is expected to favor Democrats in the future, but black migration is the real kicker because of their unparalleled Democratic partisanship, nearly 100% citizenship rate, and relatively high turnout. So it's really now or never for the Georgia GOP.
With that, let's look at what races are competitive in each house:
Senate:

Atlanta Metro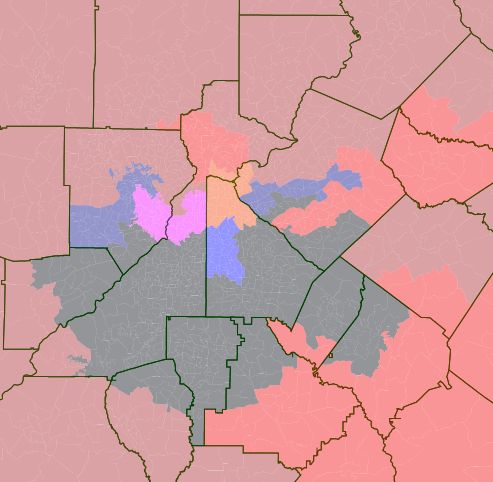 28 Uncontested Non-Marginal Republican Districts (Firebrick)- SDs 1,3,4,11,13,14,16,18-21, 24, 27-32, 37, 45, 46, 48-54
These districts have no Democratic candidate, so they obviously can't be competitive. All of the ones listed here are so deep red that they would probably be Safe R in any case, and it's a testament to Georgia's redness that these district alone guarantee a majority. Note that SD14 is technically a pickup from a Democrat who got eliminated at redistricting, so Republicans start out up one and needing one more net pickup.
1 Uncontested but Marginal Republican District (Orange)- SD 40
This northern DeKalb County district went for Obama 51-48, but Georgia Democrats didn't field a candidate here. Still, it's only 55% white VAP and dropping, and the Georgia GOP can't count on being so lucky in the future.
7 Safe Republican Districts (Red)- SDs 7-9, 17, 25, 47, 56
These districts do have Democratic candidates, but all except SD8 are over 60% McCain and at least 55% Republican average, and turnout in the uncontested SD8 Republican primary was over twice that of the uncontested Democratic primary, which isn't what you need to oust a 14-year incumbent like Tim Golden. So it'd be a gigantic surprise if any of these districts were to go blue.
SD23 (Pink):
This district is 56% McCain and 55% Republican average, but probably has a Democratic registration advantage, since the Democratic primary had more votes than the Republican primary. What's more, the Republican incumbent was swept in by the 2010 wave, so he could be more vulnerable than the numbers suggest. This seat will probably stay red, but it should be genuinely competitive.

Results: Stone (R, i) 59-40.
SD6 (Magenta):
Here's where the real action is. Democratic Sen. Doug Stoner (D-Smyrna) got the one Republican neighborhood in Atlanta proper added to his district, which is now only 50-49 Obama and 54% Republican average. If Republicans can pick up this seat (where the contested R primary saw many more votes than the uncontested D primary), they've got two thirds. If you only watch one legislative race in Georgia, watch this one.
Results: Hill (R) 53-47. GOP Pickup- and a big one!
SD42 (Blue):
This western DeKalb County district is the only white majority district in the state that is safe for Democrats.
Results: Carter (D,i) 74-26
2 White Plurality Safe D districts (Deep Blue)- SDs 5 and 33:
These districts, located in Gwinnett and Cobb Counties respectively, are an attempt to contain the blue trend in the northern Atlanta suburbs. They also probably represent the future of several other suburban districts, particularly SDs 6 and 40, and are the reason why the Georgia GOP cannot afford to wait.
15 Black Plurality or Majority districts (Black)- SDs 2, 10, 12, 15, 22, 26, 34-36, 38, 39, 41, 43, 44, 55:
These seats wouldn't be competitive even in most years (most have ridiculous D+ PVIs), and they certainly won't be competitive with a black Democrat at the top of the ticket. Very few of these seats are even contested.
So in summary, Republicans must win SD6 and hold SD23 to get two-thirds- far from an impossible task.
House:
As Ballotpedia just crashed, I won't be able to provide as much detail on the competitive House races, but I'll try.
86 Uncontested Non-Marginal Republican Districts (Firebrick)- HDs 2-4, 6, 7, 9-11, 13, 14, 17, 19, 21-31, 34-36, 43-45, 47-50, 52, 68, 70-73, 79, 97, 98, 102-104, 106-110, 112, 114-117, 120-123, 129-131, 133, 134, 140, 141, 146, 148, 149, 151, 152, 155-159, 161, 166, 167, 169, 170, 172, 176, 178-180
As before, Democrats didn't run anyone in these districts, and given their redness it's kind of hard to blame them.
4 Uncontested Marginal Republican Districts (Orange)- HDs 40, 80, 119, 147
These districts are all winnable for Democrats, but only if they had ran someone. HD 80 even voted 53-47 Obama, though it's locally more Republican. All of them but 119 are probably trending our way.
20 Safe Republican Districts (Red)- HDs 1, 5, 8, 15, 18, 20, 32, 33, 37, 46, 51, 67, 69, 95, 111, 150, 160, 164, 174, 175
These districts have Democrats, but they simply aren't going to win. Still, at least Democrats have contested half the seats, so technically they could tie the House (though they won't). Note that Republicans gained two free seats from redistricting.
14 Competitive Districts (6 D-held, 7 R-held, 1 I-Held)
HDs 12 and 16 (Light Green and Goldenrod respectively)
These northwest Georgia districts are both over 70% McCain and about 60% R average, but are held by Democrats who no doubt held seats nearly as red before redistricting. Republicans need to pick up these seats, and I just don't know if they're locally Democratic enough to keep their incumbents.
Results:
HD 12: Lumsden (R): 51-49. GOP Pickup (total R+3)
HD 16: Kelley (R): 70-30. GOP Pickup- and by a blowout! (R+4)
HD 54 (Deep Pink)
This Republican-held district is somewhat marginal at 51-49 McCain, but it's suburban and will probably stay red at least for this election. It's still a ticking time bomb though.
Results: Lindsey (R,i) 63-37
HD 66 (Purple)
Former Republican state Rep. Bob Snelling is trying to make a comeback in this 53-46 Obama suburban seat (open but technically D-held). This should be a fun race (any Georgians feel free to correct me if I'm wrong).
Results: Alexander (D,i) 52-48
HD 81 (Aquamarine)
This DeKalb County district initially looked very promising to Republicans until their candidate slurred the Democratic incumbent's military service. This caused many in the Republican establishment to wash their hands of this race, and none other than Eric Erickson explicitly endorsed the Democrat in this 56-43 Obama suburban seat. I just don't see how Team Red can win this one.

Results: 56-44 Holcomb (D, i)
HD 96 (Yellow Green)
Even though this Gwinnett County district is only 29% White VAP, it is a swing seat because of how many of the nonwhite residents are noncitizen Latinos or Asians. Still, it is 56% Obama and 51% Dem average, so I expect the Democrat to hang on here despite Republicans explicitly targeting this district.
Results: 55-45 Marin (D,i)
HDs 101 and 105(Olive)
Despite being only 44% and 47% White VAP respectively, these Gwinnett County district are still marginally Republican for the same reasons that HD96 is competitive. Nonetheless, they should become much shakier or even blue by the end of the decade.
Results:
HD 101: Clark (R,i) 56-44
HD 105: Chandler (R) 51-49. GOP Hold, but she's far from safe

HD 132 (Indigo)
This Democratic-held rural seat is very swingy, at 50-49 McCain and an almost even statewide average. Republicans need this seat to get two-thirds without Kidd, and this should be a marquee race.
Results: Von Epps (D,i) 54-46
HD 138 (Light Blue)
This is probably the most vulnerable Republican-held district, with a 54% Dem average (it's 50-49 McCain, though). Just from the numbers, Democrats are probably even odds to pick this one up, and it's certainly marquee. Republicans can't afford to lose this if they are to get two-thirds.
Results: Cheokas (R,i) 51-49. This one was indeed close.
HD 144 (Pink)
This district, located east of Macon, seems to have a Democratic registration advantage, but votes Republican in most elections. It'll probably stay red, but it's more like Likely R than Safe R.
Results: Epps (R,i) 64-36
HD 145 (Khaki)
This district would be very marginal for a Republican, but is instead held by a right-leaning Independent, Rusty Kidd. I just don't know how to handicap the Democratic attempt to dislodge him.
Results: Kidd (I,i) 54-46
HDs 171 and 173 (Light Pink and Lavender respectively)
These southwestern Georgia seats were highlighted because they have marginally Republican statewide averages. Again, Likely R but maybe worth watching.
Results:
HD 171: Powell (R,i) 59-41
HD 173: Taylor (R,i) 59-41
1 Safe D Hispanic-majority District- HD 99, Gwinnett County
1 Safe D White-majority District- HD 118 (gotta love college towns like Athens)
4 Safe D White Plurality Districts- HDs 38, 42, 100, 168
50 Safe D Black Plurality/Majority Districts- HDs 39, 41, 53, 55-65, 74-78, 82-94, 113, 124-128, 135-137, 139, 142, 143, 153, 154, 162, 163, 165, 177
Democrats needed to hold five of the competitive seats, meaning certainly HD 81 and 96, and three of the others. As they only held four (66, 81, 96, 132) and lost SD6, the fate of the Georgia Constitution now rests in the hands of a man named Rusty Kidd.
That said, it'll be interesting to watch in 2014. The GOP got their easy pickups, but this may well be the largest majority they have for awhile. HDs 105, 138, and 145 are all very marginal for Republicans (or for Kidd if he becomes a Republican), and if the Georgia Democratic Party can get itself in gear, they've got a lot more pickup opportunities than vulnerable seats in the House. The Senate is not so rosy, as Republicans can probably hold SD6 and SD40 at least until 2016 Presidential turnout with increased minority populations gives their Democratic challengers a boost (both must be challenged). In the end, the Georgia GOP will either find some way to solve their minority problem, or they will themselves be a minority as the Atlanta area grows and diversifies.