I just got back from a rally in Philadelphia at the University of Pennsylvania's basketball stadium/gym (The Palestra). I usually lurk or comment on existing diaries, so this is the first time I've posted one myself. Please bear with me, but I wanted to put up some photos that show how fired up Philly and our local college students (and others) are for President Obama. The picture quality isn't great b/c I was using my phone, but you can get a sense of how many people came out to see President Clinton speak!
Everyone was fired up and excited to see the former president! Doors opened at 4:00 for an event that started at maybe 5:30 with Clinton's speech starting a little after 6 (I think, I was watching the speech, not my watch!)
I couldn't get there until about 3:45. By that time, the line was out the door, 1 block down, around the corner, another block down and then halfway over the South Street Bridge (which runs over the Schuylkill river), and THEN amazingly looped around and started in the other direction.
Just for reference, the event site is past the football stadium (brown building on the right) then another block north. The right side is going forwards, and the people on the left are actually further back in line waiting to loop around and come back. There were that many people!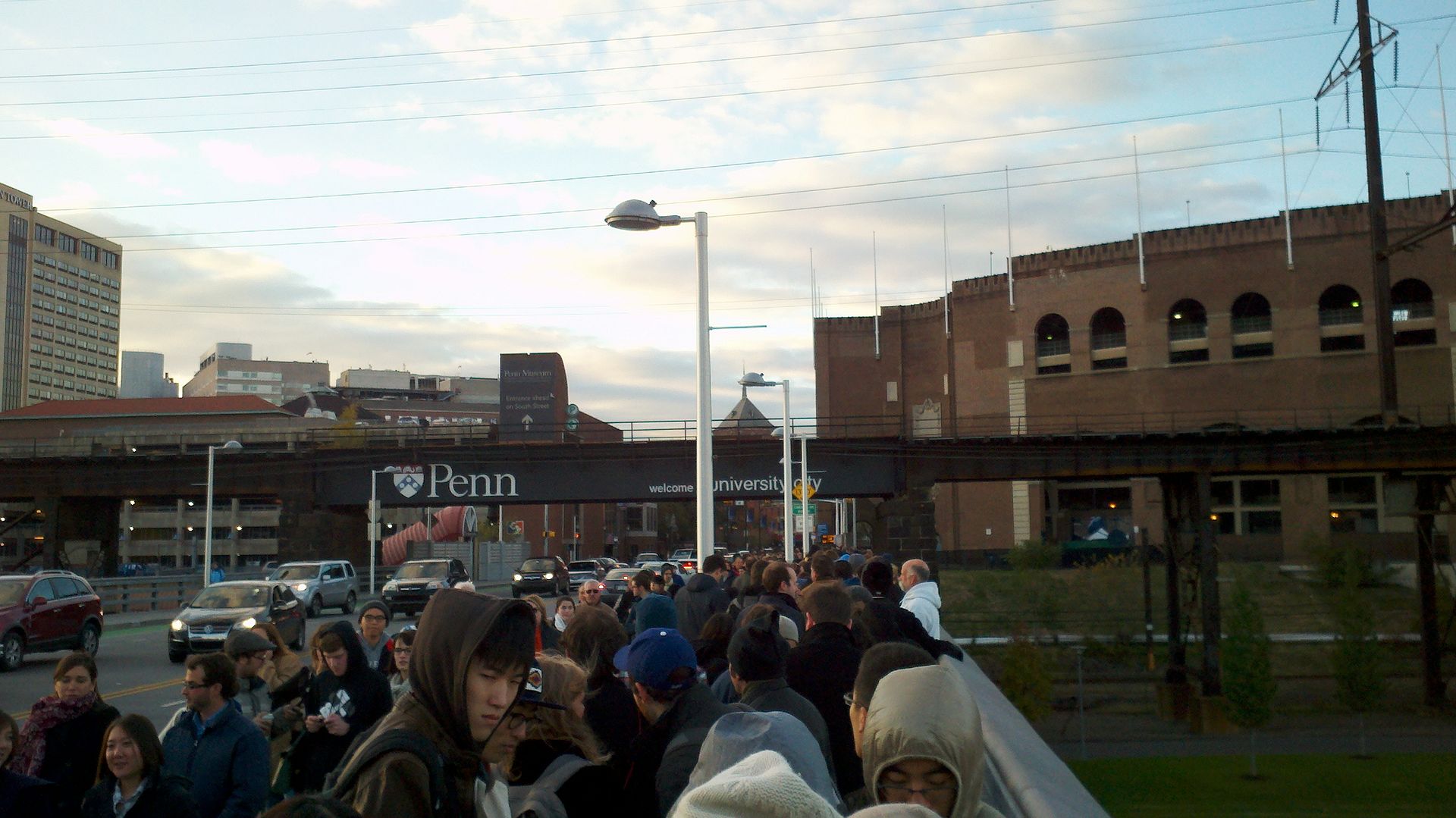 More photos and description below!
45 minutes later, we moved about half a block. You can see we still have to go around a whole football stadium and another block. It was getting pretty cold, but everyone in line was pretty fired up and positive. We didn't even know if we'd make it inside, but we waited anyway.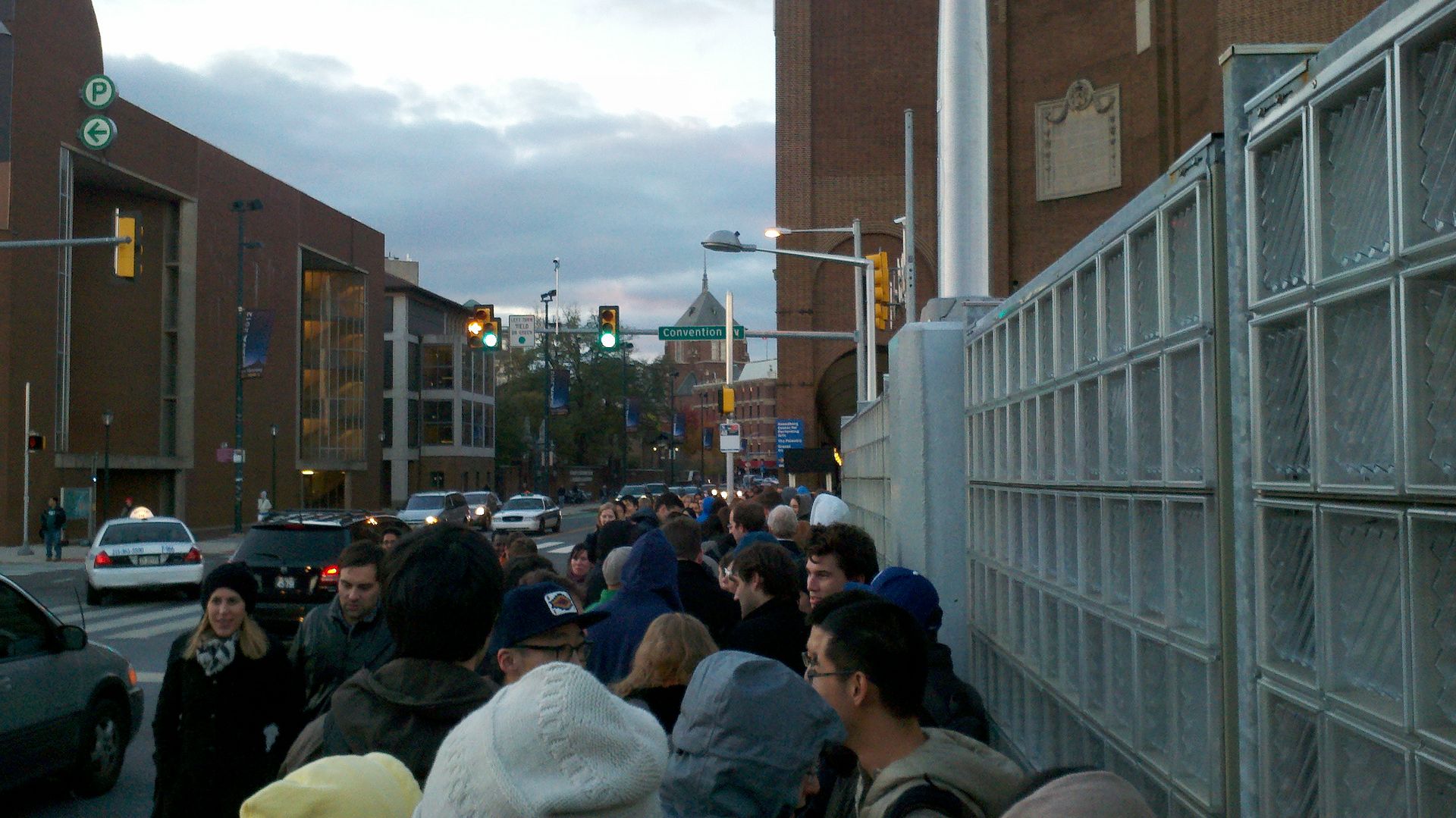 About 1 hour 15 minutes later, we were still more than a block away, but getting closer! I didn't see a single person leave the line despite the wait.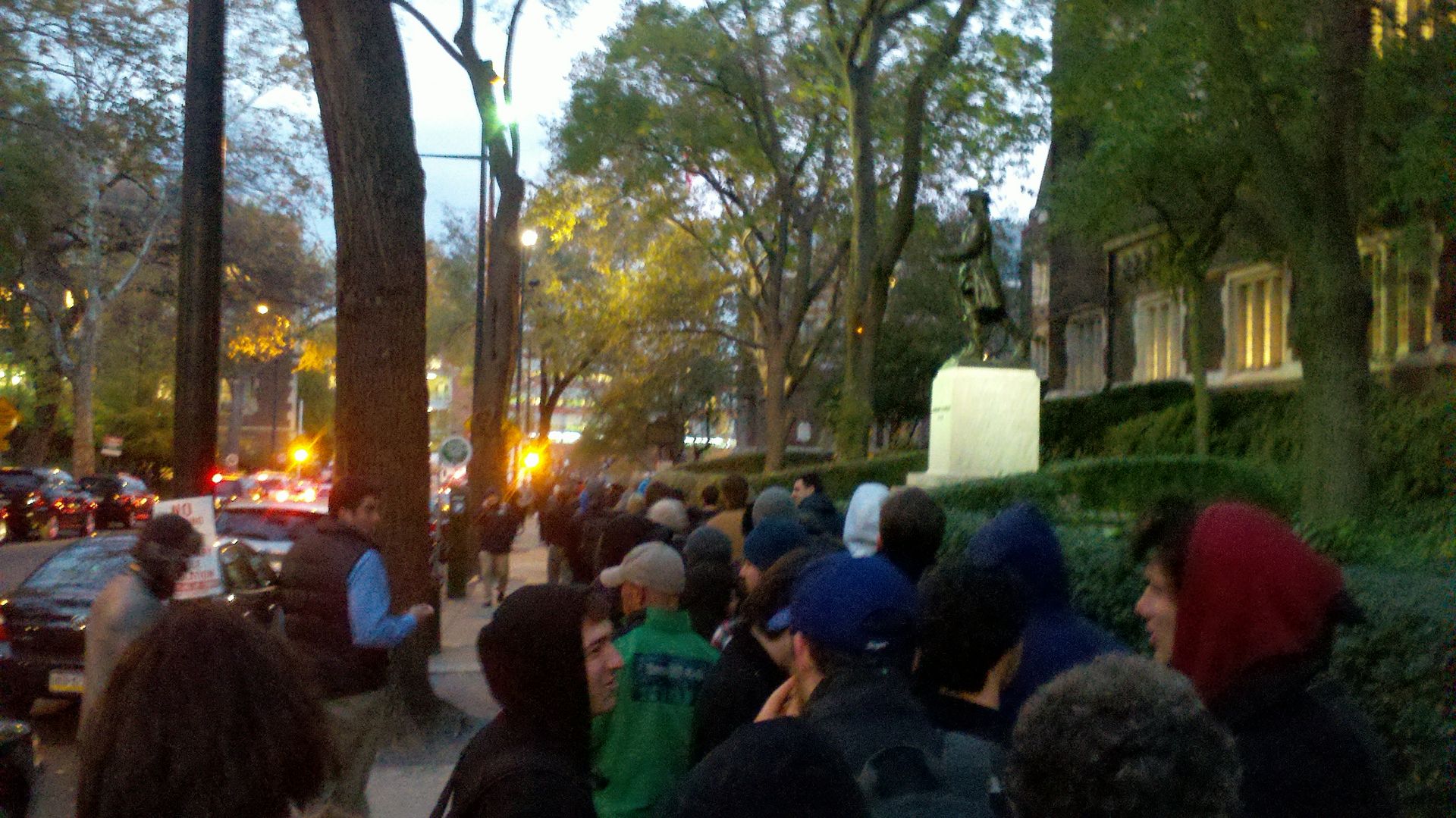 The event was totally packed! I took a bunch of photos - I believe this is Philly mayor Michael Nutter - opener to the opener for Bill Clinton. He really knows how to give a speech and get the crowd cheering!
Ex Philly mayor and ex Pennsylvania governor Ed Rendell opened for President Clinton. He managed to plug his book (that's Ed Rendell for you lol), but he talked about how President Obama took bold leadership with the Stimulus, Auto Rescue etc when they weren't popular, but they worked.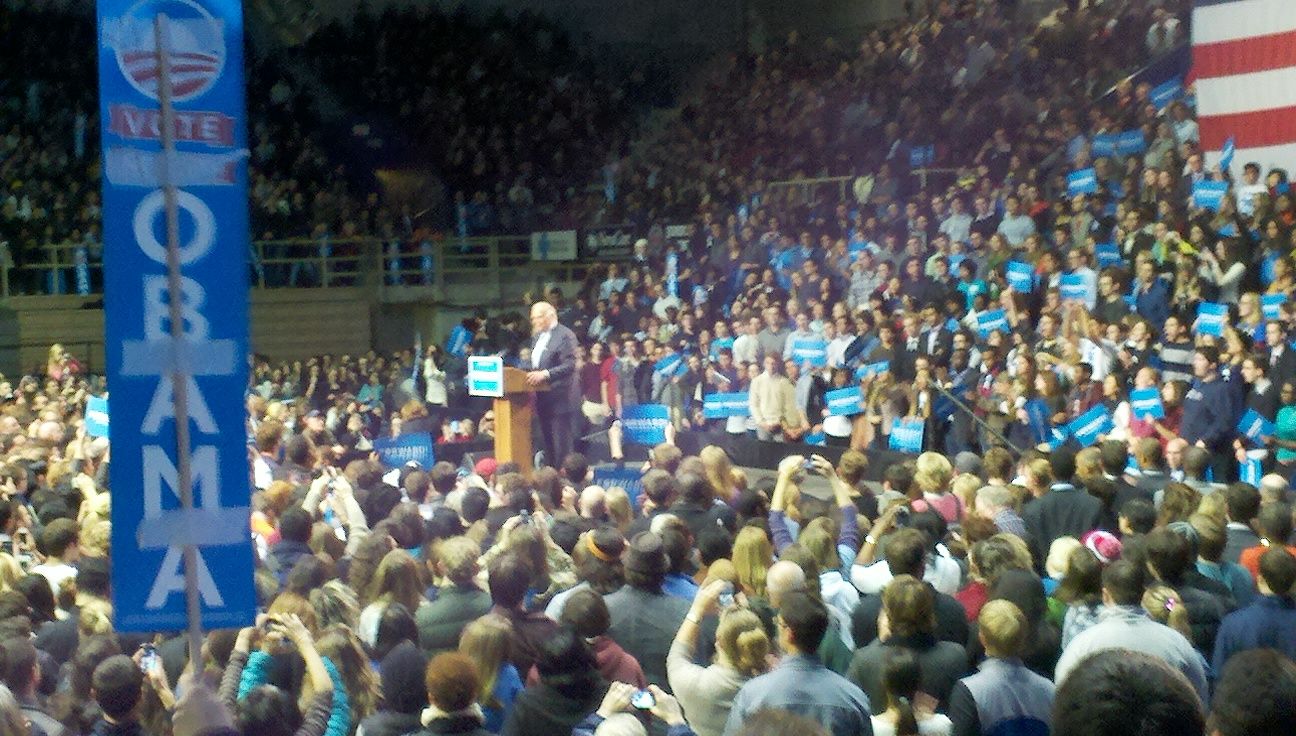 Finally Bill Clinton took the stage. The crowd went crazy!
He gave a pretty long speech. It reminded me a little bit of the speech at the Democratic Convention.
He touched on a whole bunch of topics. Hurricane Sandy - how President Obama worked with a Republican governor because he'll work with anyone willing to get things done.
He said that President Obama opened the door for Congressional Republicans when he offered the debt ceiling deal (the one they refused). If we re-elect President Obama, he's going to put out a deal and the Republicans are going to walk through that door because of our work reelecting the president.
President Clinton talked about the phony Jeep ads that Romney is running. He talked about how Chrysler and GM said it was wrong, and Romney kept digging. He had a good laugh line - When his mom caught him with his hand in the cookie jar and gave him that look, he took his hand out. Mitt just digs in deeper and tries to get more cookies!
He talked about Colin Powell's heartfelt and substantive endorsement of the president because of his views on foreign policy etc. And then how Mitt Romney's surrogate John Sununu said "well, it's just because he's African-American" which got hearty boos as you'd expect. President Clinton said regardless of our race, gender, sexual orientation, ability or disability we should go out and vote for President Obama because he's the best person for the job.
I could go on and on about the topics he talked about. The Lilly Ledbetter fair pay act. Increasing Pell Grants and reforming the student loan system so kids can go to college. Trickle down economics and why they don't work and why we can't go back to it. Foreign policy and how President Obama got Osama bin Laden and improved our standing in the world.
There were a lot of things I didn't like about the Clinton Presidency (I wasn't a huge fan of a lot of things that he did, DOMA, welfare reform, financial deregulation etc), but I still think he was a great president, especially when you compare him to 12 years of Reagan/Bush and 8 more years of Bush II that bracketed his presidency.
This was the first time I've seen him speak in person and I have to admit, Bill Clinton is probably the greatest speaker and the greatest politician of his age. He can take any topic, just going off memory, and talk for 30 minutes about it until you can't help but agree with what he's saying. And he does it in a way that's down to earth, funny and easy to understand for everyone.
After the speech, he shook hands with a lot of people, and then after starting to leave he actually ran back (with the secret service agents chasing after him) to make sure he shook hands with more people. He actually posed for photos with several people on his way down the line. You can tell he loves working crowds and talking to people!
To wrap up, my favorite line from the speech: While talking about President Obama's foreign policy . . .
"And he has a pretty good secretary of state!" The crowd went nuts!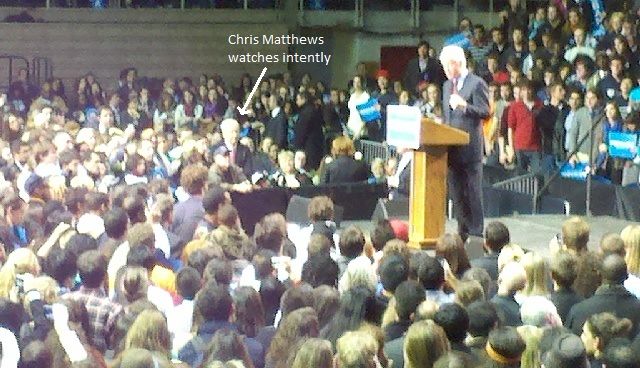 Just FYI, you can see Chris Matthews there pointed out with the arrows. Sorry for the quality, but it was definitely him. It was interesting watching his reactions to some of President Clinton's more memorable lines.
Matthews talked to the president for a minute or two after the speech as he was shaking hands. They played the audio on Hardball. I was just waiting for them to shake hands, because I know how much Matthews loves Clinton.
---
P.S.! I'm doing GOTV tomorrow afternoon. I know not everyone can get out tomorrow because of work, school or other commitments but if you have time, please sign up to phone bank, GOTV or whatever you can do.
It's really easy! I'm one of the shyest people in real life, but I went around and knocked on doors for 2 shifts this weekend and it was no problem. Even if you can take a half hour or an hour, you can really make a difference!
--------
Edit: Just updated the title to clarify that it was a GOTV event for President Obama, which is probably obvious but just in case it wasn't apparent from the title. Thanks for the comments!