Science News

Red state, blue state

Resizing geographic areas by population gives more accurate view of 2012 election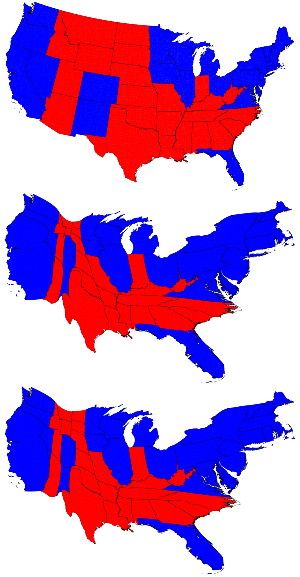 By Rachel Ehrenberg

The seemingly unending election cycle may have left you battle-weary and bleary-eyed, but that's not why physicist Mark Newman's election maps look distorted. He makes cartograms, maps in which familiar shapes are morphed to represent something other than just area.

In a normal map (top), it's hard to tell who won the 2012 presidential election; in fact, the map looks dominated by red. But using an approach that treats population as a diffusing fluid, Newman, of the University of Michigan, made election maps that visually represent the distribution of votes (popular vote in middle, and electoral votes at bottom).

In the cartograms, state size is shaped by population numbers, so in the popular vote map Rhode Island is about twice the size of Wyoming. While Obama did win the overall popular vote, it's the electoral college that matters: Note in the bottom map that least-populated states Wyoming and Vermont have nearly doubled in size from the population representation.

Technology News

An Analysis of a Perpetual Motion Machine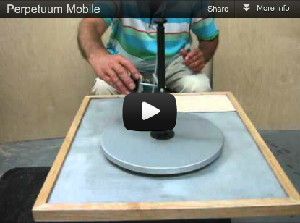 By Rhett Allain

Everyone loves perpetual motion machines. They are a representation of the highest level of creativity in finding loopholes in the laws of physics. Let's take a look at this one.

What is a perpetual motion machine? Wikipedia defines it as a machine that has a continuous motion without any energy inputs. Of course, this is practically impossible since you can never fully eliminate the frictional forces. Although we say it's impossible, people still like to come up with ideas. Perpetual motion machines are sort of like playing the lottery. People think they have a much higher chance of winning than their actual chance of winning.

Environmental News

Sea level rise overflowing estimates
Feedback mechanisms are speeding up ice melt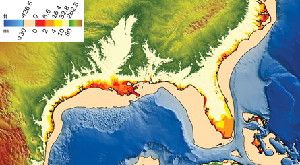 By Tanya Lewis

Sea levels may swell much higher than previously predicted, thanks to feedback mechanisms that are speeding up ice melt in Greenland and Antarctica.

Climate simulations need to take such feedbacks into account, William Hay, a geologist at the University of Colorado Boulder, told the Geological Society of America meeting in Charlotte, N.C., on November 4. So far the models haven't incorporated such information because "it just makes them much more complicated," he says.

Many scientists share Hay's concerns, says geologist Harold Wanless of the University of Miami. "The rate at which ice melt and sea level rise is happening is far faster than anything predicted," he says.

Global sea levels rose an average of about 15 centimeters over the past century. Current data suggest they will rise another 1 meter by the year 2100, and some scientists predict far more. But the 2007 report of the Intergovernmental Panel on Climate Change projected a rise of just 0.2–0.6 meters over the same time period. "The data weren't available in 2007 to say Greenland and Antarctica were melting," says earth scientist Benjamin Horton of the University of Pennsylvania in Philadelphia. "Sea levels are going to be greater than the upper estimate of the 2007 IPCC, but the big question is, when?"

Medical News

Your brain on speed dating
Activity in two regions helps calculate compatibility with potential mates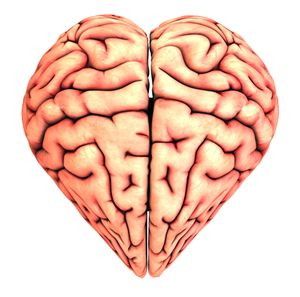 By Laura Sanders

In the fraught, emotional world of speed dating, scientific calculations don't usually hold much sway. But the brain runs a complex series of computations to tally the allure of a prospective partner in just seconds, a new study finds. And the strength of these brain signals predicted which speed daters would go on to score a match.

The results help explain how people evaluate others — a process that happens at lightning speed, says neuroscientist Daniela Schiller of Mount Sinai School of Medicine in New York City. "It's a gut feeling, but here, the paper dissects it for us and tells us, 'This is what we calculate.'"

Scientists led by Jeffrey Cooper, who conducted the work at Trinity College Dublin and Caltech, scanned the brains of single volunteers as they looked at pictures of potential dating partners. Although it's hard to put a number on people by a photo alone, researchers made volunteers rate on a scale of 1 to 4 how much they'd like to go on a date with the person in the photograph.

In contrast to many other lab-based experiments on decision making, this exercise wasn't just academic: Later, the participants attended three real speed-dating events loaded with many of the potential partners seen in the photos. Like a normal speed-dating scenario, volunteers' contact information was exchanged if both of the people wanted to follow up. (Also like a typical scenario, there weren't many love connections, says Cooper. When the scientists checked in six weeks later, only a few couples had gone on real dates.)

Space News

The Milky Way's Black Hole Shoots Out Brightest Flare Ever
by Nancy Atkinson

"Suddenly, for whatever reason, Sagittarius A* is eating a lot more," said Michael Nowak, a research scientist at MIT Kavli and co-author of a new paper in the Astrophysical Journal. "One theory is that every so often, an asteroid gets close to the black hole, the black hole stretches and rips it to pieces, and eats the material and turns it into radiation, so you see these big flares."

Astronomers detect black holes by the light energy given off as they swallow nearby matter. The centers of newborn galaxies and quasars can appear extremely bright, giving off massive amounts of energy as they devour their surroundings. As black holes age, they tend to slow down, consuming less and appearing fainter in the sky.

"Everyone has this picture of black holes as vacuum sweepers, that they suck up absolutely everything," says Frederick K. Baganoff, another co-author from MIT. "But in this really low-accretion-rate state, they're really finicky eaters, and for some reason they actually blow away most of the energy."

While such events like this big blast appear to be relatively rare, Nowak suspects that flare-ups may occur more frequently than scientists expect. The team has reserved more than a month of time on the Chandra Observatory to study Sagittarius A* in hopes of identifying more flares, and possibly what's causing them.