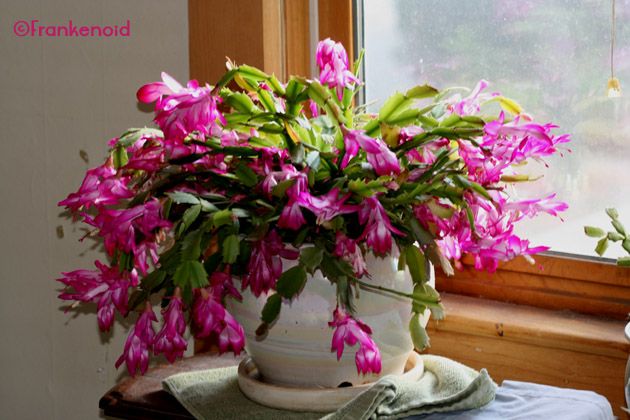 Good morning, and the onslaught begins again. Welcome to Saturday Morning Garden Blogging.
Last Sunday Denver got its first blast of real winter-cold weather; the high was only 34°, and the overnight low was a frigid 13°.
The cold lasted only a day and we got a bare dusting of snow — not enough to cover anything, let alone provide a good dose of moisture. Since then we settled into seasonal temperatures riding right at the long-term average — although we're heading into a spell of warmer-than-usual with continued desiccation. We may have, which is becoming the norm, another shirt-sleeve Thanksgiving.
With the end of the election we've gratefully escaped the onslaught of campaign advertising, to be plunged into the onslaught of Christmas advertising. The one good thing about all the campaign ads was they delayed Christmas ads for a week.
And if it's Thanksgiving, it must be time for the Christmas cactus to bloom. Actually this one started blooming for Halloween and is still going strong. I have two more that haven't even set buds yet.

With the flip into winter weather I'm now marveling at my indoor gardening. At home I finally moved the metal halide light upstairs and it's now supplementing the natural light I get from an east window in the kitchen — and the plants are very, very happy.
I have a tea jasmine, gardenia and Inca Sun brugmansia all blooming and budded, and two orchids are forming spikes. Even more surprising is that the Inca Sun in the living room under the LED plant light is also holding on to its leaves and setting buds. And the Ecuadorian Pink brugmansia at my little office is still doing surprisingly well and is trying to throw a new batch of buds.
I've also been busy setting the forced hyacinth to root in forcing vases. I started that process a couple of weeks ago, but with the refrigerator full I had to wait until we were getting consistently cold overnight before I could start using the cold storage space in the basement for the rest of the bulbs. Its timing to finish the job, as a lot of the bulbs still in the bags have tips that are starting to emerge from the bulbs.
That's what's happening here. What's going on in your gardens?