Hello Folks!
Let me tell you about the Indians and the Pilgrims...
Or not!
What I find amazing is how some myths are so persistent and powerful within our American culture. In my view, the whole notion of Thanksgiving is a day where we can set aside our differences, and come together as a people and give thanks for what we have, and what we can share with each other.
Given how divisive our country has gotten lately; I think this whole idea is more important than ever.
Welcome to krwada's once-per-year Turkey Thread here at SP ... used to be Little Blue, now assimilated into the great Orange Collective.
More under the squiggly thing:
I believe Thanksgiving would not be the holiday it is today without Abraham Lincoln and a little known woman author Sarah Josepha Hale. For it is this one remarkable woman who convinced Lincoln, and the rest of the country to set aside one Thursday in November as a national holiday where we can get together and count our blessings. Here is a portrait of Sarah Josepha Hale. (Click on the graphic to get a better story)
In 1860, Hale wrote:

"Everything that contributes to bind us in one vast empire together, to quicken the sympathy that makes us feel from the icy North to the sunny South that we are one family, each a member of a great and free Nation, not merely the unit of a remote locality, is worthy of being cherished. We have sought to reawaken and increase this sympathy, believing that the fine filaments of the affections are stronger than laws to keep the Union of our States sacred in the hearts of our people… We believe our Thanksgiving Day, if fixed and perpetuated, will be a great and sanctifying promoter of this national spirit."
From what I can gather ... hostilities would usually cease on just this one day during the American Civil War.
This is a thread is a place where we can share:
- Past Thanksgiving stories,(both nice and horror!)
- Share recipes and tips for that perfect Thanksgiving day
- Chat about anything else Thanksgiving related.
.
For about the past 12 years or so; it has fallen upon our household to host the festivities. The 1st year I took on the mantle, I did the traditional roast and it turned out pretty good. However, the next year, I really wanted pulled turkey. I knew that you could not have stuffing in the bird, and would quickly have a revolt on my hands because of this ... So I scoured the Internets and found the legendary Morton's Black Turkey recipe. This is a recipe where you can have what is equivalent to pulled turkey with the stuffing ... and it is safe to eat. This bird is very intimidating. It takes about eight hours to cook the bird using this recipe.
Here is what the bird looks like when it is finished, (click on the PIC to take you to one of the recipe websites):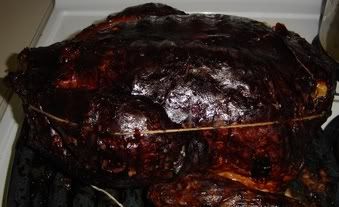 Also, here are some tips I have found very helpful to plan ahead for a bit more stress-free Thanksgiving Holiday.

Hosting Thanksgiving
1. Make your menu early
2. Give everyone attending a job to do
3. Be responsible for the bird, stuffing and gravy and you will be fine
4.Do as much pre-prep as possible
5. Have fun!
.
And so, to all my friends here at SP
- Peace be With You, your family and friends
- Namaste
- Shalom
- As-salamu alaykum
- Amen