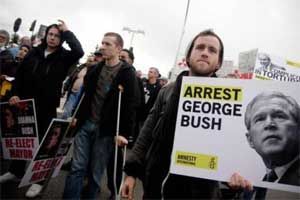 Credit: http://www.impeachbush.org/...
Our society seems to have utterly failed to see to it that our leaders are held accountable. Witness Barack Obama, Nancy Pelosi and other of our Democratic Party leaders taking the prosecution of allegedly some of the worst crimes against humanity since WWII 'off the table.'
Some people have not given up on accountability, cannot give up.
Wonder why? This, for example ....

Salon
Thursday, Jul 15, 2004 10:26 AM MDT
Hersh: Children sodomized at Abu Ghraib, on tape
Sickening to contemplate, and yes, some will say war is hell, etc etc etc but that's b*llsh* and makes me want to vomit.

Here's the latest in efforts to hold Bush and others accountable on torture.
Petition filed at United Nations Committee Against Torture

Canada is obligated to arrest Bush


SNIP
The Legal Coordinator of Canadian Centre for International Justice, Matt Eisenbrandt, reports that:

"The UN Committee is charged with monitoring States' compliance with the widely ratified Convention against Torture, a treaty requiring nations to investigate and submit for prosecution -- or extradite to another country for prosecution -- alleged torturers present in their territory. The idea behind this obligation is to create a worldwide net, leaving torturers nowhere to run and bringing us closer to an end to impunity for this heinous crime.

"Wednesday's action comes on the heels of two related developments. Over the summer, the Committee conducted a periodic review of Canada and, fully aware of Bush's 2011 visit, called on the government to "take all necessary measures with a view to ensuring the exercise of the universal jurisdiction over persons responsible for acts of torture, including foreign perpetrators who are temporarily present in Canada."

"Then, just one month ago, Omar Khadr, so long stranded in Guantánamo, finally returned home to Canada. The Supreme Court of Canada has already ruled that the Canadian government violated Khadr's Charter rights by interrogating him in Guantánamo under the unlawful detention program there.

"In his 2010 memoir and elsewhere, Bush has openly acknowledged that he ordered the waterboarding -- the pouring of water over an immobilized prisoner's face to the point where the person believes he or she is drowning -- of detainees in U.S custody. His precise words were, "Damn right." He also approved an interrogation program with techniques that experts, including the International Committee of the Red Cross and several United Nations rapporteurs, have denounced as torture. Yet Bush has not been held accountable and faces no charges in the United States. This, despite the fact that Amnesty International, Human Rights Watch and other respected groups have called for the investigation and prosecution of Bush and other high-level officials from his administration."

The continued international effort to indict, arrest and prosecute Bush, Cheney and Rumsfeld for their criminal acts continues to gather steam. Bush and company are worried and they should be.
SNIP
If you are one of us who cannot stand the fact that those who tortured in our name continue to be at large you can consider the following action....
Join the IndictBushNow movement for justice and accountability!
Never give up.