You have to hand it to these Republicans who refuse to admit they've taken a beating and get back up fighting. Like Ohio's John Husted who wants to award electoral college votes by Congressional district rather than by state, which would have given Ohio to Mitt Romney.
Now Wisconsin Gov. Scott Walker wants to limit same day voter registration. You know that people voting gets Democrats elected so naturally the state has to do away with any provision that encourages the democratic process.
Gov. Walker expressed his deep concern for Wisconsin poll workers, volunteers and retirees, who are overtaxed on election day. Because, you can't get more volunteers, retirees, or even paid workers. I guess.

States across the country that have same-day registration have real problems because the vast majority of their states have poll workers who are wonderful volunteers, who work 13 hour days and who in most cases are retirees," Walker said. "It's difficult for them to handle the volume of people who come at the last minute. It'd be much better if registration was done in advance of election day. It'd be easier for our clerks to handle that. All that needs to be done."
In 2008, 460,000 or 15% of all Wisconsin voters used election day registration to vote and had the second highest turnout.
The last time Walker and his Republican allies won complete control of the legislature in 2010, they immediately passed a discriminatory voter ID law that would have disenfranchised people like 84-year-old Ruthelle Frank had it not been blocked by a state judge.
Now, with Wisconsin State Republicans riding high, they appear to again be setting their sights on chipping away at voting rights.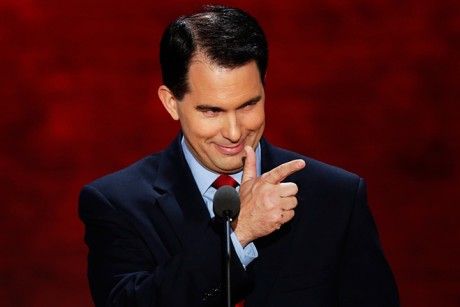 'It's the usual Republican playbook. If you can't win fairly - change the rules!