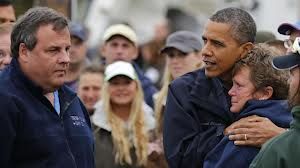 In another upset to conservatives who hoped to punish New Jersey Governor Chris Christie, as an example for others, for transcending partisanship and cooperating with and praising President Obama during the aftermath of Hurricane Sandy, the latest Rutgers-Eagleton poll shows shows Governor Christie's approval rating surging 19%.

The Republican governor, who will face re-election in 2013 and is considered a contender for the U.S. presidency in 2016, has a 67 percent favorability rating among registered voters in the state, up from 48 percent in October.

The boost is notable because Christie's ratings have stayed steady between 44 and 50 percent for his nearly three years in office, according to David Redlawsk, director of the Rutgers-Eagleton Poll. ...

Christie, a Republican star, angered some within his party by offering strong praise for Democratic President Barack Obama's storm response in the days after Sandy and just before Election Day. Critics say Christie's praise may have helped Obama's re-election.

On Tuesday a Quinnipiac University poll showed 9 in 10 New Yorkers gave Gov. Christie top rating for his handling of the storm.
Of special concern to Republicans who are already planning new ways obstruct President Obama and Democrats from carrying out our election mandate 81% of New Jerseyans agreed that Christie and Obama showed "needed cooperation and bipartisanship."

Among New Jerseyans, 81 percent said Christie and Obama showed "needed cooperation and bipartisanship," while 12 percent said Christie went too far, the Rutgers-Eagleton Poll found.

We need to send this poll to Congressional Republicans who are exploiting the "fiscal cliff," sequestration, expiration of the Bush-tax cuts, "Doctor's fix," and the debt-ceiling to hold American citizens hostage to their rejected right-wing agenda.