Yesterday, the Kaiser Family Foundation released a new report that it commissioned on "The Cost and Coverage Implications of the ACA Medicaid Expansion: National and State-by-State Analysis."
Local papers are likely to cover this. I learned about it through the Atlanta Journal Constitution.
Today's AJC article says that the Medicaid expansion would bring in some $33 billion in federal dollars over 10 years, while costing $2.5 billion. (These numbers come from Table ES-2 on page 9 of the report.) But the AJC did not mention the report's estimate of how the Medicaid expansion would allow Georgia (and all states) to save money through reductions in uncompensated care. The AJC only reported on the incremental change in Medicaid spending and ignored the change in state spending on uncompensated care due to expansion. Nationwide figures are shown below.

In the aggregate, states will actually save $10 billion over the first ten years, if all states go forward with Medicaid expansion. The report also presents state-by-state numbers on the net cost/savings of Medicaid expansion (in Table ES-4 on page 11).
For example, Iowa and Maine are both states where the governor apparently opposes Medicaid expansion. In Iowa, the net total comes out to $546 million in SAVINGS to the state and 20 thousand additional people with health insurance. In Maine, the net total comes out to $690 million in SAVINGS to the state and 29 thousand additional people with health insurance. So case closed for activists in those states.
In Georgia, the net cost of Medicaid expansion was estimated to actually be $1.814 billion, after including the $726 million in savings from reductions in uncompensated care. So the AJC never mentions the real cost to the state's coffers, which came in at $1.8 billion over 10 years.
But still, that's a good chunk of money...some 370 dollars per year for each person that would receive expanded Medicaid in Georgia. Or a dollar a day....one dollar a day. Anyways.
The report's executive summary also highlights how "net state savings are likely to be even greater because of other state fiscal gains that we could not estimate based on 50-state data." The authors go on to say that their figures "should be considered an overestimate of costs or an underestimate of savings if states were to implement the Medicaid expansion." This point was also highlighted in the summary slide from yesterday's conference call briefing.
(orange arrows mine)
In Georgia, just one of the various types of savings that could not be included for lack of 50 state data is the State Health Insurance Tax. If the Medicaid expansion does indeed occur, then this tax alone will be worth an estimated $750 million in revenue from just Medicaid and CHIP during 2014-2023 (Source: Georgia Dept of Community Health. June 2012. Medicaid Financial Update: Presentation to DCH Board. PDF). Georgia will undoubtedly lose a large chunk of this revenue (maybe half?) if the Medicaid expansion does not go forward. And that's just one of the several types of additional savings from expanding Medicaid.
The report has more detailed information about the uncounted savings:
Such gains [i.e. additional savings] fall into three main categories: increased federal matching rates for current-law beneficiaries other than those covered through 1115 waivers or limited benefit programs; reduced state spending on non-Medicaid health care previously furnished to uninsured residents with incomes below 138% FPL; and additional revenue, including general revenue increases caused by the boost to state economic activity that would result from increased federal Medicaid dollars being spent within the state. In addition, certain states that provide Medicaid coverage to individuals with incomes above 138% FPL could transition this coverage to Health Insurance Exchanges whether or not the states implement the Medicaid expansion.
(brackets mine)
As the authors of the report say, their net totals "should be considered an overestimate of costs or an underestimate of savings if states were to implement the Medicaid expansion." In the several states where politicians are severely lacking in compassion, we may still require more comprehensive analyses on a state-by-state basis to capture the additional expected savings.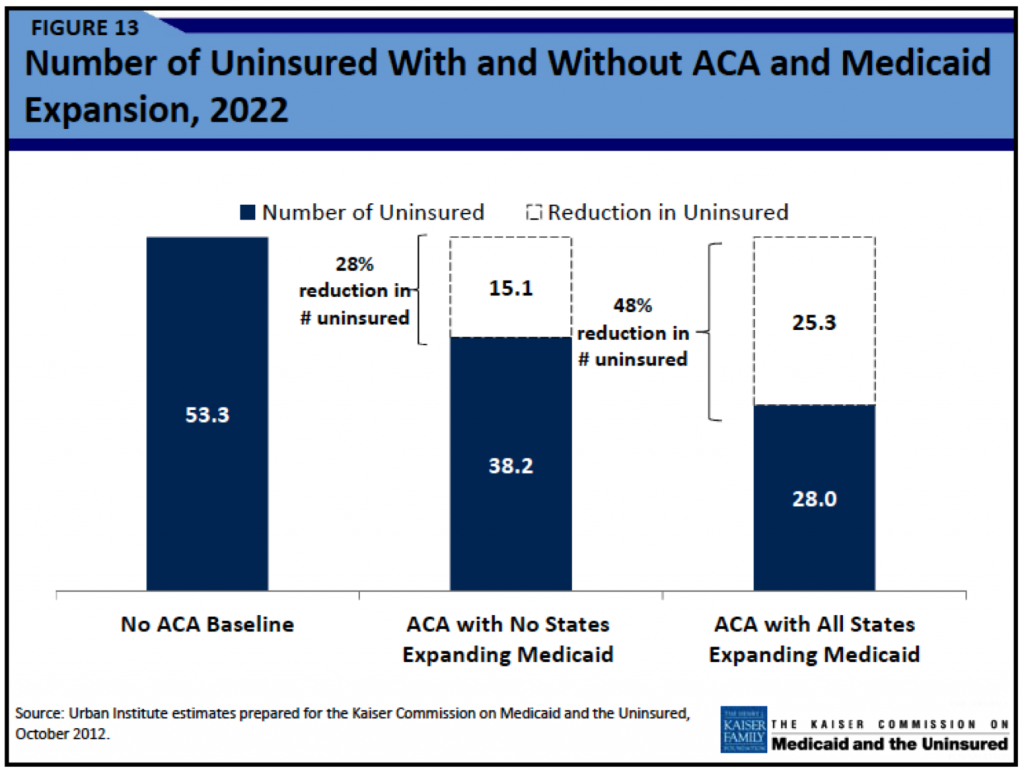 Snippets from the AJC story:
"Report: Medicaid expansion would bring state more than $30 billion"

Expanding Georgia's massive Medicaid health care program would cost the state roughly $2.5 billion over a decade, while providing half a million poor, uninsured Georgians with coverage, a new study estimates.

[snip]

Gov. Nathan Deal has said Georgia can't afford to expand the program, which is already facing a shortfall of hundreds of millions of dollars, even with the substantial federal help. Deal's budget office pegs the cost of Obamacare and a Medicaid expansion to the state at $3.7 billion through 2022.

[snip]

"Regardless of whether the new costs are $2.5 billion, $4.5 billion or $6.5 billion, the state of Georgia doesn't have the money to pay for it without a huge tax increase, crowding out all other spending or both," Robinson said.

Proponents of expansion argue the state's estimates don't include potential savings that could result by lowering the state's costs of caring for uninsured patients and keeping people healthier and out of the hospital. About one in five Georgians doesn't have insurance.