The title is totally accurate this time :). Follow me below the dingledoodle squigglie dKosagnocchi dividerthingie fold after a word from our sponsor...

Here at Top Comments we strive to nourish community by rounding up some of the site's best, funniest, most mojo'd & most informative commentary, and we depend on your help!! If you see a comment by another Kossack that deserves wider recognition, please send it either to topcomments at gmail or to the Top Comments group dKosemailbox by 9:30pm Eastern. Please please please include a few words about why you sent it in as well as your user name (even if you think we know it already :-)), so we can credit you with the find!
One of my favorite loaf-style breads of all time is pumpkin bread. Quintessentially "fall" yet available all year through the magic of canned pumpkin, perfect plain or toasted, with honey or butter or simply sliced and eaten. After too many years making it from a package, I found a recipe that was easy, apparently foolproof, and best of all makes TWO loaves with a single mixing of batter. From "hey let's make pumpkin bread" to "yay loaves are finished" took me 90 minutes.
What you need:

Before you get mixing (I use a stand mixer but a large mixing bowl and spatula work great too), preheat the oven to 350°F and grease/flour two loaf pans. Then mix 3 cups sugar with 1 cup vegetable oil. Oh, about that foolproofness... I cringe every time I consider a whole cup of oil, so I never use that much. This batch had 3/4 cup, I've made it with half a cup, and I plan on trying a 50:50 mix with applesauce or a yogurt-for-oil substitution one of these tries. When that's mixed and looks like wet sand, mix in 3 large eggs until smooth.
Next, add either 1 16oz can of pumpkin, or 2 cups homemade pumpkin puree, and mix until smooth:
Stir a cannister of all purpose flour to lighten it, then measure 3 cups into a bowl. Now comes the pretty part! Measure out 1 teaspoon each ground cloves, ground cinnamon, ground nutmeg and ground ginger, plus 1 teaspoon baking soda and 1/2 teaspoon each baking powder and salt: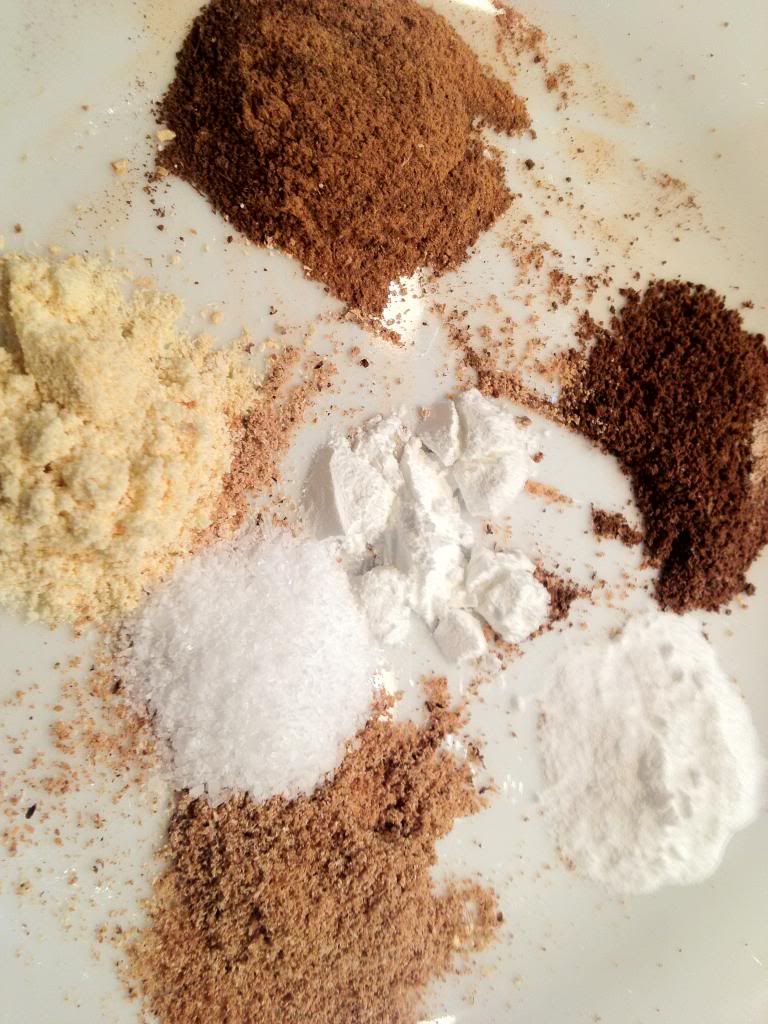 Combine well with the flour then add it to the pumpkin mixture in two batches, stirring until mixed. Pour into the two prepared pans and bake for about an hour, or until a toothpick inserted in the center comes out clean. Cool 10 minutes, run a knife around the sides, and remove loaves from pans. Cool on cooling rack.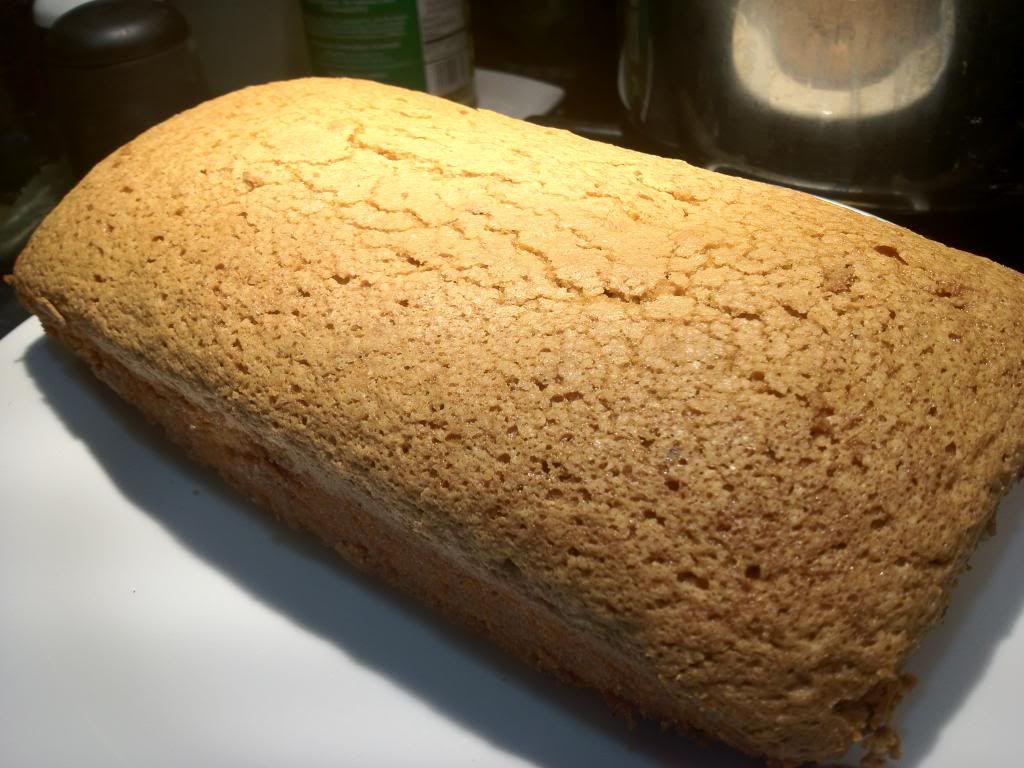 This recipe freezes well. Umm, so I'm told. It doesn't last long enough around here to need freezing.
---
Brillig's ObDisclaimer:
The decision to publish each nomination lies with the evening's Diarist and/or Comment Formatter. My evenings at the helm, I try reeeeallllyy hard to publish everything
without
regard to content. I really do, even when I disagree personally with any given nomination. "TopCommentness" lies in the eyes of the nominator and of you, the reader - I leave the decision to you. I do
not
publish self-nominations (ie your own comments) and if I ruled the world, we'd all build community, supporting and uplifting instead of tearing our fellow Kossacks down.
From lineatus:

Bob Johnson (no stranger to Top Comments, he) coins a term.
From BlueJessamine:

This is one of the cutest comments I have seen at Daily Kos: Obama is The Big Cheese, by skralyx.

Today in navajo's New Day she asks What's in your wallet? In the comments the topic grows to what's in your purse? navajo dumps her purse and takes a photo. Lo and behold one of the best and funniest inside of a purse discoveries eveh! A RESERVED sign. Every diva shoud carry their own RESERVED sign!
From blue aardvark:

In Laura Clawson's diary, the hilarity that ensued over Tom Richs telling the truth on Fox News, I appreciated this series of comments by Doc2, Quicklund and DoLooper
From cohenzee:

Here is an excellent discussion between FloraLine and grumpelstillchen on how Germany has learned from its past while America keeps repeating ours.

Also from the same diary is high unitas' response to a commenter who thinks adding "respectfully" to a comment makes it ok to bring up Nazism. She/He also adds more to the ways we could learn from the Germans.

(Diarist's note: These are from Monday evening, but were nominated this afternoon.)
From Yours Truly, brillig:

From MeteorBlades' McCain, Graham and Ayotte make clear they're not done battling the presumed nomination of Susan Rice, highfive asks Bad information? Really?

rb608 on the unfairness of... umm... fair elections, from Kaili Joy Gray's Teabaggers still see a chance to stop President Obama from being reelected.

I find this comparison of Republicans and children by mmacdDE to be very, very apt. From Steveningen's Laura Ingraham: I'm so tired of Obama putting a gun to the head of the American people
---
Top Mojo for yesterday, November 26th, first comments and tip jars excluded. Thank you
mik
for the mojo magic!
1) Personally I love these diaries by chicago minx — 230
2) Happy CostCo member since 1995 here by ontheleftcoast — 186
3) How about criminal conspiracy? by Dallasdoc — 128
4) the summer 2012 drought, which is by RLMiller — 123
5) Cognitive dissonance is truly amazing. by Beelzebud — 119
6) We're Not Just Some Other Country. by Gooserock — 117
7) Security guards aren't supposed to get physical by lgmcp — 115
8) I agree by Karl Rover — 115
9) Kos, do you think you could focus more on by pistolSO — 109
10) Well... by JekyllnHyde — 110
11) It's all about greed, basically. by slinkerwink — 102
12) What a shame Bill Bennett probably bet the spread by jo fish — 95
13) The whole Catholic thing that Sauerkrauthammer by ontheleftcoast — 92
14) Mexico hasn't stationed forces in Germany since by RFK Lives — 90
15) We haven't really had rain this year. by YucatanMan — 86
16) If I had more money than I could ever spend, by Tim DeLaney — 85
17) What A Delicious Morsel Of An Interview..... by snapples — 84
18) At least 10 years by NCJan — 81
19) Yeah, whose idea was it to bring back Armando? by Bob Johnson — 81
20) Banning for life is so authoritarian by crystal eyes — 75
21) Apology accepted. Now make me a sammich. by Fordmandalay — 75
22) I'm with you. by Radiowalla — 75
23) My son works at Trader Joe's by yellowdog — 73
24) In this case, not likely by DaveinBremerton — 71
25) And, in honor of Fishgrease, by bmaples — 71
26) End "Secret holds on Nominations" by Flint — 71
27) Not carrying full loads runs up against... by Egalitare — 69
28) Or maybe it was a set up? by tampaedski — 69
29) He previously got away... by vacantlook — 69
30) Last Xmas, I shopped in Costco and overheard a by GreenMtnState — 67
31) Nothing weird about it by blue aardvark — 67
32) the Walton heirs by jfromga — 67
---
Top Pictures for yesterday, November 26th. Click any image to be taken to the full comment. Thank you
jotter
for the image magic!