I'll keep this short.
As Chrislove diaried recently:

On Thursday, 23-year-old Mallory Owens of Mobile County, Alabama, went to her girlfriend's house for Thanksgiving dinner. She ended up at USA Medical Center, having been beaten so badly that her nose was broken, her cheek was crushed, and she may require plastic surgery on her face. The attack came at the hands of her girlfriend's 18-year-old brother, Travis Hawkins, Jr., who punched Owens repeatedly in the face, causing her to be unrecognizable.
And is facing charges of second degree assault, after previously attacking the same woman, striking her in the head with a wrench. He posted bail that same afternoon and walked out of jail.
We've all seen the pictures. But I think we may need to see them again.
Allow me to share with you the motto of the Pink Pistols, the LGBT gun rights organization:
ARMED GAYS DON'T GET BASHED.
You may not like guns. You may not choose to allow them into your life. But as for me, I don't want to see any shit like this again.
Neither does Dan Savage:

In the wake of a vicious attack on a lesbian woman in Alabama, writer and activist Dan Savage reminded LGBT people, "The Second Amendment applies to queers, too."...
Savage offered one piece of holiday advice to LGBT people who might he headed into iffy situations, reminding them that they have a right to protect themselves.
"Hey, if you're going home and your family is violent and hateful," he said, "Remember, the Second Amendment applies to queers, too."
Go back, my LGBT friends. look at that picture just one more time. Now, write this on your hand so you don't forget it:
"The Second Amendment applies to queers, too."
We would all prefer to live in peace. But your preferences do not alter the fact that there are bad people out there who will hurt you if they can.

As a Buddhist sage observed, "If you understand, the world is the way it is; if you do not understand, the world is the way it is."
If you won't listen to me, will you listen to Dan Savage?
"When you see homosexuality as a sickness or an illness or a disease or a sin, you blame the person that's 'doing this' to your relative. Unfortunately there isn't a Gay Avengers organization that's going to sweep in and kick their brother's ass if he loses his mind."
We are our own first line of defense. Please be that for yourself.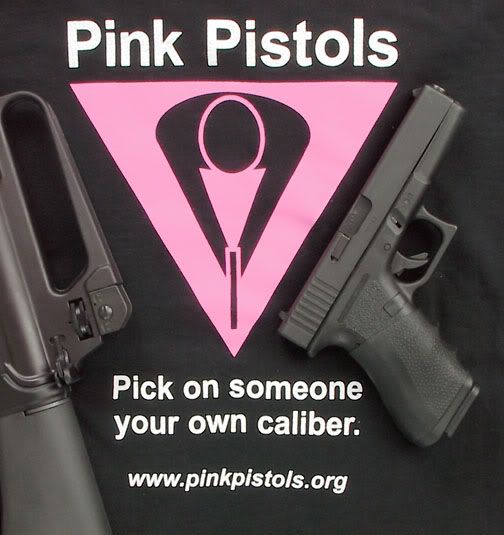 </sermon>
Right to Keep and Bear Arms is a DKos group of second amendment supporters who also have progressive and liberal values. We don't think that being a liberal means one has to be anti-gun. Some of us are extreme in our second amendment views (no licensing, no restrictions on small arms) and some of us are more moderate (licensing, restrictions on small arms.) Moderate or extreme or somewhere in between, we hold one common belief: more gun control equals lost elections. We don't want a repeat of 1994. We are an inclusive group: if you see the Second Amendment as safeguarding our right to keep and bear arms individually, then come join us in our conversation. If you are against the right to keep and bear arms, come join our conversation. We look forward to seeing you, as long as you engage in a civil discussion.
As always, if you're interested in joining RKBA, message
KVoimakas
.