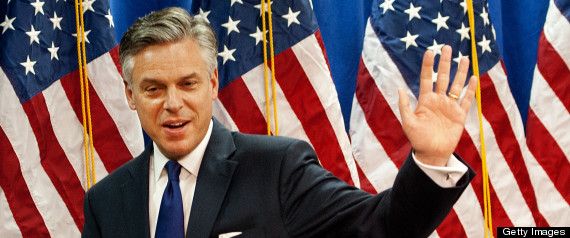 Sam Stein reports a surprisingly candid interview with John Huntsman where he slams his fellow GOP primary candidates in Jon Huntsman: GOP Primary Barriers To Entry Were 'Pretty Damn Low.' After calling for "neo-conservatism to be sidelined," for comprehensive immigration reform, and compromise on tax rats, Huntsman blasted the "corrosive" GOP primary process:

Huntsman described the Republican primary process as corrosive, producing pledge-signing, cookie-cutter candidates more interested in money and publicity than policy. Recalling one particular debate, Huntsman described the sensation he felt observing his fellow White House aspirants.

"Some do it professionally. Some were entertainers," he said of the Republican presidential field. "I looked down the debate stage, and half of them were probably on Fox contracts at one point in their career. You do that. You write some books. You go out and you sell some more. You get a radio gig or a TV gig out of it or something. And it's like, you say to yourself, the barriers of entry to this game are pretty damn low."

He chuckled a bit when reminded that a pizza conglomerate, in the person of Herman Cain, had led the Iowa caucus polls at one point. "It wasn't a period where rational thinking or any kind of commitment to reality or truth or optimism necessarily prevailed," Huntsman said. "It was how can you eviscerate the opposition."




Huntsman admitted that when he joined his fellow candidates in refusing a "hypothetical deficit-reduction deal that had $10 of spending cuts for every $1 in revenue hikes," he had reached "the low point of [my] campaign."
And, with regard to GOP foreign policy:

"We used to be the party that put out wars: Eisenhower, Korea; Nixon, Vietnam; Reagan, the Cold War. And here we talk about starting wars. That's all Republicans on the defense side seem to want to talk about -- not negotiating a way forward diplomatically, as we had under earlier Republican administrations, but always falling back on the war option as if we haven't had enough over the past 12 years."

Tonally as well, Huntsman insisted his party has to evolve. The cultivation of knee-jerk conflict, he argued, has produced remarkably little fruit. For four years, the goal was to "thwart the opposition, stymie the opposition, obfuscate, be a flamethrower, go out there and destroy the system, and here we are," he said. "We have seen the results of that mentality."

It's fun to hear a Republican agree with the kind of observations we were making here almost a year ago. Maybe some of them actually do listen?