Some interesting data regarding provisional and early voting in the official results from Franklin County, which includes Columbus:
Official Result Summary (Franklin County Only) -- Excel spreadsheet
The data in the spreadsheet is excellent, breaking down provisional and early voting by precinct.
Overall, Pres. Obama won the county by 60.5% to Romney's 37.8%. Obama's margin for early voting, both by mail and in person at the early voting center, was a little greater, 65% to 33%.
But there was a huge difference between early voting by mail and in-person:
mail: Obama 57% to Romney 41% (i.e., a little more Republican than the overall result)
in-person: Obama 83% to Romney 15% (!)
Wow. No mystery why Ohio Sec. of State John Husted was gung-ho to send early voting by mail applications to every voter in the state back in September, while subsequently doing everything he could to limit hours and days at the early voting centers.
This was the scene at the early voting center in Columbus on the Sunday before the election, a day that Husted wanted the centers closed but was forced by the courts to open them:
Provisional voting data in the county is also illuminating--more below...
The spreadsheet shows that Pres. Obama won in provisional voting in Franklin County by 73% to 25%, showing that voters in the Democratic precincts were much more likely to have been relegated to vote provisionally. To some extent this is due to demographic effects such as that Democratic neighborhoods tend to have a more mobile population with more frequent address changes that would trigger a provisional ballot. Some of the disparity is surely due to the voter ID laws passed in Ohio in recent years. Overall, about 4% of voters in the county were forced to vote provisionally, but it depended a lot on what part of town you were from.
Here's a histogram of the percent of provisional ballots plotted against the Obama vote share, in 10% bins: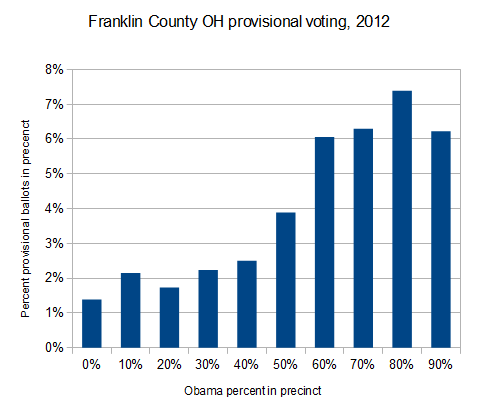 For fun here's the vote for the Libertarian candidate, Gary Johnson, plotted against Obama support: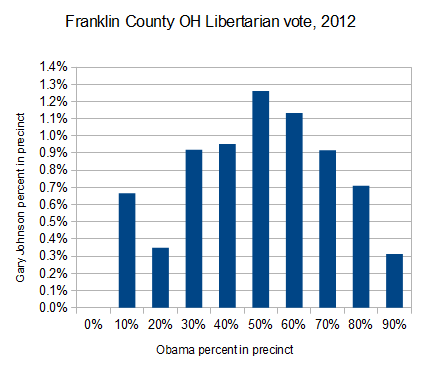 Kinda bell-shaped, with most support in the more mixed Democratic-Republican precincts. In precincts where Obama support was over 90%, Johnson only got about 0.3% of the vote, proving that most black people aren't crazy enough to vote Libertarian.
It'd be interesting to see what the geographic/neighborhood distribution of things like the Libertarian and provisional votes was, but I don't have geocoordinates for the precincts.
EDIT:
It's good to get a big picture of where Obama's vote margin in the county came from. He had 130,349 more votes than Romney in Franklin County. That's broken down as follows:
47,491 -- early voting in person
45,478 -- election day machine
26,183 -- early voting by mail
11,035 -- provisional ballots
162 -- election day paper ballots