I had been my Mom's caregiver. It was very difficult when we lost her but it was to be expected. She had a very bad heart and was living on borrowed time. Losing my brother was a total shock. He was only 16 months older then I am. He had been in perfect heath and suddenly he was gone. His death and having to deal with the aftermath was extremely depressing. Not having health care I had to find ways to deal with it on my own.

KosAbility is a community diary series posted at 5 PM ET every Sunday by volunteer diarists. This is a gathering place for people who are living with disabilities, who love someone with a disability, or who want to know more about the issues surrounding this topic. There are two parts to each diary. First, a volunteer diarist will offer their specific knowledge and insight about a topic they know intimately. Then, readers are invited to comment on what they've read and/or ask general questions about disabilities, share something they've learned, tell bad jokes, post photos, or rage about the unfairness of their situation. Our only rule is to be kind; trolls will be spayed or neutered.
The hard part is trying to convince yourself that you can do it. You can be strong enough to keep going. I was left having to clean up my brother's mess both personally and financially. No one was available to really help me out with cleaning out the house and getting it ready to sell. I had the help of my handyman in getting stuff taken away to the dump but except for a couple of days that one brother could spend helping me go through my brother's room I was on my own. The feeling of being overwhelmed was almost constant.
I have arthritis and C.O.P.D. and it was hard being in that old house. It was hard to breath. The whole house needed to be cleaned from top to bottom. My brother had been deeply depressed and nothing had been done in the house since I did it a year earlier. In addition there was blood and feces to clean up in the bathroom, hallway, his room and the family room from his last illness and fall. Not feeling well physically does not help depression.
I had only two people there that I could see for quick lunches. They both worked full time so we grabbed an hour when we could. Lunch out was a way of battling the depressing house. Even if it was only McDonalds I made it a point to eat out at least once during the day. It became important to get out of the house.
There was a beautiful park around the corner from my parent's house. I took frequent walks in the park taking my camera and taking numerous pictures. I used nature as a calming agent. The gentle walking helped the soreness from cleaning and lifting heavy bags of garbage.
My laptop was my salvation. I went on the Internet frequently talking with friends and keeping connected to the world. I played movies on my laptop. I went for the more bizarre type of movies such as Beatlejuice and Blazing Saddles. I read a lot in the evening. I am working my way through all 20 Brother Cadfael books.
As hard as it was to go through Mom, Dad, and Mike's things and get them ready to sell I did take joy in discoveries. One morning when going through Dad's closet I found a certificate of appreciation for his World War II efforts. I found his and Mom's original marriage certificate. I found a couple of Mardi Gras ceramic masks that are now in my home. I found his scrapbook of photographs from his tour on Tinian.
To battle the depression that at times threatened to overwhelm me I used all the mental tricks I could think of. I was by myself and talked out loud to myself. I told myself that I would get through this. I told myself I was stronger then I realized. I told myself that this too shall pass. I reminded myself I had two kitties to go home to. When things got too bad I would call my brother Reid. He and I have become closer then we ever thought possible. He was a caregiver for Dad's oldest sister. He understands. He was my cheerleader from California. He is disabled and could not come out and help me. He could and did cheer me on.
One important thing I did was keep my favorite music on as much as possible. I have a Walkman MP3 player that I would have on constantly. My favorite music to listen to was Josh Groban. His wonderful and rich voice and choice of songs made me feel better. Don't be afraid to listen to the same thing over and over if it makes you feel better.
I am now home. The hard part is done. The house is up for sale. I have a gazillion pictures and slides to scan into the computer and put on DVDs before the pictures disintegrate. It is one of my goals. I have Christmas gifts to make and cookies to bake. I still feel down at times but I learned to give myself goals. Even simple things like calling and turning off the phone. Things like putting a change of address in. Give yourself a list and rejoice in crossing things off. Give yourself something to look forward to. I am awaiting the Hobbit movie. I am looking forward to putting up my Christmas tree and decorating my apartment for Christmas. I am looking forward to wrapping presents. I am enjoying kitty lap time.
Some days it may feel like it is impossible to even get out of bed but force yourself to do it. Get a flavored coffee that you have to go to the kitchen to get. Sit in front of the computer and connect with Facebook or Daily Kos. Once you are up it is harder to go back to bed. Buy yourself some great smelling body wash and take a luxurious shower. Do something for you. If you don't take care of you no one else will. Time heals. Give yourself time. I have two sayings with original art work on my refrigerator that help me through times I feel depressed.
"You can climb any mountain if you take it one step at a time."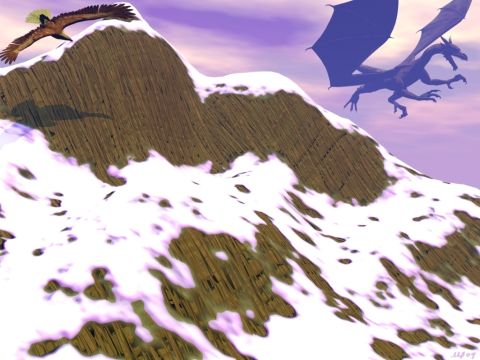 "There will be good day and bad days. Be gentle with yourself on bad days."
Nurse Kelley Sez: KosAbility was the brainchild of homogenius. He dreamed up a group by and for the disabled, he's written several diaries for us, and he remains on the KA board to this day. Now he needs our help. Please recommend this diary to help keep it on the rec list and, if you can, make a donation. Thank you!