I've been reading a lot of diaries lately about the damage the Republican gerrymanders of 2010 have done to Democrats' chance of winning the House of Representatives - including this good one today, and I decided I would finally post my fair redistricting plan for the country. This is something I've been working on for a long time. No, I haven't been slaving over my computer non-stop drawing districts; I made most of these maps back in February and March, and then I took a long hiatus, and then did some touch ups and plotted all the district data in a spreadsheet over the last two months, and now my fair redistricting project is finally done.
Why do we need fair redistricting? Well, you should click on the video of Ronald Reagan and find out. I haven't heard any other Presidents talk about gerrymandering and redistricting, other than Reagan. Although Reagan's discomfort with gerrymandering probably had the same motivation as our discomfort with gerrymandering does - the opposing party controls most of the state houses - he still makes good points.
We've seen a number of fair redistricting initiatives in effect in Florida, California, Iowa, and a few other states. They all approach redistricting in a different way. Florida's is pretty weak, and still allowed Republicans to impose a nasty gerrymander in 2010. California's is more fair with respect to communities of interest, but it focuses heavily on racial gerrymandering to ensure proportional representation of Hispanics, Asians, and African Americans. Some states have fair redistricting that considers the interests of each party equally - for example, in a hypothetical situation, in Minnesota, a commission like this would create four Republican districts and four Democratic districts.
I did not consider drawing districts proportional to party composition of each state, or drawing districts to represent minorities (in most cases). The only factors I considered were keeping communities of interest together and keeping county splits to a minimum. In only three cases - Alabama, Mississippi, and Louisiana - did I go out of my way to draw minority districts. Why? Well, I don't know, just because I feel like these are the most racist states (no offense to them) and they might still need the Voting Rights Act to protect minorities. But for the most part, I think we're beyond the time when African Americans absolutely can't win elections outside of Black majority districts. That doesn't mean there won't be majority minority districts outside of AL, MS, and LA - I just won't go out of my way to create them. Drawing districts to connect minorities have resulted in some of the worst gerrymanders out there.
Now, to begin. I'll be going in alphabetical order, and you'll see roughly 140 districts redistricted in each of 3 diaries, and the 4th diary will analyze the impact nationwide fair redistricting would have on American politics. The first diary will go from Alabama to Massachusetts - except I'm leaving California out, because it will take up too much room in the middle of this diary. CA will be the last state redistricted in the third diary.
Let's go!
Note#1: All race percentages are total population, not just 18+.
Note#2: If you want to see racial data, just click on the image with the Presidential data. I can't fit the entire thing into this diary without the type becoming too small.
Note#3: I'm not going by the current district numbers. I'm assuming each seat is an open seat when assigning ratings and district numbers are randomly assigned.
ALABAMA
As I mentioned, Alabama is one of only two states that will have a racial gerrymander. The 2nd district, with the arm down into Mobile, is a black-majority district. The 4th district is now almost entirely in Jefferson County, and would present an opportunity for Democrats to pick up a seat.
Note#5: "CS" means "County Splits"


ARIZONA
Districts with respect to city limits in Maricopa County.
There is one 65% Hispanic district in Phoenix, AZ-01, and the district down in Tucson is slightly majority minority. Two districts are strongly Democratic, but a few more could be picked up from Republicans in a good year. District AZ-09 is 21% Native American, which may be the highest percentage of any district in the country.


ARKANSAS
This one was a bit tougher since Dave's Redistricting does not feature Presidential data. I purposely made no county splits so I could calculate the data easier, which means some districts deviate up to about 4,000 people. In a real scenario one or two counties would have to be split to equalize the population.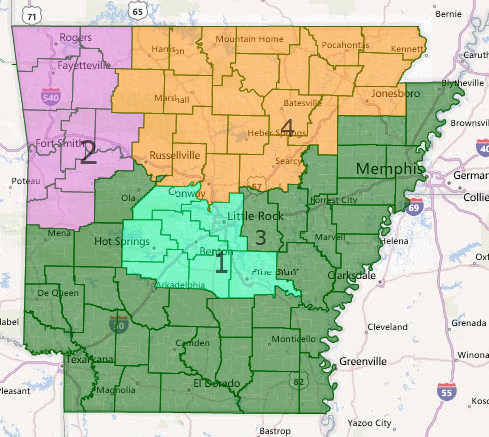 As you can see, two districts cover the more urban areas of the state, while two more are heavily rural. AR-01 narrowly went for Republicans in 2008 and 2012, while the rest were strongly Republican.

CALIFORNIA
Skip!!!! We'll visit California in another diary.
COLORADO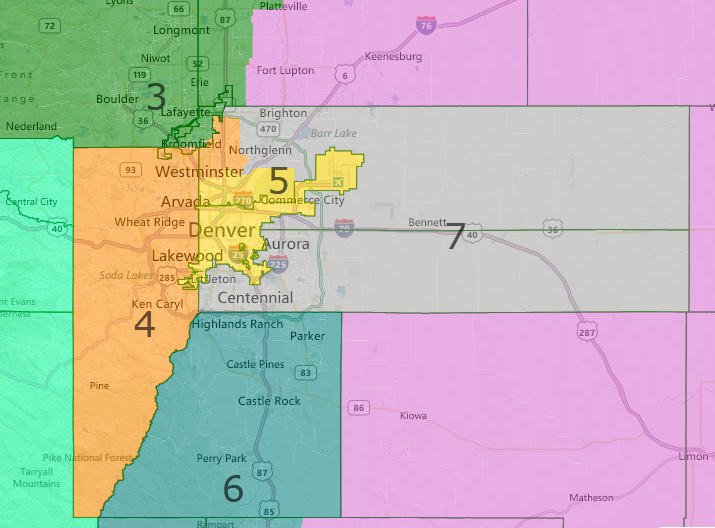 The Denver city limits make CO-05 look like a gerrymander anyway, but it only splits one county. The Denver-centric district and Boulder-centric district are both heavily Democratic, while two suburban districts east and west of Denver are swingier but lean Democratic
The western Colorado district is all mountain, and Republican leaning. The eastern district and Colorado Springs district are heavily Republican.
CONNECTICUT
I love my Connecticut. Three districts are entirely within one county and a fourth has no county splits. Pretty fair, huh?


FLORIDA
The Sunshine State.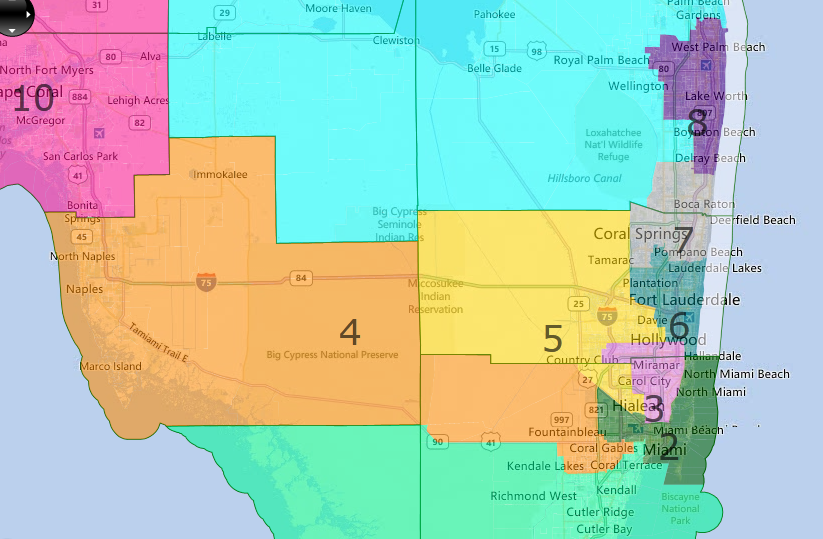 All of the tiny districts are heavily Democratic, except the one in Miami, which is 71% Hispanic and swingy. Click on the data table below, there are a lot of minority districts around here.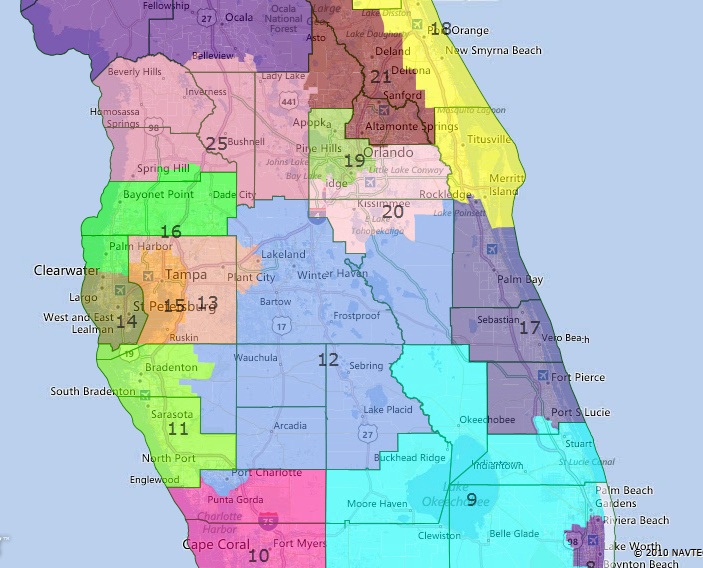 Everything in Central FL except Orlando and Tampa-St. Pete is Republicanland, although many of the districts here are just Republican leaning and could possibly be won by Democrats.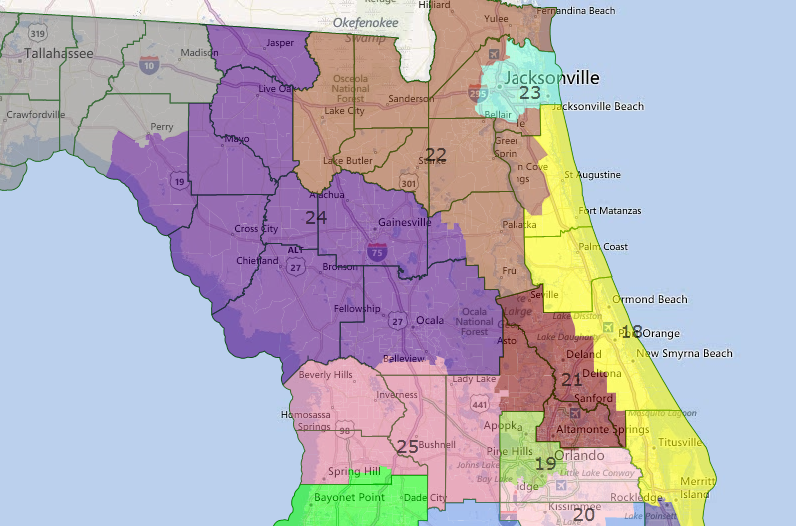 Amazingly, when North Florida is de-gerrymandered, only 3 out of 7 N. Fla. districts are heavily Republican.

The delegation still leans Republican but there are a lot of toss ups, so Democrats could win a majority of the delegation.
GEORGIA
Cobb County and DeKalb County get their very own districts. Three districts around ATL are black majority while the Gwinnett County district is majority minority, only 41% white.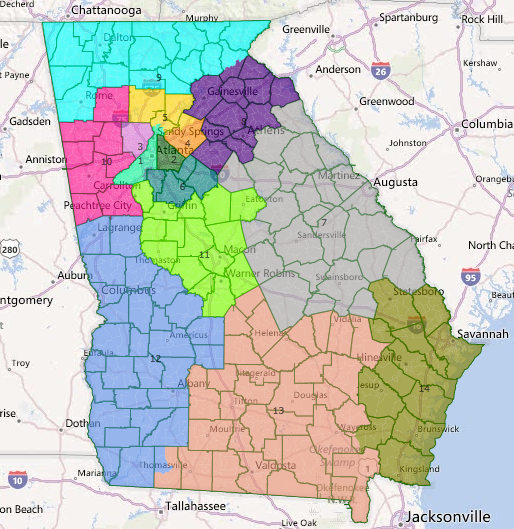 HAWAII & IDAHO
Not much to see here, although I did move Idaho's 1st district to the south, and it is now an entirely Boise-centric district. ID-02 is Idaho's "everything else" district.
ILLINOIS
You can see how nicely four districts fit entirely or almost entirely within the city of Chicago. One of them, on the southside, is 77% Black, and another is 65% Hispanic. Click on the chart below to see the full racial breakdown.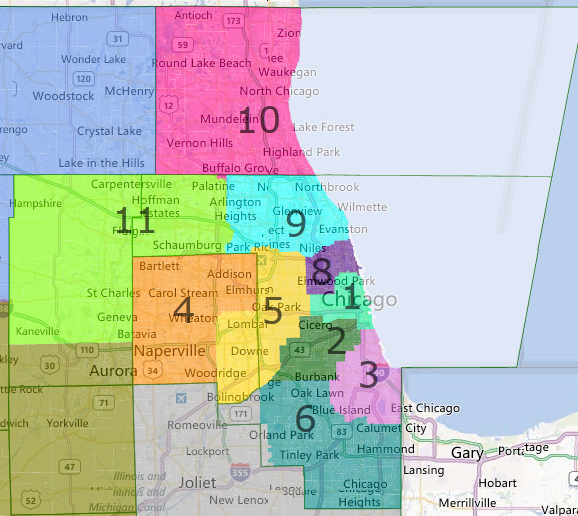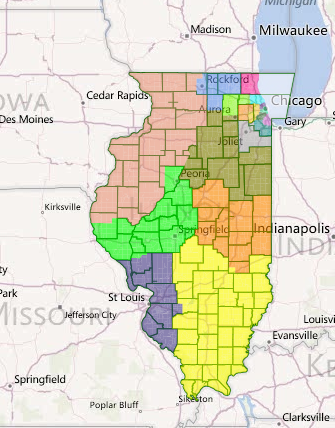 Illinois is a strange state when fairly redistricted. Although it is a heavily Democratic state, it is heavily Republican when redistricted. After all - it's the only state where Democrats can lose 101/102 counties and still win statewide elections. I suspect almost all of the Downstate districts flipped to Mitt Romney in 2012.

INDIANA
Hmm. Indiana is kinda boring.
IOWA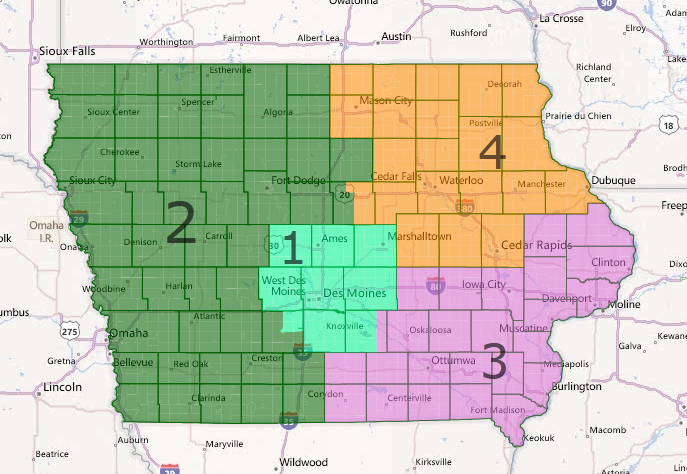 Iowa gets a Des Moines-centric district.
KANSAS
Kansas actually has two districts that are just barely Republican, and would be winnable for Democrats.

KENTUCKY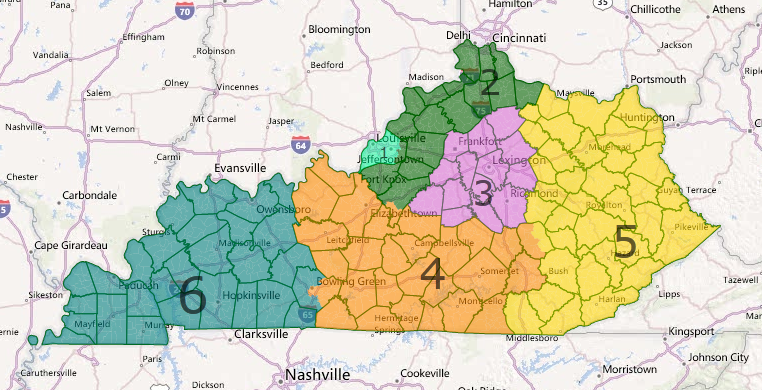 The western part of Kentucky gets less gerrymandered but not much else changes.

LOUISIANA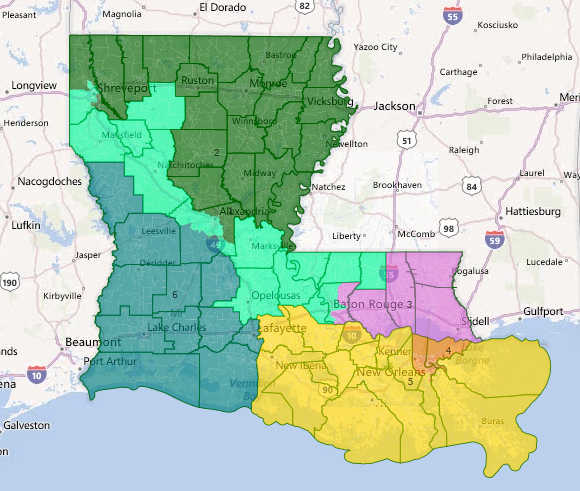 Louisiana has a black majority district that straddles I-49 from Baton Rouge to Shreveport. Yes, it is the second and final racial gerrymander in this series, but I tried to keep it as clean as possible, splitting as few counties as possible.
MAINE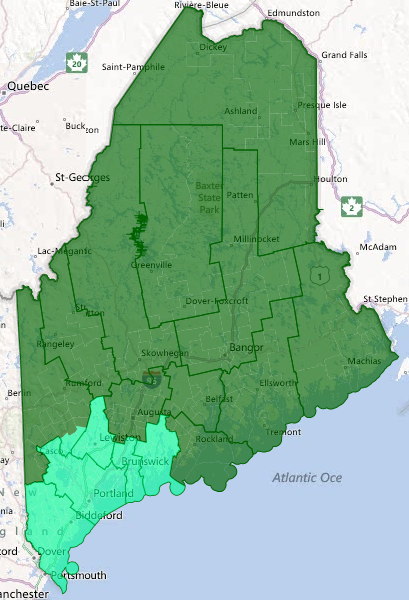 MARYLAND
Maryland's 2010 gerrymander was one of the worst in the country. This is an improvement, although it does give Republicans 3 seats. There are two black majority districts, one majority minority district. 63% of the seats in MD would be won by Dems, which is fairly proportional to the real partisan composition of Maryland.

MASSACHUSETTS

THE END! NEXT TIME... Michigan to Tennessee
If you made it this far, congratulations, and thank you for reading. Let me know what you think of these maps and of fair redistricting in general in the comments below.