Those of you who braved the chill winter air last night may have been lucky enough to have clear skys were treated to a fairly good display. Appearing to come from the Gemini constellation, the Geminids are a bit slower than the Leonids seen November 17th.
Last night the Geminids were showing up about 40 per hour, some were large and brilliant, occasionally flashing or exploding. Nickel is a common component in meteorites and can give a green color to the explosions, these are called bolides. Sodium will produce a yellow color.
Last night I spotted my first Geminid of the night at about 7:45pm, I was at work moving some things around for our snow maker, Milton. I work at Woodbury Ski Area in Woodbury Ct. Making a few trips outside from 10:30 to midnight I saw another 18 or so. So on to tonight....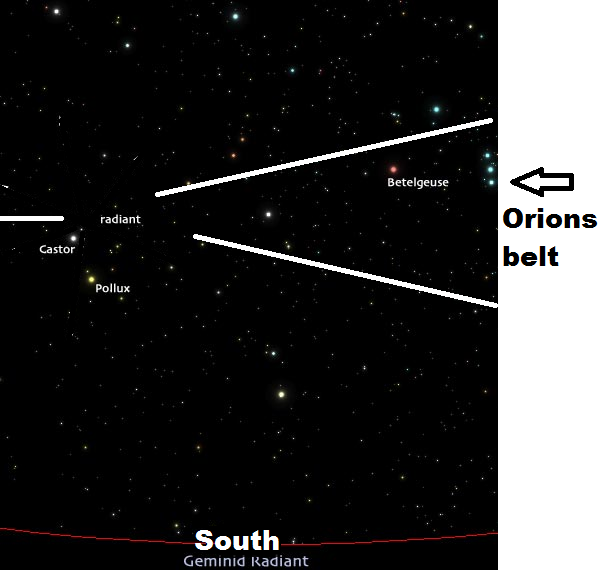 I made this graphic last night, I should have marked it South West. But this is what you would see early this evening, approximatelt 30 degrees above the horizon, 8pm to 9:30pm. Note that the 3 stars of Orions belt are near vertical. Last night the majority of meteors were traveling easterly of westerly. Only a few were moving north or south.
By midnight the Earths rotation has moved Gemini and Orion in the sky, rotating what you see in a clockwise direction. Gemini and Orion are also much higher in the sky, nearly due south. I would estimate 60 to 70 degrees high.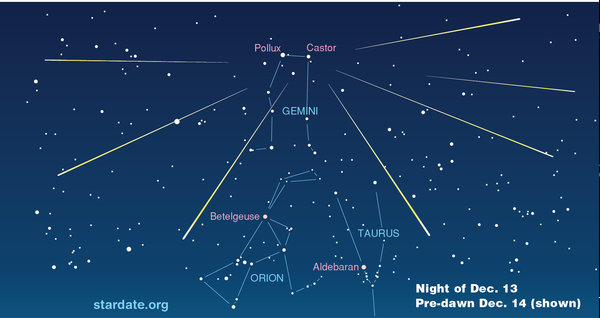 By 4am to 5am Orion and Gemini have rotated 90 degrees from their 8pm angle.
they're remnants of the asteroid Phaethon that burn up when they hit the Earth's atmosphere. Our planet orbits through Phaethon's debris field at this time every year.
There are also meteors coming from Pisces. Early in the evening Pisces is low in the sky and west of Gemini, by midnight Pisces will be higher in the sky and to the left of Gemini.
As a bonus, the Geminid meteor shower may get a boost from dust left behind by Comet Wirtanen, according to NASA. Bill Cooke of the space agency's Meteoroid Environment Office predicted that the dust could create up to 30 additional meteors per hour.
Meteors from Pisces will be smaller and faster. Compared to Geminids they are just a thin dash across the sky, but last night they doubled my total meteor count. Probably 8-9 of 24 meteors were from Pisces.
Comet Wirtanen has not crossed paths with Earth since it was discovered in 1948. But Russian forecaster Mikhail Maslov has run computer models that indicate our planet could cross the comet's debris stream as many as four times between now and Friday.
Last night was the peak time to see Geminids, but they will be visible thru to the 15th or 16th in declining numbers. And the debris from Comet Wirtanen gives the viewer a better chance of spotting some nice meteor trails in the cold night air this Friday night.
Good hunting and stay warm.
6:07 PM PT: Nice Article from the Christian Science Monitor, with video ->
6:09 PM PT: I'm in Western Connecticut and just came back inside from watching for about 10 minutes. Sadly I did not see any Geminids.
6:12 PM PT: Thanks Astro Kos for the republishing.
7:04 PM PT: 10pm EST I saw one streak from Betelgeuse thru Orions belt, about 15 degrees of travel. Right now Gemini is about 40 degrees above the horizon